What does fact checked mean?
At SportsRec, we strive to deliver objective content that is accurate and up-to-date. Our team periodically reviews articles in order to ensure content quality. The sources cited below consist of evidence from peer-reviewed journals, prominent medical organizations, academic associations, and government data.
The information contained on this site is for informational purposes only, and should not be used as a substitute for the advice of a professional health care provider. Please check with the appropriate physician regarding health questions and concerns. Although we strive to deliver accurate and up-to-date information, no guarantee to that effect is made.
How to Determine the Correct Height of Walking Canes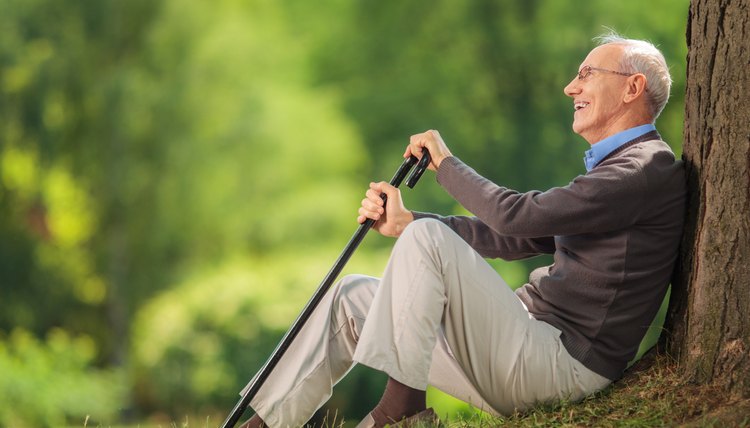 Choosing a walking cane is a combination of function and personal preference. The function: If you're using the cane to help with balance, a single tip works well, while a broader quad-tip is appropriate if you need it to support weight. Personal preference: The grip should be shaped to fit your hand—something you can only identify through experience and experimentation; you may need to change grips once or twice before you find one that's comfortable. Choosing cane height is a combination of subjective and objective factors; if the cane is too long it'll be an awkward burden, and if it's too short you may find yourself listing to one side. But the choice still boils down to what's most comfortable for you.
Stand up straight with your arms at your side. Ask a friend to hold the prospective walking cane beside you, end planted on the floor. The shortest acceptable length for the cane would be having the top of its grip line up with your wrist joint when your arms hang straight down at your side.
Bend your elbow at a 30-degree angle. To find a 30-degree bend, first bend your elbow so that the forearm is parallel to the floor. This is a 90-degree bend. Lower your forearm two-thirds of the way down to your side—this is a 30-degree angle.
Ask your friend to hold the cane up next to you again, end planted on the floor just underneath your hand. The longest acceptable length for a walking cane is if the top of the cane's handle reaches your wrist joint when your arm is bent at a 30-degree angle.
Practice using the cane, if possible, before you purchase it--even if this means taking a few laps around the store. Grip the cane in either hand and pick it up and move it in unison with your weak leg. If the grip is comfortable and the tip is stable, but you still find using the cane awkward, you might want to size slightly up or down in the acceptable range of lengths you identified above.