Body Characteristics of Hockey Players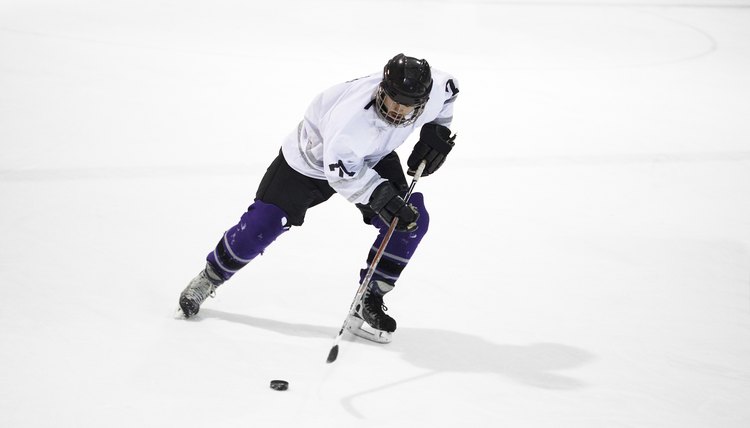 Hockey players are known for their physical toughness, willingness to battle through injuries, skating ability and talent with the puck. Players who can take the hits and keep on going forward need strong and resilient bodies. Players must have the size to block shots and the quickness to take the attack up ice when they gain possession of the puck.
Body Fat
Hockey players need to be in top-level cardiovascular condition to play the game effectively. Hockey requires bursts of energy while a player is on the ice for 30 seconds to 2 minutes. Players who carry a high percentage of body fat are at a disadvantage and will slow down during a shift and in the late stages of the game. Players need to keep their body fat level between 6 percent and 12 percent. A "model" look is not necessary, but abdominal muscles should be visible.
Defensemen
While there are no rules and regulations for the height, weight and size of players at any position, defensemen benefit from height, long arms and a strong frame. A defenseman who is over 6 feet tall has the size to lay out and block an opponent's shot and ride a puck carrier into the boards, as well as the strength to take the puck away and start play in the opposite direction. Smaller defensemen may be deft when they carry the puck or bring it up ice, but they have a tough time holding up in board battles with bigger players. "You always feel more secure when you have a bigger player battling on the boards for the puck," said former NHL player and NBC analyst Ed Olczyk. "That is especially true of defensemen."
Forwards
There is no one defined body type for forwards. Players with a more muscular physique are better able to take a hit and keep on going, but smaller and faster players have been among the most successful players in the game's history. Yvan Cournoyer, for example, was among the most dangerous players and fastest skaters in NHL history. Cournoyer played for the Montreal Canadiens between 1964 and 1979 and scored 428 goals. At 5 feet 7 inches and 172 lbs., Cournoyer did not cut an imposing figure on the ice. But his speed and agility earned him the nickname of "The Roadrunner" and he could always be counted on to make big plays when his team needed him most. Big and powerful forwards create their own advantages and can get in position to score as a result. Boston Bruins winger Milan Lucic uses his 6-foot-4-inch, 220-lb. frame to overpower and intimidate those who try to get in his way.
Goalies
While goalies have been successful at a variety of sizes, professional scouts have looked more favorably on bigger goalies since the mid-1990s. Larger goalies can cover more of the net with their frame and when combined with outstanding quickness and excellent technique, it gives them an advantage over smaller goalies. That doesn't mean that quick goalies like Dominik Hasek and Tim Thomas can't play at a superior level in the net, but standing over 6 feet 1 inch tall will give a goalie of similar talent an advantage over a smaller competitor.
References
Writer Bio
Steve Silverman is an award-winning writer, covering sports since 1980. Silverman authored The Minnesota Vikings: The Good, The Bad and The Ugly and Who's Better, Who's Best in Football -- The Top 60 Players of All-Time, among others, and placed in the Pro Football Writers of America awards three times. Silverman holds a Master of Science in journalism from the Medill School of Journalism.