How to Use Shortness to Your Advantage in Basketball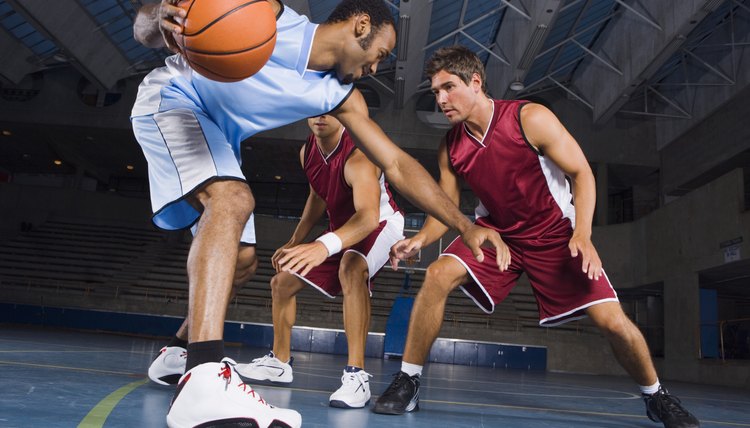 An old basketball adage says that you "can't coach size." Many people think that in order to be a great basketball player, you have to be tall and play above the rim, pulling down rebounds, blocking shots and throwing down monster dunks. Power Basketball points out that the paint where big men play makes up only 7 percent of the basketball court, making your ability to handle the ball and execute other fundamental skills much more important than your size.
The Floor Leader
Shorter players typically play a guard position and are responsible for advancing the basketball up and down the floor. Continuous dribbling drills to develop your ballhandling skills will make you an indispensable part of your team, as big men typically can't dribble the basketball as well. Because you will have the ball in your hand for a majority of the game, your coach will rely on you to be the leader on the floor at practices and during games. Leadership does not come in sizes and often cannot be coached, so displaying the ability to run the show will greatly improve your game.
Think Fast
Although height can certainly help a basketball team, quickness and endurance are much more important factors to your success. In a typical high school basketball game, players can run up to a mile and a half, change direction about every two seconds and average close to 105 sprints. The basketball court is 94 feet long, meaning that in a footrace, the quicker player will get to the basket first and have an easy opportunity to score regardless of height. An exercise routine to develop fast-twitch muscle fibers will add quickness to your game and make you a valuable asset to your team.
Passing the Rock
If you have developed your ballhandling skills and your quickness, you will make it harder for the defense to stop you and open up scoring opportunities for your teammates. Adding the ability to find open teammates and pass them the ball will make you a welcome addition to a basketball team. The more unselfish you are by providing scoring opportunities for your teammates, the more scoring opportunities will open up for you.
Quick Feet, Quick Hands
Defense wins championships, and there is nothing that can stop an offense more effectively than a defensive player who can move his feet and has active hands. Much like the speed advantage on offense, if you have developed your quickness and agility, you will likely be quicker than your taller counterparts. While offense takes skill, defense is mostly about desire. Forcing yourself to "D" up an opponent and play solid defense is the most important thing you can do give yourself an advantage.