The 25 Best Summer Olympic Moments
What makes you watch the Olympic Games? For some, it's the chance to watch gifted athletes perform in the sports they love. For others, it's a time to cheer on their countrymen and women as they square off against the best in the world. But for many of us, what truly makes the Olympics a must-see event are those timeless moments when an individual transcends what we thought was possible and accomplishes something truly incredible. Here are our top 25 most unforgettable Summer Olympic moments of all time.
25. Steve Redgrave Wins Gold for Fifth Straight Olympics (Sydney 2000)
After Atlanta in '96, British rower Sir Steve Redgrave declared, "Anybody who sees me in a boat has my permission to shoot me." Fortunately, he changed his mind and was back at the Games in 2000. Redgrave's excellence and longevity earned him his first gold at age 22 and his last at 38. He won three different rowing events, including 2000's gritty battle in the "fours without coxswain" against Italy. The 6'5" Redgrave, who was also a national bobsled champ, kept a level head throughout, referring to himself as "an ordinary guy who went quite quick in a boat."
Adobe Stock/LIVESTRONG.COM
24. Al Oerter's Fourth Discus Gold Medal (1968 Mexico City)
Oerter and the discus essentially grew up together. When the U.S. thrower took his first gold in 1956, he set an Olympic record of 184'11". When he won for the fourth time in '68, his new mark was 212'6". He led American sweeps of all three discus medals in 1956 and 1960 but by '64 and '68, he had to thwart the threat of the growing Eastern European sports machines. In '68, after a long rain delay, Oerter spun the discus five feet further than he ever had before and triumphed by his biggest Olympic margin, more than six feet.
Adobe Stock/LIVESTRONG.COM
23. Derek Redmond and His Father Finish a 400 (1992 Barcelona)
Great Britain's Redmond had battled injuries for years to reach the Olympic track in 1992. Less than halfway through a 400-meter semifinal, his hamstring snapped and he crashed to the track in excruciating pain. He rose up, determined to complete the one-lap race. While he desperately hobbled around the track, his father, Jim, ran past security and reached his son on the track, giving him a shoulder to lean on. Father and son slowly completed their circuit of the oval track, providing an enduring image. Derek Redmond said, "Life can never be fully predicted and sometimes it becomes necessary to handle the unexpected."
Adobe Stock/LIVESTRONG.COM
22. Kerri Strug Comes Through for USA Gymnastics (1996 Atlanta)
Strug was just 18 at the 1996 Olympics in Atlanta, but she had already endured a slew of injuries to pursue her Olympic dream. The American women had never won team gymnastics gold, but they seemed poised to do so. Then they had some subpar performances on the vault, including Strug's first effort, in which she landed badly and heard something snap in her ankle. Strug limped out for a second try and improved from a 9.162 to a 9.712, after which she was seen hopping on her one uninjured foot. Coach Bela Karolyi had to carry Strug to the medals stand.
Adobe Stock/LIVESTRONG.COM
21. "Blood on the Water" in the Water Polo Pool (1956 Melbourne)
There are times when Olympic events and "outside world" realities inevitably intersect. Less than a month after the Soviet Union put down a budding anti-Communist uprising in Hungary, teams from the two nations met what became to be known as water polo's "Bloodbath of Melbourne." After Hungary amassed a 4-0 lead, a Soviet player punched Hungarian star Ervin Zador in the face. Zador emerged with blood streaming down his face, and the irate spectators may have done even worse to the Soviet players if referees hadn't stopped the contest. "We were playing not just for ourselves but for our whole country," Zador said later. "This is the only way we could fight back."
Adobe Stock/LIVESTRONG.COM
As distance running showdowns go, nothing rivals the two 10,000-meter match-ups between two men who would later gain even greater fame as marathon world record holders. In 1996, Gebrselassie of Ethiopia and Tergat of Kenya ran far ahead of the rest of the field. The race ended with Tergat gaining, but "Geb" prevailing by six meters. They would finish 1-2 again at the World Championships in 1997 and 1999. And in 2000, Gebrselassie chased down Tergat on the homestretch, out-leaning him by just 9/100ths of a second after 27:18 of running. By then, the two tenacious track warriors had become friends, and Tergat declared "I can do no better than that. I had nothing left at the end."
Adobe Stock/LIVESTRONG.COM
19. Steffi Graf Completes the Golden Slam of Tennis (1988 Seoul)
The "Golden Slam" didn't even exist in people's minds until Graf won titles at the Australian and French Opens, Wimbledon and the U.S. Open against four different finals opponents before announcing her intention to compete for Germany in Seoul. She came to Korea with a 35-match winning streak and dispatched her pal Gabriela Sabatini of Argentina easily in the final. Her participation in Seoul was a vital indication that the world's top players, despite their wealth, really did covet the Olympic experience.
Adobe Stock/LIVESTRONG.COM
When he was only 16, Louganis was a silver medalist in platform diving in 1976. He developed into one of history's greatest divers, winning springboard and platform golds by enormous margins in Los Angeles in 1984. By 1988, China was developing into a formidable force in diving, but Louganis did not back down. He secured two more golds by very slim margins, but only after a springboard mishap in which his head hit the board. Louganis required stitches before he could continue. "My pride was hurt more than anything else," he said.
Adobe Stock/LIVESTRONG.COM
17. Triathlon Is Added to the Olympics (2000 Sydney)
Telecasts of gripping Hawaii Ironman finishes boosted triathlon's popularity, and its inclusion in the Olympics, on a scenic and challenging Australian course, was long overdue. Though the bike phase is much longer, the 10k run is often the determining factor. In Sydney, the top five men's triathletes, led by Canada's Simon Whitfield, had the five fastest times in the run phase. In the women's race, Australia had hopes of securing a gold medal, and local hero Michellie Jones led as the run phase began. But Switzerland's Brigitte McMahon caught her 200 meters from the finish and won the inaugural Olympic women's triathlon by two seconds.
Adobe Stock/LIVESTRONG.COM
When the ancient Greek tradition of the Olympics was revived for the modern era, the most anticipated event was a footrace commemorating a legendary messenger who arrived in Athens, having run about 25 miles, to announce a Greek victory over Persia at the Battle of Marathon in 490 B.C. Sadly, the Greeks hadn't been faring too well at their own '96 Games, so the victory by poor farmer Spiridon Louis, fueled by copious amounts of wine, was the competitive highlight for the host country. The Marathon-to-Athens route was revived for the 2004 Athens Games and was again the emotional capstone to the Olympiad.
Adobe Stock/LIVESTRONG.COM
15. Carl Lewis Matches Jesse Owens' Four Gold Medals (1984 Los Angeles)
Lewis was the host country's most heralded athlete going into the Los Angeles Games, experiencing an unprecedented storm of advanced publicity and close personal scrutiny. Anything less than a sweep of his four events would have been labeled as failure. No worries. Lewis came from behind to win the 100 meters by an Olympic record margin of eight feet, ran the best 200 ever at low altitude in into-the-wind conditions, took his specialty (the long jump) by a foot and anchored a world record 4x100-meter relay for the U.S. He would amass a total of nine Olympic golds during his career.
Adobe Stock/LIVESTRONG.COM
14. Cathy Freeman Wins for Australia's Aborigines (2000 Sydney)
There may be no more momentous example of an Olympic host country hero than Freeman. She represented the aspirations of her Australia's indigenous population. "I feel for my people all the time," she said, sporting a prominent tattoo declaring "Cos I'm Free." But Freeman was lovingly embraced by all of Australia and was selected to light the Olympic cauldron in Sydney in 2000, something that made her more nervous than her upcoming 400-meter race. In the Olympic final, she proceeded cautiously and turned on her speed in the last 100 meters to win gold.
Adobe Stock/LIVESTRONG.COM
13. Mary Lou Retton Wins Overall Gymnastics Title (1984 Los Angeles)
Retton, a 16-year-old West Virginian standing just 4'9" tall, became enchanted with gymnastics by watching Nadia Comaneci perform at the 1976 Games. Retton had just recovered from knee surgery heading in to the '84 Games, the first summer Olympics hosted in the U.S. in 52 years. She was trailing Romania's Ecaterina Szabo in the all-around competition until she bravely turned in perfect 10 performances in the vault and floor exercises. Retton became the first women's all-around gymnastics gold medalist from outside Eastern Europe -- and got her picture on a Wheaties box.
Adobe Stock/LIVESTRONG.COM
12. Cassius Clay (Muhammed Ali) Enchants the World (1960 Rome)
An 18-year-old from Louisville, Clay (not yet named Ali) was a gregarious and relentlessly cheerful teen who became the charismatic leader of the entire U.S. Olympic squad. He was a lanky light heavyweight, facing rivals in the ring from across Europe. In his gold medal match, Clay took on a Pole who had more than 230 fights to his credit and scored a dominating decision victory. His win was one of many that launched world champion boxing careers, including Floyd Patterson, Joe Frazier, George Foreman, Sugar Ray Leonard, Oscar de la Hoya, Pernell Whitaker, and Leon and Michael Spinks.
Adobe Stock/LIVESTRONG.COM
11. Abebe Bikila's Barefoot Marathon (1960 Rome)
For drama and historical significance, almost nothing tops the 26.2-mile triumph of the skinny Bikila at night in Italy, a country which had once warred with his native Ethiopia. Dueling with a favored Moroccan, Bikila made his decisive move on a downhill stretch near a landmark obelisk the Italians had stolen from his homeland. Bikila's victory was a pioneering one for Africans, who up until then had been invisible at the Games. He also won the 1964 Olympic marathon in Tokyo -- this time wearing shoes -- by more than four minutes to become history's first two-time marathon gold medalist.
Adobe Stock/LIVESTRONG.COM
10. Rulon Gardner Defeats the Invincible Russian (2000 Sydney)
Gardner, who'd grown strong working his family's Wyoming dairy farm, reached the final of the Greco-Roman wrestling super heavyweight division in Sydney against a formidable opponent, Alexander Karelin, a three-time Olympic gold medalist who hadn't lost a match in 13 years. Karelin, who looked like a muscled, clean-shaven version of Ming the Merciless, embodied the stereotype of a humorless Soviet supervillain. However, his mistake -- losing grip around Gardner -- resulted in a penalty point and cost him the match. For the rest of the match, Gardner resisted his opponent's trademark "Karelin Lift," and scored one of the most colossal upsets in Olympic history.
Adobe Stock/LIVESTRONG.COM
9. Michael Phelps Swims to a Record Eight Golds (2008 Beijing)
Expectations were so high for the 6'4" Phelps that if he'd only come home with seven gold medals in his eight events, he'd have been deemed a disappointment. Phelps was up the task, opening with a world record 400 individual medley and ultimately setting four world records of his own and three more in victorious American relays. He endured one close call, defeating a Serbian rival in the 100-meter butterfly by 1/100th of a second. Mark Spitz, an Olympic swimmer who'd amassed seven golds in 1972, declared Phelps "epic" and "the greatest racer who ever walked the planet."
Adobe Stock/LIVESTRONG.COM
8. Usain Bolt Sets Three World Records in the Sprints (2008 Beijing)
The media had played up a tight three-way battle between Bolt, fellow Jamaican Asafa Powell and American Tyson Gay, but as the Olympics neared, it was pretty clear the Games would be the Usain Bolt Show. The tallest world-class sprinter ever seen (and probably the most charismatic), Bolt's long strides devoured huge patches of the Beijing track as he broke his own world record in the 100, surpassed Michael Johnson's seemingly invincible 200-meter standard and set a third world record in the 4x100 relay with his teammates.
Adobe Stock/LIVESTRONG.COM
7. USA Triumphs in First Women's Soccer Tournament (1996 Atlanta)
Three years before a dramatic World Cup victory that elevated the American team to international superstar status, much of the same cast -- Mia Hamm, Julie Foudy, Joy Fawcett, Kristine Lilly, Brandi Chastain, Briana Scurry -- played in the Olympics. The contests were close: The U.S. and China fought to a 0-0 tie in a preliminary round. A pass from Foudy to Shannon MacMillian gave the USA a 1-0 semifinal win over Norway and Tiffeny Milbrett got the gold medal goal in a 2-1 finals triumph over China. Soccer was well on its way to becoming the number one athletic endeavor of American girls.
Adobe Stock/LIVESTRONG.COM
6. Bob Beamon's Great Leap Forward (1968 Mexico City)
In the most mind-boggling leap in Olympic history, long jumper Beamon lifted the men's world record from 27'4 3/4" to 29'2 1/2" on his first jump in Mexico City. It was a new world's best by 22 inches and an Olympic victory by 28, in an event in which medals are often settled by fractions of an inch. Beamon hit the takeoff board perfectly and seemed to hang aloft for an inhumanly long time. Realizing the magnitude of his feat, Beamon covered his face and fell to his knees. There's a reason Beamon's autobiography was titled "The Man Who Could Fly."
Adobe Stock/LIVESTRONG.COM
5. Nadia Comaneci Achieves a Perfect 10 (1976 Montreal)
Women's gymnastics had become a global phenomenon four years earlier thanks to Russian pixie Olga Korbut, but 14-year-old Romanian Comaneci lifted her sport to an even higher level in Montreal. No one at this level of gymnastics had ever been awarded a perfect judges' score of 10 until Comaneci did so on the uneven bars during the team competition. She was more athletic and more graceful than Korbut and just as adept at charming the crowds. Comaneci would get six more perfects 10s in Montreal and took home golds in all-around, uneven bars and beam.
Adobe Stock/LIVESTRONG.COM
4. Joan Benoit Wins First Women's Olympic Marathon (1984 Los Angeles)
Women's marathoning had enjoyed a groundswell of popularity since the '70s, in large part because of the heroics of Norway's Grete Waitz in New York and local hero Joan Benoit in Boston. In 1983, the two women broke world records just one day apart. Benoit had arthroscopic knee surgery 17 days before the U.S. Olympic Trials and was lucky just to make it to Los Angeles. At the Games, Benoit took command of the marathon in the third mile, occasionally looking back and rolling her eyes in disbelief that no one was coming after her.
Adobe Stock/LIVESTRONG.COM
3. Fanny Blankers-Koen's, Mom and Track Hero at 30 (1948 London)
Through the 1940s, Olympic track and field had had no bigger female hero than Blankers-Koen, who changed notions of what a woman (and a mother of two) could accomplish. At 16, she'd been on a Dutch relay quartet at the 1936 Olympics. In '48, at age 30, she buoyed the spirits of her native Netherlands by winning four events. She took the 200-meter dash by a full seven meters and took the 4x100 relay baton in fourth place before her sizzling anchor leg lifted the Netherlands to victory. Blankers-Koen also took home gold in the 100 and the high hurdles.
Adobe Stock/LIVESTRONG.COM
2. The Dream Team Enchants the Basketball World (1992 Barcelona)
The dream of having NBA players in the Olympics, approved in 1991, was actually the world's dream. European teams wanted their players to have the option of being in the NBA and the Olympics, too, and silver and bronze medallists Croatia and Lithuania had NBA stars on their squads. For the American team, that meant Michael Jordan, Magic Johnson, Larry Bird, Charles Barkley, David Robinson, Karl Malone, John Stockton and more. The Americans never called a single time out and won games by an average of 43 points and the final by 32. Five of the '92 players returned to give America another basketball gold in Atlanta in 1996.
Adobe Stock/LIVESTRONG.COM
1. Jesse Owens Wins Four Golds at Adolf Hitler's Olympics (1936 Berlin)
The German leader had hoped the first Olympics in Germany would prove his theories of "Aryan supremacy," but Jesse Owens would disprove them. He won the 100 and 200-meter dashes, led the gold medal U.S. 4x100 relay and took first in the long jump after befriending Germany's Luz Long, who gave him tips on his runway approach. Hitler tried to shun Owens, but Owens passed so close to the Fuhrer while waving to him that the exasperated Hitler had no choice but to wave back. Despite Nazi propaganda against America's minorities, Owens was an immensely popular figure with the German public, who awakened him from his sleep to sign autographs.
Adobe Stock/LIVESTRONG.COM
What Do YOU Think?
Do you watch the summer Olympics? Were you watching when any of these events happened? What did you think of them at the time? What kind of impression do these events make on you now, years later? What other events would you include on the list? Share your thoughts and suggestions in the comments below!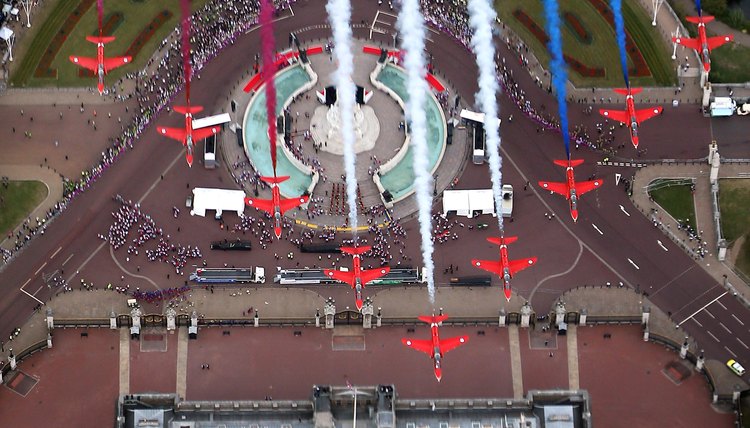 Adobe Stock/LIVESTRONG.COM