How to Become a Great Tight End in Football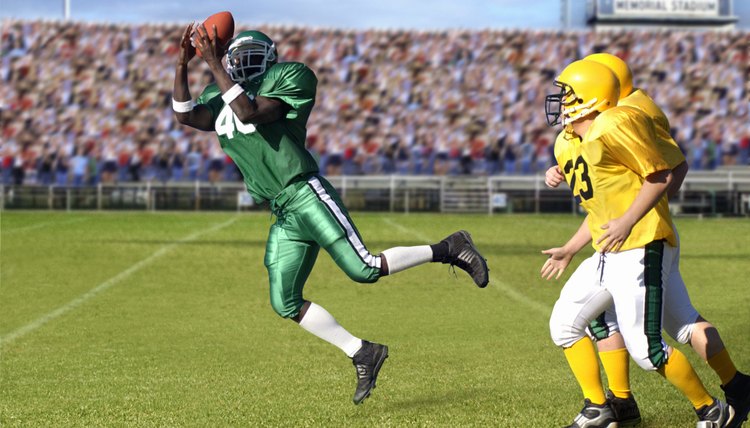 Tight ends are among the best athletes in football. Some specialize in either blocking or receiving, but you must excel at both to become great. Former NFL quarterback Trent Dilfer believes they are the second-most valuable offensive players "because of their size and skill set ... on any given play they can be run blockers, they can be pass blockers, they can run routes and catch passes. And teams that can put two or even three tight ends out there at the same time just expand that advantage. It's become a nightmare for defenses. It's changing the game."
Build Size, Speed and Agility
Blocking tight ends don't need breakaway speed and receiving tight ends aren't required to block like an offensive tackle. But if you want to be great, you must develop the strength to clear out linebackers in the run game, the agility to shield off edge rushers in the passing game and the speed to separate from linebackers on pass routes. To build strength in the weight room, include the bench press; squat; power clean; bent over row; and upright row in your workouts. To build speed, use the same shuttle drills wide receivers run.
Become a Strong Blocker
Develop the same quick-step, power-step start offensive linemen use to get off the line of scrimmage. Master the choppy run-blocking footwork and hand "punch" they use to drive back defenders. Master the proper techniques for down, combo and reach blocking so you can excel in all phases of the running game. Learn to help offensive tackles against the outside pass rush, too, either staying home to block in during "maximum protect plays," or blocking the edge rusher to the outside before releasing on the pass route.
Develop Route-Running Skills
The top pass-catching tight ends can move around the offense by going in motion; or by lining up in the backfield, in the slot or out wide like a receiver. You must be able to run effective routes from a variety of starting points, creating mismatches against slower linebackers or smaller defensive backs. You must become especially valuable in the red zone, where size matters in tight quarters. Even if the defense anticipates the play call, you can gain position by running a crisp route that creates leverage against the defender.
Develop Exceptional Receiving Skills
If you can't catch the ball, it really doesn't matter if you can get open. Even NFL tight ends work on their pass-catching skills day after day, looking pass after pass after pass into their hands before, during and after team practice. All-Pro tight end Tony Gonzalez advises that you "always, always, always catch the ball with your hands." That helps you hang onto the ball while taking a hit. "Guys who don't really trust their hands, they're the guys who catch it with their chest," he says. Use the clockwork drill to develop this skill. Have a teammate or coach throw you the ball low, low right, right, high right, high and so forth so you have to catch the ball with your hands away from your body. Develop softer and quicker hands with basketball-like drills, such as flipping the ball back and forth through legs.
References
Writer Bio
Jeff Gordon has been reporting and writing since 1977. His most recent work has appeared on websites such as eHow, GolfLink, Ask Men, Open Sports, Fox Sports and MSN. He has previously written for publications such as "The Sporting News" and "The Hockey News." He graduated from the University of Missouri-Columbia School of Journalism in 1979 with a bachelor's degree.