How to Become an NFL Football Player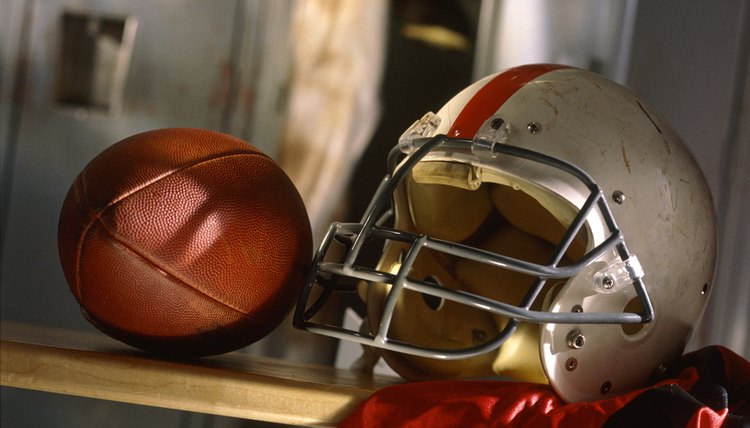 Becoming an NFL football player is not an easy task by any means. Even people with the talent and aptitude to make it to the NFL do not always make it because of the amount of training, mental toughness and opportunity it takes to play professional football in the world's preeminent football league.
Start Training at a Young Age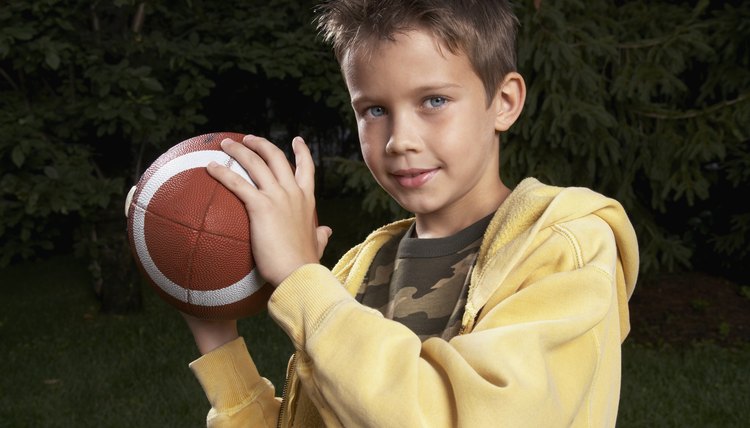 Jupiterimages/Photos.com/Getty Images
Start learning to play football at a young age. While some NFL players did not play organized football until high school or college, the best way to outshine your peers is to start early and gain a feeling for the game at such a young age that football becomes more intuitive, and less brooding, early in your development.
Jupiterimages/Photos.com/Getty Images
Play organized football for your school at the first chance you get. For many people, the option to play football at school will not present itself until high school, but if it is offered in middle school take advantage of it. College football programs do scout middle-school football games and have been known to sign kids before they even start playing in high school. Even if you do not get signed in middle school, the exposure there could benefit you in high school.
Jupiterimages/Photos.com/Getty Images
Start a regular training program at age 13. Participating in programs and camps that improve your speed, jumping ability and overall fitness level are readily available if you are willing to pay for them. It is important to be as fit as possible at a young age, as being exceedingly overweight or lazy early on will cause you to make up for poor fitness once you finally start training.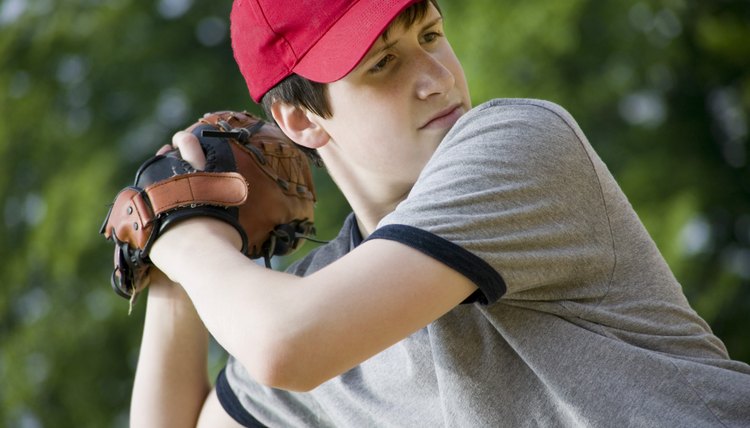 Jupiterimages/Photos.com/Getty Images
Play multiple sports in middle school and high school. Football players that make it to the NFL are rarely one-trick ponies and starred in two or three sports while in grade school. Playing in sports like basketball, track and soccer have been known to improve the athleticism of many players, while giving players an added level of discipline and conditioning that is not always a focal point of the football off-season.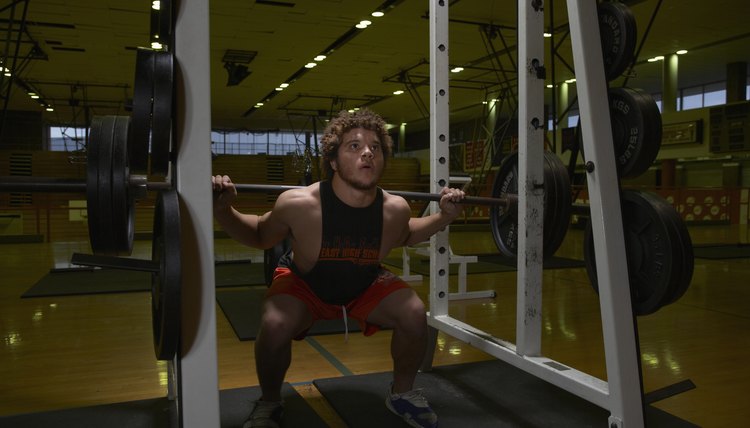 Jupiterimages/Photos.com/Getty Images
Start lifting serious weights at age 15. Many coaches and scouts pressure kids to start lifting weights at an even earlier age, but it is not necessary to do so, especially when over lifting can jeopardize a person's growth. However, at age 15, most football players who go on to get football scholarships start looking and lifting like football players by participating in weightlifting programs during the off-season and summer.
Stand Out in the Crowd
Jupiterimages/Photos.com/Getty Images
Record all of your varsity football games and plays and continually edit them into one highlight reel. While most high school coaches should do this for you, the only way you can have control of the situation is to have it done yourself. Send these highlight reels to coaches and scouts, and include letters asking to partake in their high school student camps. These camps are where head coaches evaluate talent, and if you can get into one or two of them, you can get yourself on the national radar.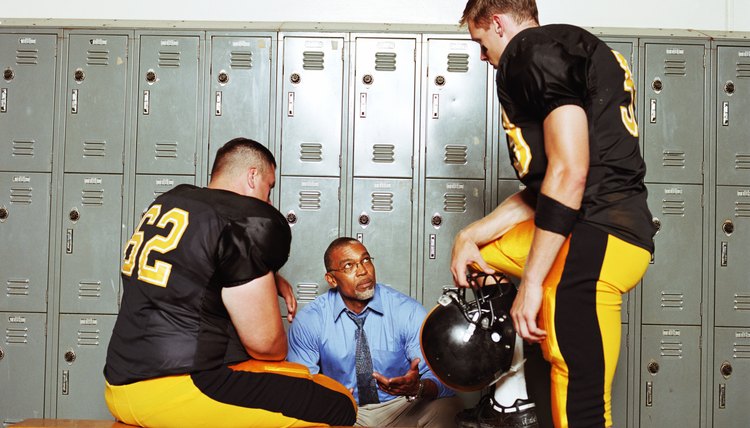 Jupiterimages/Photos.com/Getty Images
Work on your technique during the off-season, summer and during the season as well. If you are an extremely talented player, college scouts really want to see if you are a coachable player who can get better with teaching. The best way to show them your ability to improve your game is to continually get better at one aspect of your game from Game 1 to season's end.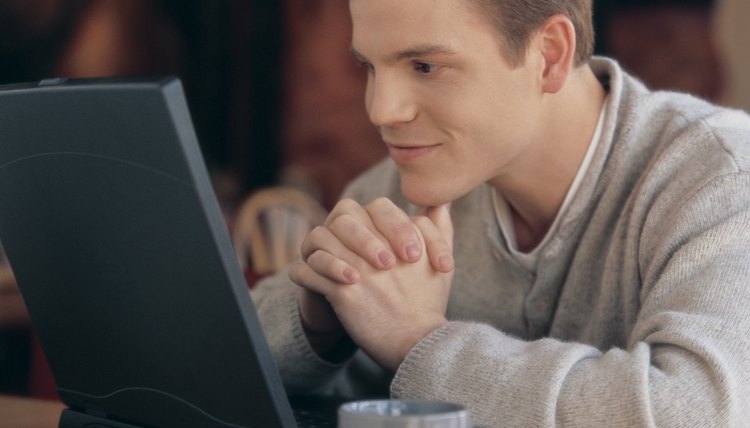 Jupiterimages/Photos.com/Getty Images
Sort through your list of Division I college football scholarship offers. If you are fortunate enough to have the talent and follow the above steps, you will be in good position to get an offer to play football in college. Make sure you select a school that will let you play early on in your career, because if you are not playing, NFL scouts will not have a chance to observe you on the field. If you do not get any Division I scholarship offers, you might want to reevaluate your NFL aspirations, but you can always try to walk on at a school or play at a lower level, as some NFL players have used these routes in the past.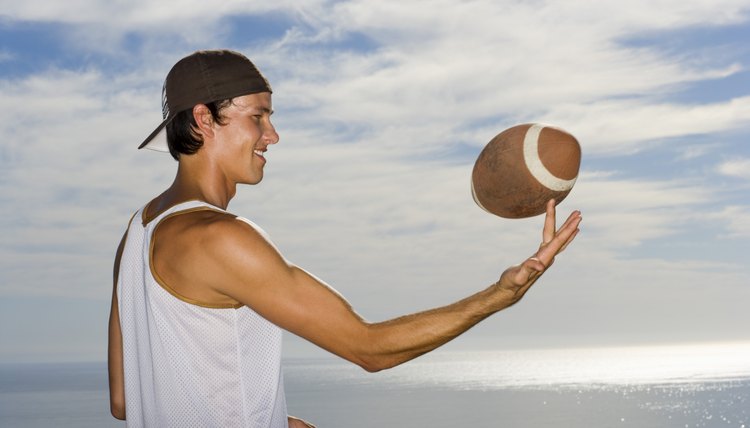 Jupiterimages/Photos.com/Getty Images
Continue training and improving your technique after you final year of high school football. Many young players make the mistake of going weeks or months without training during their senior year. If you were at a high school that had spring football, this will be the first time in a while that you did not have the opportunity to play football and improve your technique during the spring. Make sure you offset some of the rust that goes with not playing for so long by training as often and as regularly as possible.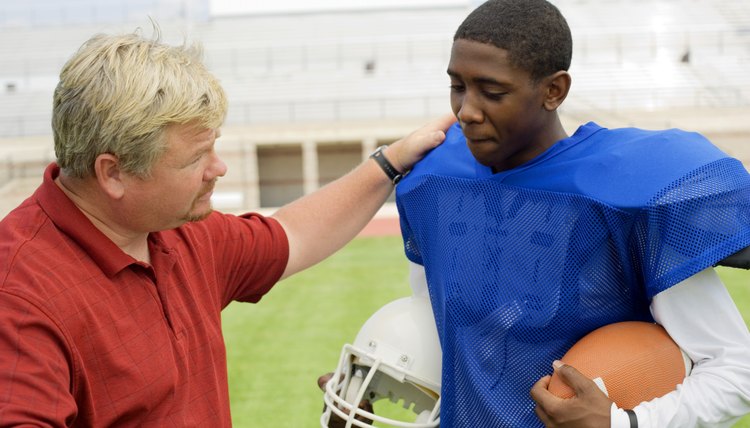 Jupiterimages/Photos.com/Getty Images
Before signing with a college football program, express your desire to play football in the NFL to your new college football coach. While this may seem presumptuous, you have to let your coach know your aspirations so that they can be honest, upfront and of assistance to your goal. Most coaches are going to do what is best for the team no matter what, but at least they can fill you in on the process and maybe even help aid your development so long as it does not negatively affect your college's football program.
Concentrate on Playing Your Best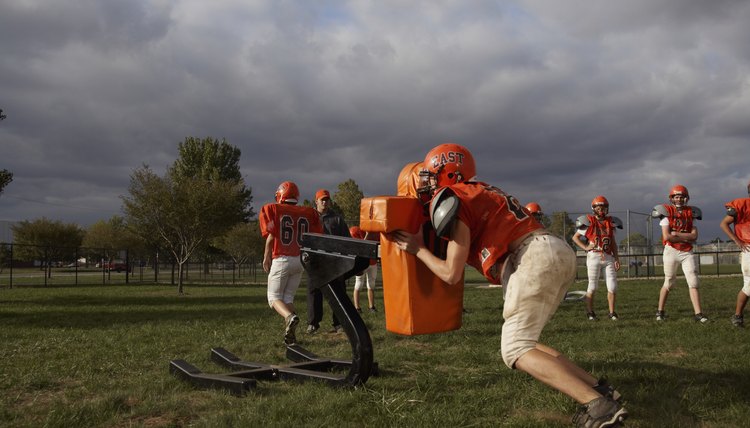 Jupiterimages/Photos.com/Getty Images
Play as hard as you can at your college and train even harder during the off-season. With many important people and money involved in college football, it is no longer necessary to draw attention to yourself with anything outside of your play on the field.
Jupiterimages/Photos.com/Getty Images
Be a good person. Stay away from drugs, transgressions and reckless domestic behavior. There are hundreds of people in the world who were talented enough and trained incredibly hard, but did not make it to the NFL because of their personalities. NFL teams spend hundreds of thousands of dollars evaluating potential players with psychological tests, character interviews and background checks. Even in the NFL, where managers say talent is the most vital component to success, many players have seen interest in them rise because they were dubbed "good people" and "leaders" during the evaluation process.
Jupiterimages/Photos.com/Getty Images
Be aware of where in the draft an NFL team is likely to select you. You do not want to go into draft day thinking you are a first-round pick when you are being touted as a seventh-rounder on all accounts. This is also important when it comes to contract negotiations, because trying to get a contract based on how high of a pick you think you should have been, as opposed to where you are actually drafted, could derail your chances of making an NFL roster.
Jupiterimages/Photos.com/Getty Images
Cross your fingers on draft day and hope for the best. While many players enter the draft knowing that they are going to be selected by a team, dozens, if not hundreds, of players end the draft without having been picked. If you are lucky enough to be picked, let your agent know how willing you are to concede on a contract in order to make the roster.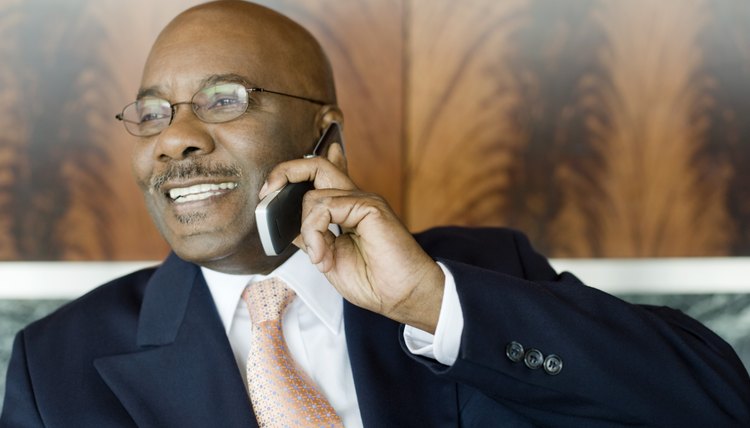 Jupiterimages/Photos.com/Getty Images
Have your agent call teams and ask them for an invite to camps if you did not get drafted. For the majority of people, not being drafted signals the end of NFL aspirations, but some undrafted players are lucky enough to get a chance to compete for a roster spot. Should you be fortunate enough to make the roster without having been drafted, make the best of your opportunity and work just as hard as an NFL player as you worked to become one.
References
"Total Access: A Journey to the Center of the NFL Universe"; Rich Eisen, 2007