How to Build a Manual Treadmill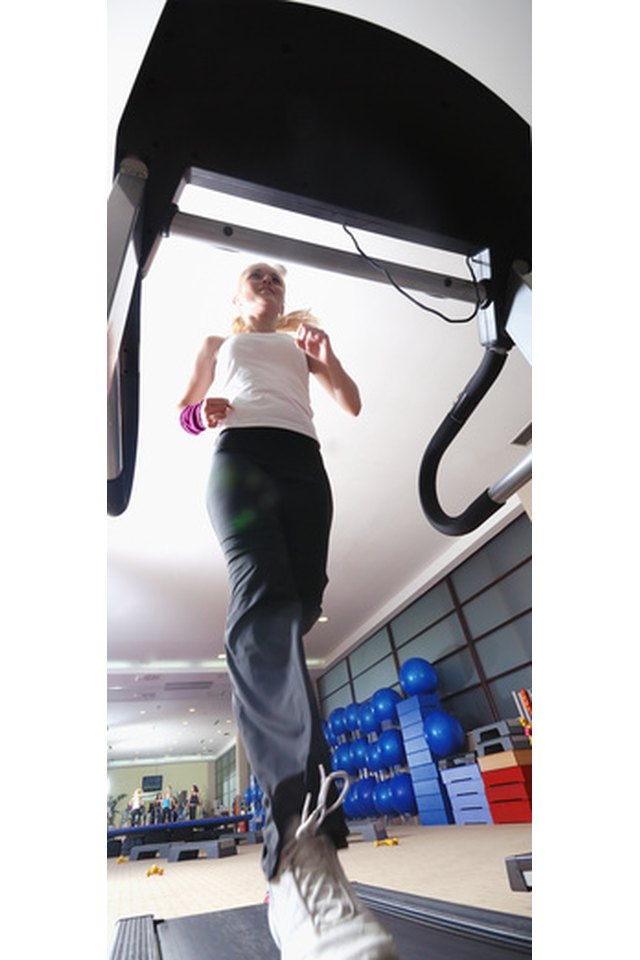 Running and jogging are basic cardiovascular exercises that will help improve your health and increase your athletic performance and quality of life. Manual treadmills offer an inexpensive alternative for runners and joggers who want to exercise without having to challenge traffic, car fumes and inclement weather. You can save money by either purchasing a manual treadmill and assembling it yourself or building it from scratch. The parts required for this project can be bought from a treadmill parts supplier and a hardware store.
Build a steel frame to support your treadmill deck and belt. The size will depend on the width and length of the deck you choose. Measure the length of your deck and the width of your front and rear rollers. Add 3 inches of clearance to each section. Cut the front, back and two sides of your frame from a 3-by-1-inch steel channel to these dimensions with a miter saw.
Mark the location of the front of the back rollers on you deck and drill holes on the sides of your frame accordingly with a 1/2-inch drill to accommodate the roller shafts.
Weld the front and back sections to one of the side steel channels. Make sure the channel of the steel sections are facing the center of the frame. Insert the treadmill deck into the open frame by matching the rollers to the holes you drilled in Step 2. Weld the other side section to the frame. Secure the roller shafts to the frame with the bolts and nuts. This is the frame of your treadmill.
Bend the rigid conduit into a "U-shape" to build your treadmill's handrail and uprights. Determine the dimensions of the handrail and uprights by the height of the treadmill's users. You should be able to comfortably hold onto the handrail while running. Adapt the dimensions of the handrail's uprights to the height of your choice. Drill holes through the lower sections of your uprights. The height at which you drill the holes will determine the incline of the treadmill.
Drill holes on the front corners of the treadmill's frame. Align these holes with those on the uprights and secure them together with carriage bolts.
Warnings
Do not rock the treadmill or try to climb or stand on the handrail. Keep your hands well away from the flywheels and other moving parts.
References
Writer Bio
Andrew Latham has worked as a professional copywriter since 2005 and is the owner of LanguageVox, a Spanish and English language services provider. His work has been published in "Property News" and on the San Francisco Chronicle's website, SFGate. Latham holds a Bachelor of Science in English and a diploma in linguistics from Open University.