What Causes Severe Leg Cramps While Sleeping?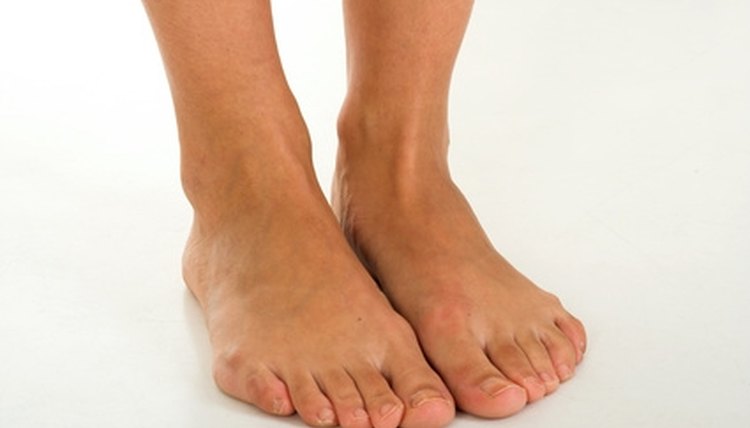 Nighttime leg cramps are defined as sudden, painful, involuntary contractions of the muscles of your legs during the night. Typically, nighttime leg cramps have no real cause and are simply a painful nuisance. There are times when these cramps may be associated with other conditions or disorders that may need treatment. If you are concerned about your nighttime leg cramping, consult your health care provider.
Unopposed Flexion
Nighttime leg cramps can be caused by unopposed foot flexion while in bed, according to the National Medical Society. When people sleep, the muscles of their feet and calves are shortened and become vulnerable to nocturnal leg cramping. The cramp generally occurs in the calf, and the calf muscle may visibly harden. Sometimes the cramp is caused by a voluntary contraction. You can have nighttime leg cramps in context with heavy sweating from prolonged exertion, hemodialysis or hypoglycemia. If you are taking calcium channel blockers, this can cause nocturnal leg cramps.
Peripheral Artery Disease
According to the National Institutes of Health, peripheral arterial disease can cause leg cramping. PAD happens when plaque builds up in the arteries. Arteries carry blood throughout the body and problems result if they get clogged. Plaque consists of calcium, fibrous tissues, fat, cholesterol and other substances found in the blood. When plaque builds up in your arteries, it creates a condition called atherosclerosis and the arteries become narrower and harden, which disallows the free flow of oxygen-rich blood to parts of your body.
Diuretics and Leg Cramping
If you take water pills, or diuretics, this can deplete your body of potassium. Diuretics help the body get rid of excess water and salt (sodium), and in so doing the kidneys put more sodium into the urine. Sodium absorbs water from the blood and this diminishes the levels of fluid in the blood vessels. This, in turn, takes some of the pressure off the walls of the arteries, which is good for individuals with certain conditions. However, the bad part is that these pills wreak havoc on potassium levels. Low levels of potassium can cause leg cramping.
Addison's Disease & Parkinson's Disease
Addison's disease, which is caused by a malfunctioning of the adrenal gland that may have occurred due to a hemorrhage, can cause nighttime leg cramps, according to MedicineNet.com. Individuals suffering from Parkinson's disease frequently suffer from leg cramps, the Mayo Clinic says.
Overextension and Other Factors
According to Dr. Bhupinder K of the AskMedicalDoctor website, overextension of the leg during the day can cause nighttime leg cramps. If you are overweight or dehydrated, engaged in long periods of standing over the course of the day or have high or low sodium levels in your body, this can cause cramping. Drinking too much alcohol and liver disease can cause leg cramps. Nerve compression can also be the culprit.
Diabetes
If you are a diabetic, you may experience leg cramps while sleeping as well as in the daytime. If you take insulin, this can lower your potassium levels, which, in turn, can provoke leg cramps. Diabetics tend to have magnesium and sodium deficiencies as well, which can cause leg cramps, according to the Diabetes Information Library.
Pregnancy
Women who are pregnant, especially in the second and third trimesters, often experience nocturnal leg cramps. This is due to the pressure of the uterus on the veins that return blood from your lower extremeties to the heart.
References
Jahic D, Begic E. Exercise-associated muscle cramp-doubts about the cause. Mater Sociomed. 2018;30(1):67-69. doi:10.5455/msm.2018.30.67-69
Waters TR, Dick RB. Evidence of health risks associated with prolonged standing at work and intervention effectiveness. Rehabil Nurs. 2015;40(3):148-65. doi:10.1002/rnj.166
Skogar O, Lokk J. Pain management in patients with Parkinson's disease: challenges and solutions. J Multidiscip Healthc. 2016;9:469-479. doi:10.2147/JMDH.S105857
Hallegraeff J, De greef M, Krijnen W, Van der schans C. Criteria in diagnosing nocturnal leg cramps: a systematic review. BMC Fam Pract. 2017;18(1):29. doi: 10.1186/s12875-017-0600-x
Mcdermott MM. Lower extremity manifestations of peripheral artery disease: the pathophysiologic and functional implications of leg ischemia. Circ Res. 2015;116(9):1540-50. doi:10.1161/CIRCRESAHA.114.303517
Blyton F, Chuter V, Walter KE, Burns J. Non-drug Therapies For Lower Limb Muscle Cramps. Cochrane Database Syst Rev 2012; 1:CD008496.
Grandner MA, Winkelman JW. Nocturnal leg cramps: Prevalence And Associations With Demographics, Sleep Disturbance Symptoms, Medical Conditions, And Cardiometabolic Risk Factors. PLoS One 2017; 12:e0178465.
Allen RE, Kirby KA. Nocturnal Leg Cramps. Am Fam Physician 2012; 86:350
American Academy of Sleep Medicine. Sleep Related Leg Cramps. In: International Classification of Sleep Disorders, 3rd ed., American Academy of Sleep Medicine, Darien, IL 2014. p.299-303.
Maquirriain J, Merello M. The Athlete with Muscular Cramps: Clinical Approach. J Am Acad Orthop Surg 2007; 15:425.
Writer Bio
Cindi Pearce is a graduate of Ohio University, where she received her bachelor's degree in journalism. She completed both the undergraduate and graduate courses offered by the Institute of Children's Literature. Pearce has been writing professionally for over 30 years.