Different Types of Basketballs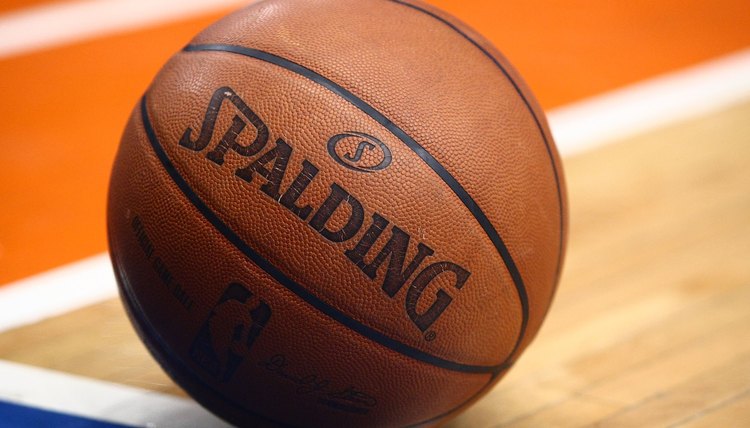 Whether you are a basketball fan, play the sport, or have a kid who does, one important thing to know is the difference between the types of basketballs available and what level of basketball competition they are used for. As a player goes from youth, to high school, and beyond that to the NCAA and NBA levels, the different basketball sizes and materials can significantly alter a player's touch and feel of the ball while doing things like dribbling and shooting.
When considering the different types of basketballs used in competition, one rule that is generally followed is that for official games, whether it is the NBA or elementary school, a regulation basketball measures half the size of the diameter of the hoop. Basketballs can range from several different materials based on if they are meant to be used on outdoor courts or as an indoor basketball, but the three main materials commonly seen in basketballs are leather, synthetic, and rubber.
Leather Basketballs
Balls that are 100 percent genuine leather are the best basketballs available and are used in the NBA and WNBA's basketball games. Here are some things to know about leather balls:
They develop a broken-in feel after repeated use

They should only be used as an indoor ball on indoor courts

It is often the most expensive kind of basketball to purchase because it is made of genuine leather

Leather basketballs are often used as the official game ball for all ages, from youth basketball to professional leagues

The two most common brands of leather basketballs are Wilson, which is currently the official ball of the NBA, and Spalding, the former official ball of NBA basketball.
Synthetic Basketballs
Synthetic or composite leather is an artificial type of material that feels like leather but is cheaper to produce. Here are some things to know about synthetic basketballs:
The materials are more versatile, meaning they are made for both indoor use and outdoor use

Synthetic leather doesn't need to be broken in, as the composite materials already have the softer feeling that basketball players prefer

The most common type of composite basketball is the Wilson Evolution.
Rubber Basketballs
Here are some key things to know about rubber basketballs:
Rubber balls are the cheapest to produce

They are ideal for outdoor basketball games due to their bounce on asphalt courts, where most street basketball is played

WATCH: How a rubber basketball is made
Official Sizes
The right basketball for a player to use depends on the age and competition level that they are competing at, with different sizes at nearly every level that a player moves up.
29.5 inches in circumference: The official, full sized basketball is the ball that is seen in men's basketball, particularly at the high school, college and NBA level

28.5 inches in circumference: The slightly smaller, intermediate basketball that is the official women's professional size ball

27 inches in circumference: Youth ball sizes, especially recommended for young beginners between the ages of 4-8

22 inches: The mini ball is generally used for training purposes, useful for teaching hand-eye coordination

References
Writer Bio
Based in Los Angeles, Zora Hughes has been writing travel, parenting, cooking and relationship articles since 2010. Her work includes writing city profiles for Groupon. She also writes screenplays and won the S. Randolph Playwriting Award in 2004. She holds a Bachelor of Arts in television writing/producing and a Master of Arts Management in entertainment media management, both from Columbia College.