Different Types of Basketballs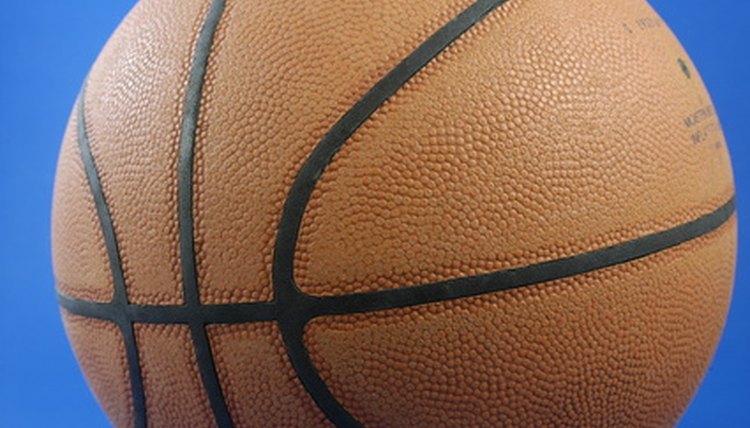 If you're a huge basketball fan, an aspring NBA star or you have a kid that loves basketball, it is important to know the difference between the types of basketballs available. For official games, whether in the NBA or elementary school, a regulation basketball should be half the size of the diameter of the the hoop, according to EquipmentForBasketball.com.
Leather
Balls that are 100 percent genuine leather are the best ones available and are used in the NBA and WNBA. Leather balls develop a broken-in feel after repeated use. This type of leather basketball should only be used on indoor courts. It is also the most expensive type of ball to purchase because it is made of genuine leather.
Synthetic
Synthetic or composite leather is an artificial type of material that feels like leather but is cheaper to produce. The materials are also more versatile and can be used both indoors and outdoors. Synthetic leather doesn't need to be broken in as it already has that softer feeling to it.
Rubber
Rubber basketballs are the cheapest to produce and are ideal for outdoor games due to their bounce on asphalt courts. Rubber basketballs are also recommended for beginners
Sizes
The full sized basketball is the kind the NBA uses, measuring 29.5 inches in circumference. Full size balls are recommended for boys ages 12 and up. The slightly smaller intermediate basketball is the WNBA sized ball, measuring 28.5 inches in circumference. This ball is recommended for girls and woman of all ages, due to female hands generally being smaller than male hands. Youth size balls are 27 inches in circumference. These balls are recommended for boys and girls between the ages of 4 and 8. The mini ball is generally used to train beginners and young children learning to play basketball. The smaller ball, measuring at 22 inches in circumference, is useful for teaching hand and eye coordination.
Writer Bio
Based in Los Angeles, Zora Hughes has been writing travel, parenting, cooking and relationship articles since 2010. Her work includes writing city profiles for Groupon. She also writes screenplays and won the S. Randolph Playwriting Award in 2004. She holds a Bachelor of Arts in television writing/producing and a Master of Arts Management in entertainment media management, both from Columbia College.