Football Kicking Workouts
Kicking is a key part of football. Solid punting can change field position, and timely field goals often win games in the closing seconds. Football kickers often practice on their own while their teammates work on blocking, tackling and throwing, so it's important for punters and placekickers to know how to hone their techniques and strengthen their bodies effectively.
Strength Training exercises for kicking
Ralph Freso/Getty Images Sport/Getty Images
Leg power is important for any kicker, but total body strength also helps, whether you're running toward the ball to kick it off, or using your arms and upper body to maintain your balance while punting. The off-season is the perfect time to hit the weight room and work on lower body strength for every kicker from high school to the pro level. If you're a punter, strengthen your legs with exercises such as lunges, leg extensions and leg curls. Improve your agility with body weight exercises like box jumps and improve your speed with sprints. Work your upper body with lat pulldowns, bench presses, arms curls and triceps extensions. For placekickers, perform glute-ham raises, push presses, dips, power cleans and deadlifts. All kickers should do multiple reps of barbell back squats or front squats to improve hamstring, quad, and calf strength as well.
Placekicker Drills
If you're a field goal kicker looking to achieve distance on kickoffs and long field goals, forward leg swings are a good exercise. Start by standing erect with a split stance, with your left foot a bit forward and your right foot set back, if you're a right-footed kicker. Extend your left arm straight in front of you, then try to kick your left hand with your right foot. This will help practice proper form, increase leg speed and build core strength. To practice extra points and short field goals -- which must rise quickly to avoid being blocked -- place a ball on a tee as close to the goal posts as possible and try to clear the crossbar. To work on correct leg form without having to go out on a field and kicking a ball, kick a large pillow or cushion while you keep your leg in the proper position, with your leg straight and your knee and ankle both locked.
Punting Drills
Go through your punting technique in slow motion, stopping with every step and observing your body position and it's range of motion to make sure it's correct. Do some practice kicks sideways across the field, beginning with your punting foot on a yard line. Make sure that your foot touches the line on each stride. Perform some one-step punts by setting up in your stance with your kicking leg in front, moving your kicking leg forward just a bit, then taking a full stride with your opposite leg before kicking the ball. To practice punt placement, have a training partner stand on the field and try to punt the ball to him. Begin with your partner 10 yards away, forcing you to kick a high, short spiral. Have your partner move around to different points on the field. Focus on having as much hang time as possible while working to increase distance.
Placekicking Workout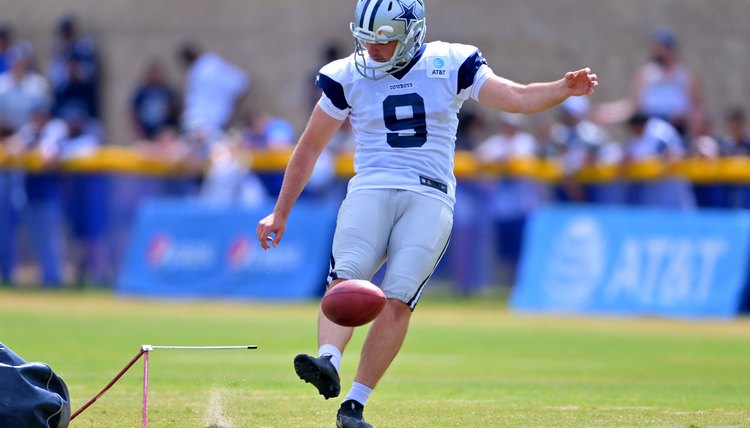 Ralph Freso/Getty Images Sport/Getty Images
Warm up with five minutes of light aerobic exercise followed by dynamic stretches, then try a kicking workout developed by former NFL kicker and kicking coach Doug Brien. Perform 10 no-step kicks by setting your plant foot a normal distance from the ball, but about 4 to 6 inches behind it. Take your leg back and kick the ball, making sure to follow through completely. Follow with another 10 no-step kicks from the 10-yard line with your eyes closed, then do 10 one-step kicks from 10 or 20 yards away. If necessary, kick a normal field goal, then mark the last spot where your kicking foot lands before you kick the ball. Place your kicking foot on that spot to begin the one-step kick drill. Kick 15 balls across the field, as far as you can, then kick two field goals each from 40, 45 and 50 yards -- or select shorter distances if the longer kicks are out of your range. Perform 10 kicks with your opposite foot, to help avoid muscle imbalances, then perform five minutes of static stretching.
Writer Bio
Blaise is a Freshman at the University of Missouri, studying Journalism at the world-renowned J school. He is the host of the Fast Five Podcast with his Childhood friend Sam Sinclair and interns with the Sports AI platform Pine Sports. He is a huge fan of the Kansas City Chiefs and the St Louis. Cardinals and hopes to cover them professionally in his near future.