What are Tight Ends in Football? Best NFL Tight Ends All Time and 2022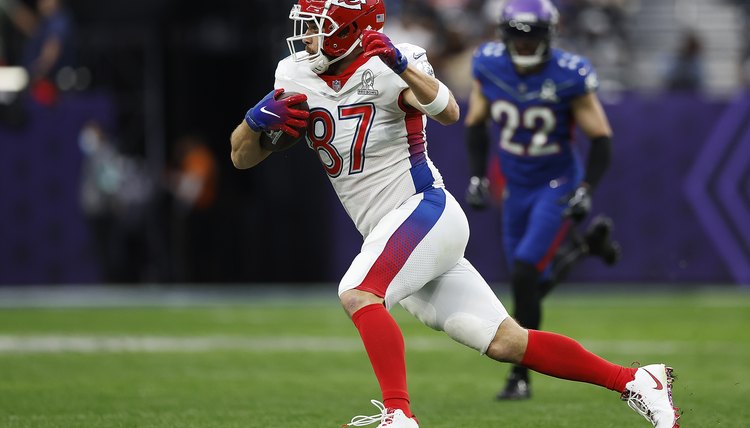 The tight end is very important to any football team's offense and is a jack of all trades position. From being a blocker for the QB to catching touchdowns and even running the ball on rare occasions, the tight end is very versatile. It has evolved over the years and with players like Rob Gronkowski and Tony Gonzalez changing the way it's played, there's a new generation of players at the tight end position.
What is a Tight End?
Tight end's are one of football's only hybrid positions. They line up on the end of the offensive line and can either block for the offense or can catch receptions as a downfield receiver. The role in which they are used usually depends on the head coach or how skilled the player is. Offensive formations can also have multiple tight ends, either for more blocking or an all-out passing attack.
What is the body type of a Tight End?
Depending on his role, the tight end can be a jumbo wide receiver or a small offensive lineman. The average NFL tight end weighs 248 pounds, which is 50 pounds more than the average wide receiver but 50 pounds less than the average offensive linemen. Tight ends are agile but bulky, making the best ones near impossible to take down.
How has the Tight End position evolved?
Tight end is a position that has gone through multiple evolutions and is still evolving. In the 1950's they existed as a niche position for players too big to be a wide receiver and too small to be a lineman. Browns coach Paul Brown helped to create plays for the new position and stars like Mike Ditka and John Mackey helped to popularize it. In 1980, Kellen Winslow brought wide receiver-like prowess to the position, changing the way routes were drawn up for the position. Then players like Tony Gonzalez, Shannon Sharpe, and Antonio Gates pushed the boundaries of speed and precision creating the modern Tight End.
What Tight Ends were drafted in the 2022 NFL Draft?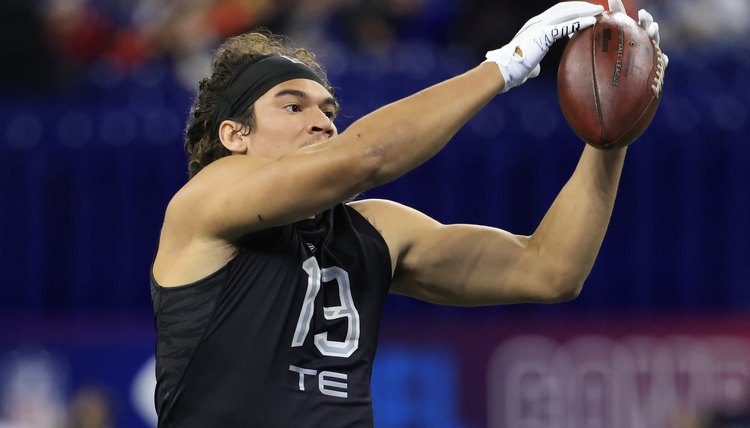 Like every position, the NFL Draft offered an opportunity for NFL teams to get a look at and become new homes for the next generation of tight ends. With names like George Kittle, T.J. Hockenson, and Kyle Pitts being taken over the last few years, any of the players below can become one of the greats. Here's the best tight ends taken in the 2022 NFL Draft:
Round 2 Pick 55: Arizona Cardinals select Trey McBride, Colorado State
Round 3 Pick 73: Indianapolis Colts select Jelani Woods, Virginia
Round 3 Pick 80: Denver Broncos select Greg Dulcich, UCLA
Round 3 Pick 101: New York Jets select Jeremy Ruckert, Ohio State
Round 4 Pick 106: Tampa Bay Buccaneers select Cade Otton, Washington
Round 5 Pick 177: Detroit Lions select James Mitchell, Virginia Tech
Round 7 Pick 227: Minnesota Vikings select Nick Muse, South Carolina
Who are the best Tight Ends in the NFL in 2022?
With the retirement of Rob Gronkowski, the rankings for the best tight ends have been shaken up. That's why it's time to take a deep dive and look at the tier list for all starting Tight Ends in the NFL in 2022.
Tier 1: Best in the Game
​Travis Kelce Kansas City Chiefs​
"Zeus" has been one of the best Tight Ends of all time since he made his debut with Kansas City. He is a Super Bowl winner and has been a first team all pro multiple times throughout his career. He has topped 1,000 receiving yards over the past six seasons and is by far one of the most talented players in the NFL
​George Kittle San Francisco 49ers​
While Kelce is the most talented TE, Kittle is the most complete package. He is both a stellar pass catcher and an amazing blocker. He is a multi-year member of the pro bowl and is one of the most recognizable names in pro football.
​Mark Andrews Baltimore Ravens​
Kelce and Kittle are talented, but Andrews is productive. He is a vital member of the Baltimore offense and was targeted 26% of the time in their pass game. He still put up amazing stats even as Lamar Jackson suffered injuries in 2022. Look for him to get even more targets now that Marquise Brown has been traded
​Kyle Pitts Atlanta Falcons​
The first round pick has made Atlanta very happy in his one year playing tight end. He posted the second most receiving yards and third most receptions by a rookie tight end last season. He only scored one touchdown last season but that will change with new QB Marcus Mariota
​Darren Waller Las Vegas Raiders​
Injuries may have derailed his 2021 season, but this fan favorite is back in action. He posted 90+ catches and 1,000+ yards in 2019 and 2020 and will look to pick back up his hot streak in 2022. The AFC West is competitive but look for Waller to have a starting role in the fight.
Tier 2: Great Starters
​Dallas Goedert Philadelphia Eagles​
After sharing targets with Zach Ertz, Goedert has broken free and become TE1 in Philly. He is an amazing pass catcher and also exists as a very good blocker for a team that runs the ball the most in the NFL.
​Dalton Schultz Dallas Cowboys​
The Cowboys TE of the future is here. After the retirement of star Jason Witten, it was unclear who would take the reins of the tight end position in Dallas. Schultz has made his presence known and is set up for a big season in 2022.
​Zach Ertz Arizona Cardinals​
The former Eagle flew to Arizona in a trade last season. He saw an uptick in production without Goedert. However he faces a new threat, rookie Trey McBride.
​Mike Gesicki Miami Dolphins​
Gesicki is more akin to a wide receiver than a tight end. He rarely blocks and often lines up out wide. He is a talented pass catcher but with virtually no history of blocking, he gets knocked down a few pegs.
​T.J. Hockenson Detroit Lions​
The Hock had a breakout season last year under new QB Jared Goff. He was a fantasy football stud and was crucial to the Lions offense. As Detroit rebuilds look for the Hock to be a major piece.
Tier 3: Good TE's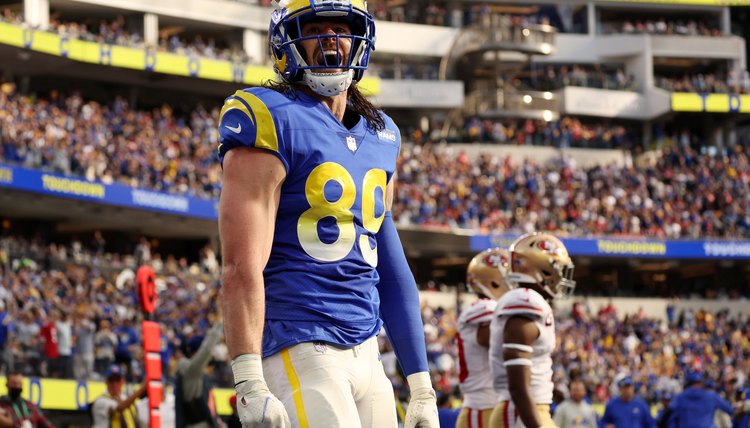 ​Dawson Knox Buffalo Bills​
​Hunter Henry New England Patriots​
​Pat Friermuth Pittsburgh Steelers​
​Noah Fant Seattle Seahawks​
​Tyler Higbee LA Rams​
Tier 4: Average TE's
​Logan Thomas Washington Commanders​
​David Njoku Cleveland Browns​
​Cole Kmet Chicago Bears​
​Albert Okwuegebunam Denver Broncos​
​CJ Uzoamah New York Jets​
Tier 5: Below Average TE's
​Evan Engram New York Giants​
​Gerald Everett LA Chargers​
​Cameron Brate Tampa Bay Bucs​
​Hayden Hurst Cinn. Bengals​
​Robert Tonyan Green Bay Packers​
Tier 6: Not Good
​Tyler Conklin New York Jets​
​Austin Hooper Tennessee Titans​
​Irv Smith Jr. Minnesota Vikings​
​Harrison Bryant Cleveland Browns​
​Jonnu Smith New England Patriots​
Who are the best Tight Ends of all time?
The best tight ends of all time span many eras and play styles. That's why it's so hard to pick the best considering the generational differences between them. With that being said, after accounting for stats, talent, and the era they played, here are the top five tight ends of all time.
5. Shannon Sharpe (1990-2003)
Sharpe helped to take the position to a new level with his receiving prowess and game breaking size. He won multiple super bowl rings with the Denver Broncos and became the first TE to hit 10k receiving yards. Nowadays, he's known for debating Skip Bayless on Fox Sports but Sharpe for many years was known as the GOAT TE
4. Antonio Gates (2003-2018)
Gates is here not because he was a numbers monster or a generational talent but because of his consistency. He played 16 seasons and only missed 20 games because of this he owns many spots on the TE career stats boards. The crown jewel being the record for most TD receptions with 116.
3. Kellen Winslow (1979-1987)
Winslow created the modern TE. Before him a tight end ran short routes and small slants, Winslow changed all that with his wide receiver like moves. He became the first ever deep threat TE, and racked up three 1,000 yard seasons when running the ball was all the rage. Alas, he only played ten years and wasn't the best blocker
2. Rob Gronkowski (2010-2021)
Oh Gronk. The staple TE to New England's dynasty was an absolute monster in his prime. He produced a hall of fame resume years before his career ended. He averaged a TD every 6.6 catches and racked up many volume stats. Alas, it was all too short of a run as he became riddled with injuries. He was there when it mattered most but he wasn't there enough to have the consistency of other all-time greats. Happy retirement Rob!
1. Tony Gonzalez (1997-2013)
The GOAT TE is obviously Tony G. Tony G embodied both talent and consistency at his position. He played 17 seasons and all of them were outstanding. He had 14 pro bowl selections to go along with a final total of over 15,000 receiving yards. He only missed two games over his career and had eleven seasons of over 70 catches, and sixteen seasons of over 600 yards. He was an offensive powerhouse into his late thirties and will be an impossible act to top.
Writer Bio
Blaise is a Freshman at the University of Missouri, studying Journalism at the world-renowned J school. He is the host of the Fast Five Podcast with his Childhood friend Sam Sinclair and interns with the Sports AI platform Pine Sports. He is a huge fan of the Kansas City Chiefs and the St Louis. Cardinals and hopes to cover them professionally in his near future.