Wide Receivers in the NFL and Top College Wide Receivers, All Time and 2022
The wide receiver position has seen a big boom in recent years as college and NFL offenses have shifted away from running backs and into pass heavy systems. AFC quarterbacks Patrick Mahomes of the Chiefs and Josh Allen of the Bills have implemented, better than anyone, their ability to scramble outside of the pocket and make big plays down the field, forcing their wide receivers to use their route-running abilities to find an opening in the defense and get open.
From Alabama to Arizona, we are seeing young NCAA talent become stars right before our very eyes. So let's take a look at who the best wide receivers were in both the NCAA and NFL in the 2022-23 season, as well as the greatest wide receivers in NFL history.
Who Were the Best Wide Receivers in College Football in 2022?
The NCAA serves as a proving ground for many young route runners, weeding the world class wideouts from the deep threat duds. This upcoming season was no different, so let's take a look back at who the five best WR's in college football were from this past season.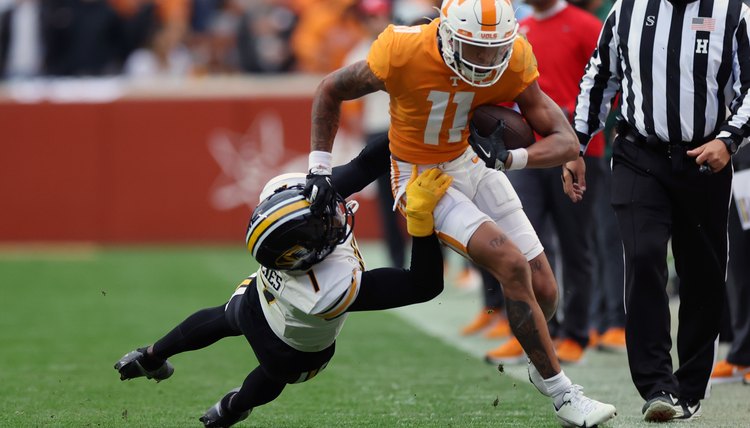 SportsRec
1. Jalin Hyatt, Tennessee
Jalin Hyatt was among the biggest contributors to the Vols' 2022 success, totaling 67 receptions, 1,267 receiving yards, and 15 touchdowns. He became a household name in Tennessee's monumental 52-49 win over Alabama in October, a game in which he recorded six receptions for 207 yards and five touchdowns.
2. Marvin Harrison Jr., Ohio State
Marvin Harrison Jr. exploded onto the scene with his massive sophomore season, finishing the year with 77 receptions for 1,263 yards and 14 touchdowns. In Ohio State's College Football Playoff game against the eventual champion Georgia Bulldogs, he finished with 5 receptions for 106 yards and two touchdowns.
3. Nathaniel Dell, Houston
Statistically, no receiver in college football had a better season than Nathaniel Dell. He was second in the nation with 109 receptions, led the nation with 1,398 receiving yards and led the nation with 17 touchdowns. He recorded two touchdowns in six of the Cougars' 13 games this season.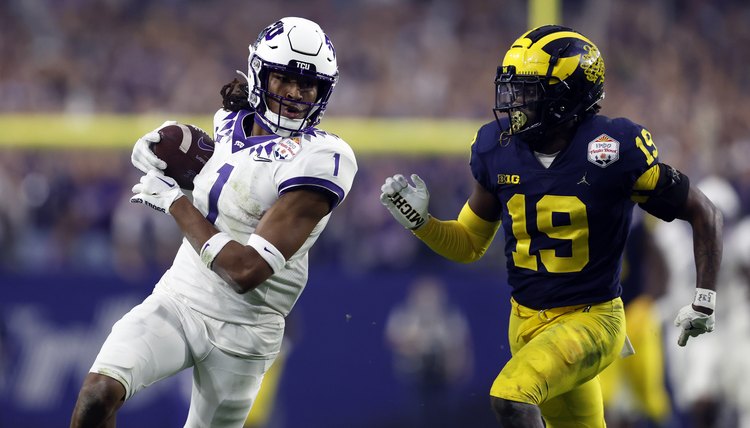 SportsRec
4. Quentin Johnston, TCU
After totaling just 114 yards in TCU's first four games this season, Johnston exploded for 206 yards on 14 receptions and a touchdown against No. 19 Kansas. He followed that up by going for 180 yards on 8 receptions and another touchdown in a double-OT win over No. 8 Oklahoma State. He would go on to finish the season with 1,069 yards and six touchdowns, and exponentially increase his 2023 NFL Draft stock.
5. Charlie Jones, Purdue
Like Dell, not many receivers in college football had a better season than Jones on a statistical front. He led the nation with 110 receptions, was second in the nation with 1,361 receiving yards, and was tied for fifth with 12 touchdowns.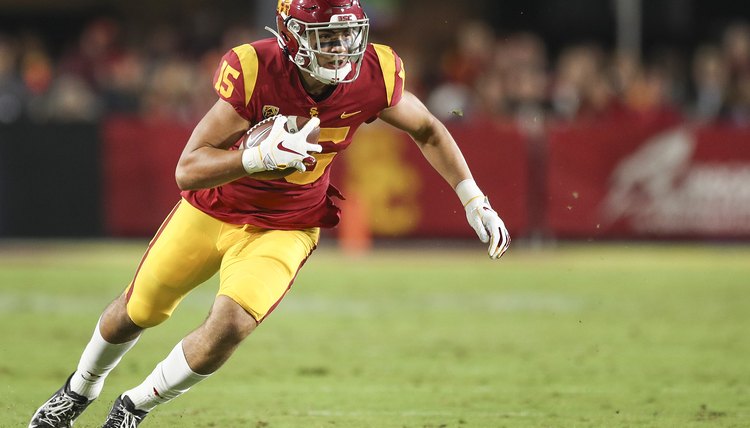 SportsRec
What WRs Were Drafted in the 2022 NFL Draft?
Speaking of college WR's, many were taken in last year's NFL draft, with the deepest class we have seen in years. Six wideouts were taken with the first twenty picks, an NFL first. Here are some of the highlights:
Drake London, USC | Atlanta Falcons Round 1, Pick 8

Garrett Wilson, Ohio State | New York Jets Round 1, Pick 10

Chris Olave, Ohio State | New Orleans Saints Round 1, Pick 11

Jameson Williams, Alabama | Detroit Lions Round 1, Pick 12

Jahan Dotson, Penn State | Washington Commanders Round 1, Pick 16

Treylon Burks, Arkansas | Tennessee Titans Round 1, Pick 18

Wan'Dale Robinson, Kentucky | New York Giants Round 2

John Metchie III, Alabama | Houston Texans Round 2

Who is the Best Wide Receiver in the NFL?
The 2022-23 NFL season saw the rise and fall of many prominent wide outs after the signing of some big offseason contracts. With the season officially in the books, let's answer the question of who the best of the pass catchers of the 2022-23 NFL season were.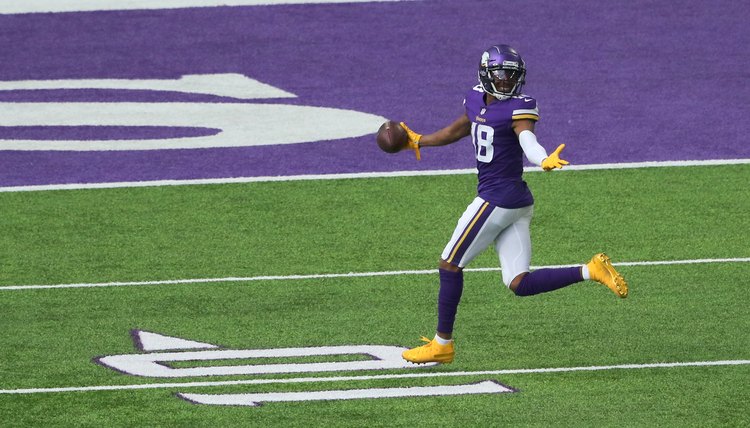 SportsRec
1. Justin Jefferson, Minnesota Vikings
2022-23 Stats: 128 REC, 1,809 YDS, 8 TD
2. Tyreek Hill, Miami Dolphins
2022-23 Stats: 119 REC, 1,710 YDS, 7 TD
3. Davante Adams, Las Vegas Raiders
2022-23 Stats: 100 REC, 1,516 YDS, 14 TD
SportsRec
4. Stefon Diggs, Buffalo Bills
2022-23 Stats: 108 REC, 1,429 YDS, 11 TD
5. A.J. Brown, Philadelphia Eagles
2022-23 Stats: 88 REC, 1,496 YDS, 11 TD
6. Jaylen Waddle, Miami Dolphins
2022-23 Stats: 75 REC, 1,356 YDS, 8 TD
7. CeeDee Lamb, Dallas Cowboys
2022-23 Stats: 107 REC, 1,359 YDS, 9 TD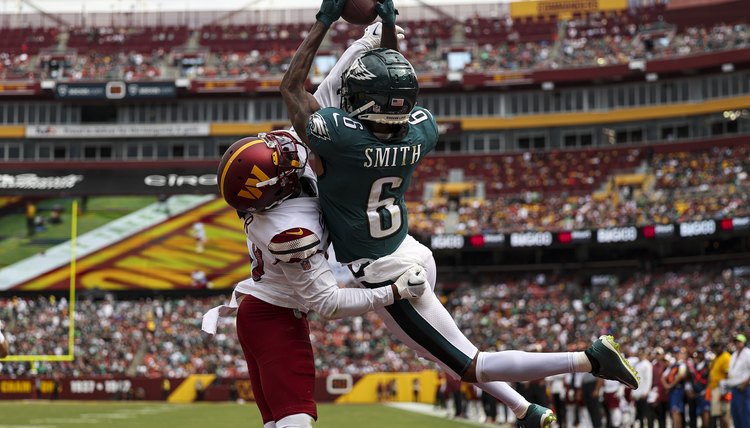 SportsRec
8. DeVonta Smith, Philadelphia Eagles
2022-23 Stats: 95 REC, 1,196 YDS, 7 TD
9. Amon-Ra St. Brown, Detroit Lions
2022-23 Stats: 106 REC, 1,161 YDS, 6 TD
10. Ja'Marr Chase, Cincinnati Bengals
2022-23 Stats: 87 REC, 1,046 YDS, 9 TD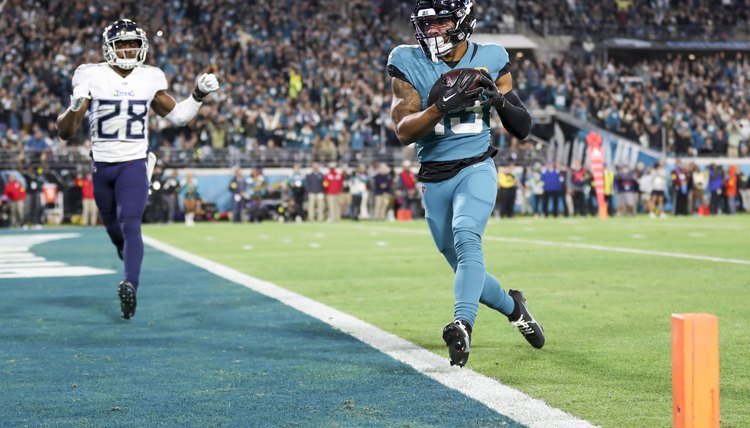 SportsRec
11. Christian Kirk, Jacksonville Jaguars
2022-23 Stats: 84 REC, 1,108 YDS, 8 TD
12. Amari Cooper, Cleveland Browns
2022-23 Stats: 78 REC, 1,160 YDS, 9 TD
13. DK Metcalf, Seattle Seahawks
2022-23 Stats: 90 REC, 1,048 YDS, 6 TD
SportsRec
14. Mike Evans, Tampa Bay Buccaneers
2022-23 Stats: 77 REC, 1,124 YDS, 6 TD
15. Deebo Samuel, San Francisco 49ers
2022-23 Stats: 56 REC, 632 YDS, 2 TD
Ranking the Ten Greatest Wide Receivers in NFL History
While some of these names may have a chance at the Hall of Fame, this list is of those who transcended entire generations of football. These are the innovators, the creators, and the pioneers of the position that has come to mean so much. These are the top ten NFL WRs of all time.
SportsRec
1. Jerry Rice
San Francisco 49ers (1985-2000), Oakland Raiders (2001-2004), Seattle Seahawks (2004)
When talking about the wide receiver position, nobody has ever, and no one likely will ever, do it better than Jerry Rice. Over the course of his 20-year career, Rice accounted for the most career receptions in NFL history (1,549), the most career receiving yards in NFL history (22,895), the most career receiving touchdowns in NFL history (197), the most career total touchdowns in NFL history (208), and the most career all-purpose yards in NFL history. Add on three Super Bowl rings and Jerry Rice is far and away the greatest to ever do it.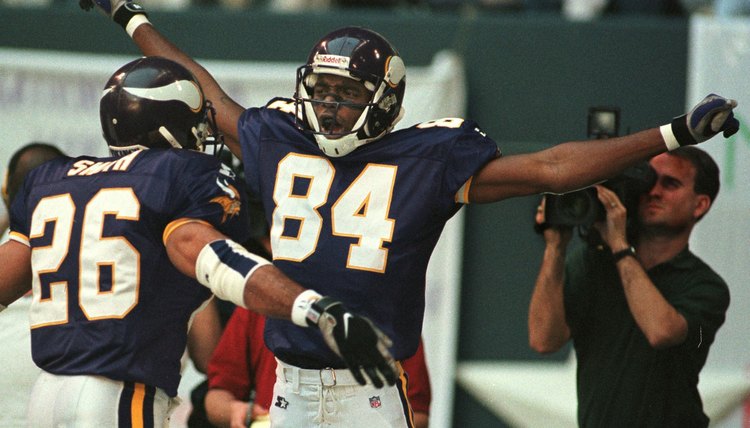 SportsRec
2. Randy Moss
Minnesota Vikings (1998-2004, 2010), Oakland Raiders (2005-2006), New England Patriots (2007-2010), Tennessee Titans (2010), San Francisco 49ers (2012)
Randy Moss became a household name right off the bat in his rookie season, where he finished with 69 catches for 1,313 yards and 17 touchdowns in 16 games. He would go on to finish his career with 15,292 receiving yards and 156 touchdowns while being named 6X Pro Bowler.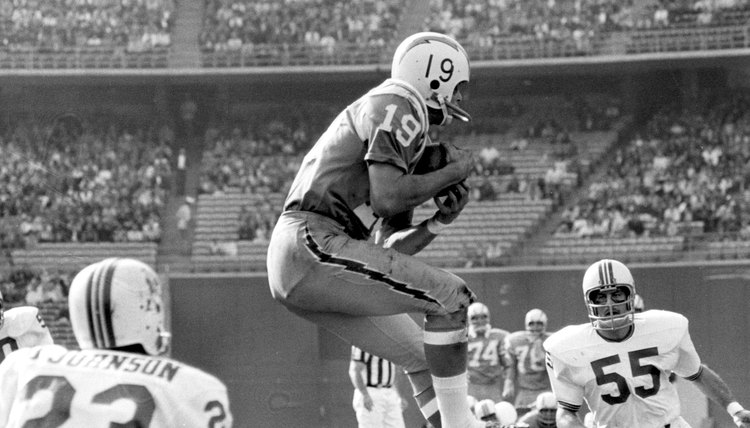 SportsRec
3. Don Hutson
Green Bay Packers (1935-1945)
Hutson is widely considered the pioneer of the modern wide receiver position, and many credit him with creating several of the routes that NFL receivers run today. Over the course of his 11-year NFL career, he was a three-time NFL Champion, 2X NFL MVP, 8X NFL receptions leader, and 7X NFL receiving yards leader, earning him a spot in the Pro Football Hall of Fame.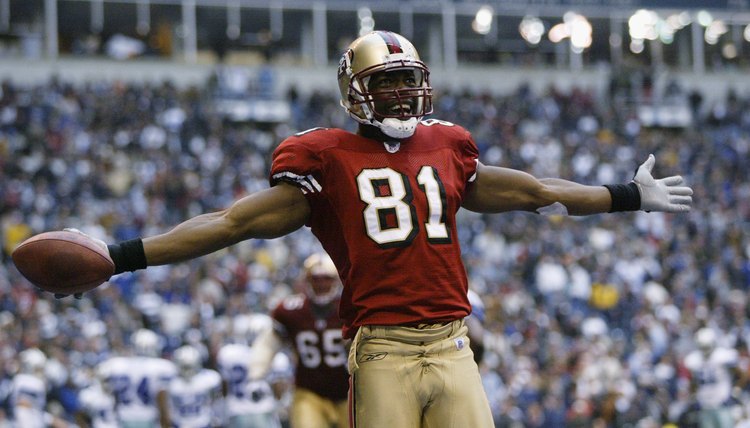 SportsRec
4. Terrell Owens
San Francisco 49ers (1996-2003), Philadelphia Eagles (2004-2005), Dallas Cowboys (2006-2008), Buffalo Bills (2009), Cincinnati Bengals (2010)
After being drafted in the third round out of Tennessee Chattanooga, Owens played alongside Jerry Rice for the 49ers and quickly made a name for himself. He recorded a then-record 20 catches in a single game against the Chicago Bears in 2000, and caught 290 passes for 4,163 yards and 42 touchdowns over the best three-year span of his career from 2000-2002.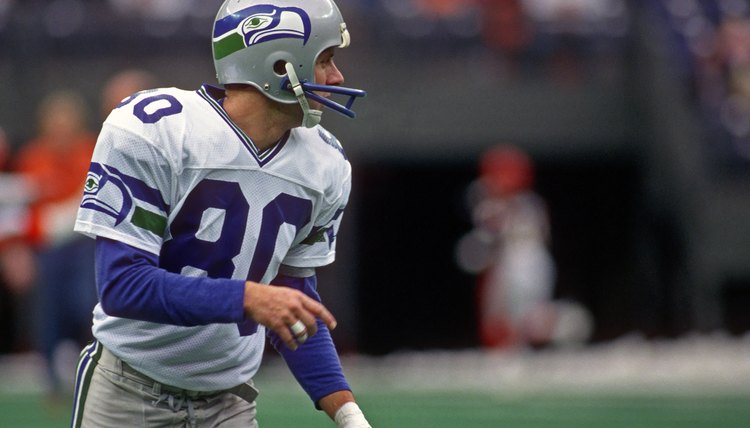 SportsRec
5. Steve Largent
Seattle Seahawks (1976-1989)
At the time of his retirement, Largent stood atop the record books in several major receiving categories: most receptions (819), most consecutive games with a reception (177), most receiving yards (13,089), most receiving touchdowns (100), most seasons with 50 or more receptions (10), most seasons with 1,000+ receiving yards (8). He did it all at 5-11, 187LBS, making this Hall of Famer's career that much more impressive.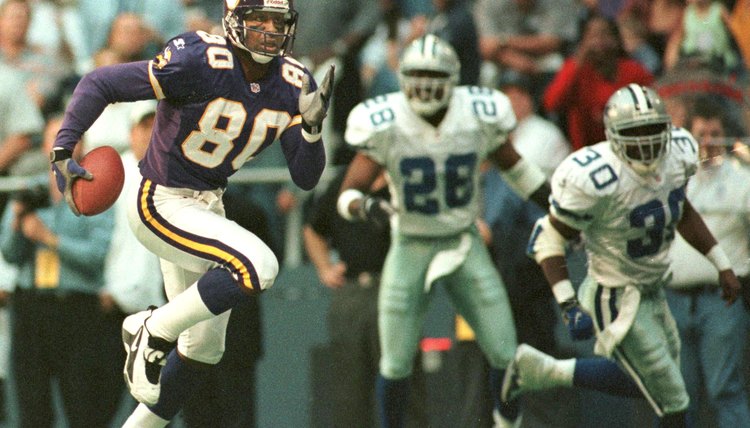 SportsRec
6. Cris Carter
Philadelphia Eagles (1987-1989), Minnesota Vikings (1990-2001), Miami Dolphins (2002)
Carter, a fourth round pick in the 1987 Supplemental Draft, caught his first career NFL pass for a 22-yard touchdown. He would go on to score 129 more, and rack up 13,899 career receiving yards on 1,101 receptions in his 8X Pro Bowl, 2X First Team All-Pro career.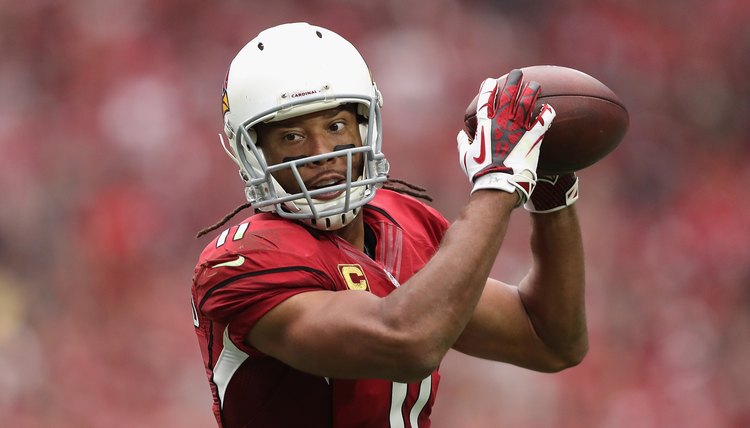 SportsRec
7. Larry Fitzgerald
Arizona Cardinals (2004-2020)
Larry Fitzgerald's 17-year career with the Arizona Cardinals is one of the most respected in modern NFL history. Fitzgerald ranks second in NFL career receiving yards with 17,492, second in career receptions with 1,432, and sixth in receiving touchdowns, with 121. The beloved star was also named the Walter Payton Man of the Year in 2016.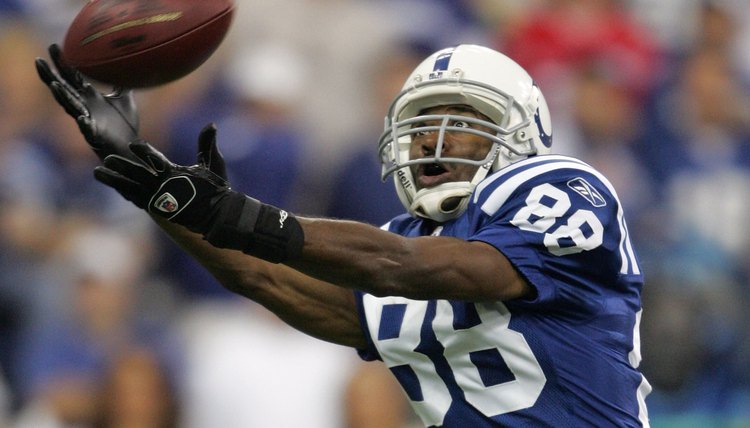 SportsRec
8. Marvin Harrison
Indianapolis Colts (1996-2008)
Marvin Harrison burst onto the scene for the Colts in his rookie season after being a first round pick in the 1996 NFL Draft, leading the team in receptions, receiving yards, and total touchdowns. He would go on to finish his career as an 8-time Pro Bowl selection and Super Bowl Champion.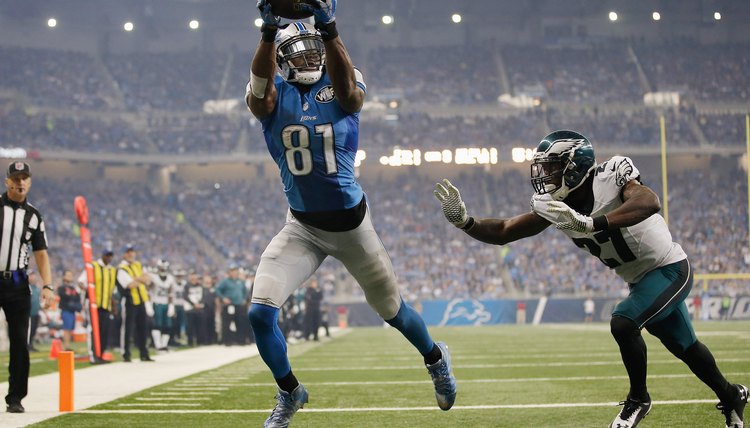 SportsRec
9. Calvin Johnson
Detroit Lions (2007-2015)
"Megatron" was one of the most unique and physically gifted players ever seen in the NFL. At 6'5", he was a constant matchup nightmare for opposing defenses, and finished his career with seven 1,000-plus receiving yards. He still holds some NFL records, including the most receiving yards in a season (1,964), in which he leads Rams wideout Cooper Kupp by 17 yards.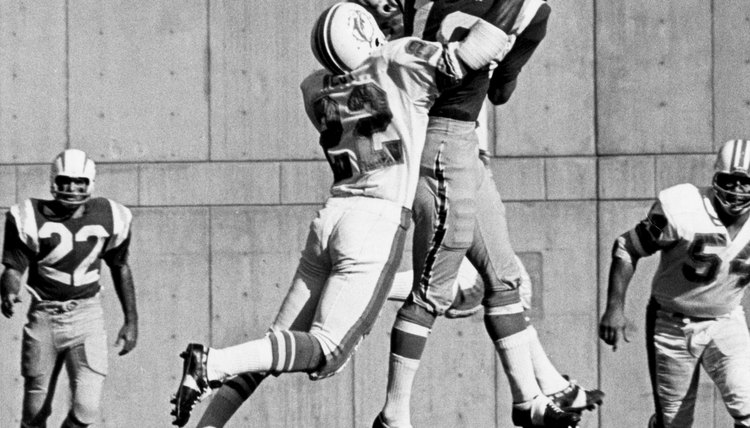 SportsRec
10. Lance Alworth
San Diego Chargers (1962-1970), Dallas Cowboys (1971-1972)
At the time of his retirement, Alworth ranked second in receiving yards in pro football history. He finished his career with 542 catches for 10,266 yards and 85 touchdowns. He was a Super Bowl Champion and is a member of the NFL's 75th and 100th Anniversary All-Time Teams.
NFL Receiving Leaders
NFL Receiving Leaders in 2023. Justin Jefferson has the most receiving yards with 1,809 yards. Davante Adams has the most receiving touchdowns with 14 touchdowns. Last updated: May 12, 2023.
NFL Receiving Leaders 2022

| Name | Team | Receiving Yards | Receiving Touchdowns |
| --- | --- | --- | --- |
| Davante Adams | Las Vegas Raiders | 1,516 | 14 |
| A.J. Brown | Philadelphia Eagles | 1,496 | 11 |
| Stefon Diggs | Buffalo Bills | 1,429 | 11 |
| CeeDee Lamb | Dallas Cowboys | 1,359 | 9 |
| Travis Kelce | Kansas City Chiefs | 1,338 | 12 |
Writer Bio
Blaise is a Freshman at the University of Missouri, studying Journalism at the world-renowned J school. He is the host of the Fast Five Podcast with his Childhood friend Sam Sinclair and interns with the Sports AI platform Pine Sports. He is a huge fan of the Kansas City Chiefs and the St Louis. Cardinals and hopes to cover them professionally in his near future.