Wide Receivers in the NFL and Top College Wide Receivers, All Time and 2022
The position of Wide Receiver has seen a big boom in recent years as NFL offenses have shifted away from running backs and into pass heavy systems. The wide receiver has become a premium position in the modern NFL offense and with pass catchers getting record breaking contracts, it's no surprise that the biggest stars of today's NFL are not just the ones passing balls but catching them. From Alabama to Arizona, we are seeing young NCAA talent become stars right before our very eyes. So let's take a look at who the best wide receivers are in both the NCAA and NFL in 2022.
Who is the best returning WRs in college football in 2022?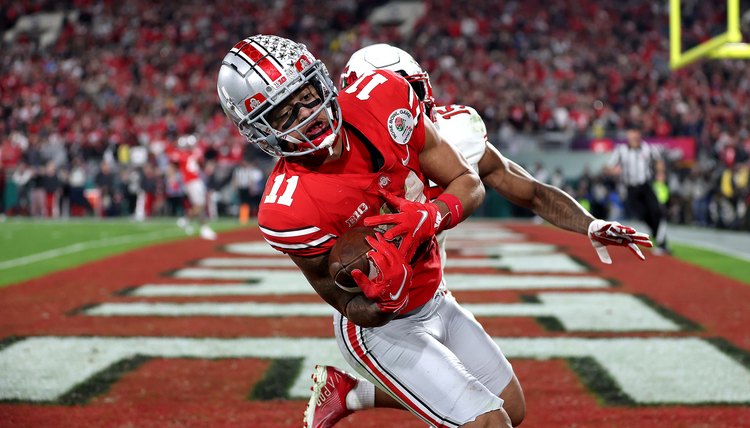 The NCAA serves as a proving ground for many young route runners, weeding the world class wideouts from the deep threat duds. This upcoming season is no different so let's take a look at the five best WR's in college football and some honorable mentions.
5. Kayshon Boutte - LSU Tigers (2021: 38 receptions, 508 yards, 9 TDs)
The junior was the best high school prospect in the state of Louisiana when he committed to LSU. Last season he suffered an injury that held him to only six games but when he touched the field, it was electric. He is supremely talented and shows amazing acceleration and toughness. With new head coach Brian Kelly, he could be the greatest thing since former LSU receiver Ja'Marr Chase. The only ding is his durability, to climb up the list he is going to need to stay healthy.
4. Xavier Worthy - Texas Longhorns (2021: 63 receptions, 998 yards, 12 TDs)
The sophomore was one of the only lone stars of Texas's football program in 2021. However, with Quinn Ewers under center that could all change. He was targeted on nearly a third of all his routes after the midway point of the season. His downfield acceleration made him prime for big-play opportunities and that should not change in 2022. Last year he had 17 receptions of 15+ yards, which should improve with Ewers.
3. Josh Downs - North Carolina Tar Heels (2021: 101 catches, 1,335 yards, 8 TDs)
Getting separation from defensive backs and being the target of many missed tackles, Downs proved himself in 2021. The former #13 prospect out of Georgia, he barely made the cut for the top 100 prospects in his class but has proven himself in the FBS. He was one of Sam Howell's favorite targets, getting 97 more targets than UNC's WR2, and handled that volume with ease. His QB room has gotten worse for sure but he should still light the field up.
2. Jordan Addison - Pitt Panthers (2021: 100 catches, 1,593 yards, 17 TD)
Addison was an absolute fiend in 2021 and was one of the key targets for lone first round draft pick Kenny Pickett. In the red zone, he inhaled touchdowns like a vacuum. He was versatile on other parts of the field, swapping between slot and outside with ease. He can stretch the field, go under and up, and just flat out run. He gets a new QB in the form of USC transfer Kedon Klovis, the pair should work well together in the ACC.
1. Jaxon Smith-Njigba - Ohio State Buckeyes (2021: 95 catches, 1,606 yards, 9 TD)
If you have paid any attention to the state of college football, you know this guy is the best wideout to come out of the NCAA in years. He put up eye popping stat lines in spite of playing next to some of the best WRs in the 2022 draft (more on that later). There are no flaws in his game, he has quickness, ball skills, and incredible routes. He broke records in the Rose Bowl with his 15 passes for 336 yards and three touchdowns. He will be an early first round pick an monster
What WRs were drafted in the 2022 NFL Draft?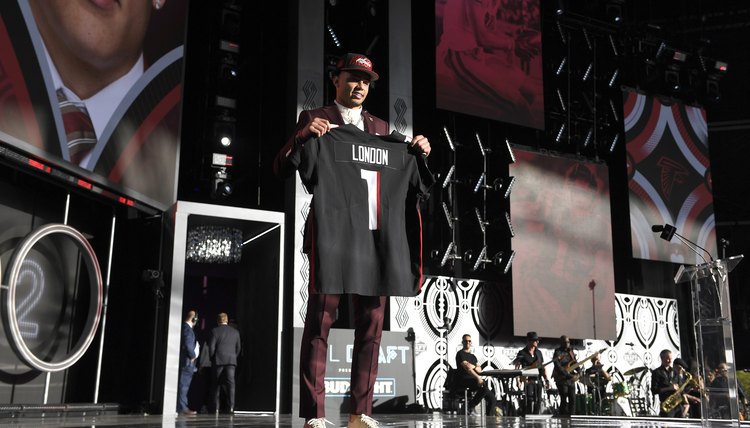 Speaking of college WR's, many were taken in this year's NFL draft with the deepest class we have seen in years. Six wideouts were taken with the first twenty picks, an NFL first. Here are some of the highlights:
Drake London, USC | Atlanta Falcons ​Round 1, Pick 8​
Garrett Wilson, Ohio State | New York Jets ​Round 1, Pick 10​
Chris Olave, Ohio State | New Orleans Saints ​Round 1, Pick 11​
Jameson Williams, Alabama | Detroit Lions ​Round 1, Pick 12​
Jahan Dotson, Penn State | Washington Commanders ​Round 1, Pick 16​
Treylon Burks, Arkansas | Tennessee Titans ​Round 1, Pick 18​
Wan'Dale Robinson, Kentucky | New York Giants ​Round 2​
John Metchie III, Alabama | Houston Texans ​Round 2​
Who is the best wide receiver in the NFL?
The 2021 NFL season saw the rise and fall of many prominent wide outs and the signing of some big offseason contracts. Now that all the WR pieces are in place, let's answer the question of who is the best of the pass catchers heading into 2022.
5. Tyreek Hill - Miami Dolphins (2021: 111 Receptions, 1,239 Yards, 9 TDs)
Hill has moved onto greener pastures ($$) after a trade sent him from Kansas City to Miami. He went away from his deep threat ways in 2021, showing that he can be more than a one trick pony. He has been instrumental to the Chiefs AFC dominance and can absolutely break games with his big play ability. Many wonder if his success was a product of Patrick Mahomes and if his 1,000+ yard average will suffer with Tua Tagovailoa and his noodle-esque arm.
4. Ja'Marr Chase - Cincinnati Bengals (2021: 81 Receptions, 1,455 Yards, 13 TDs)
The former LSU Tiger had a rookie season for the record books. He was instrumental in helping the Bengals to the Super Bowl with outstanding numbers. He was a big play waiting to happen with 13 catches of 30+ yards, second in the NFL. Against single coverage, he had over 800+ yards making double coverage a must for most defenses. Chase still has some areas to improve, namely consistency, but he is a star.
3. Justin Jefferson - Minnesota Vikings (2021: 108 Receptions, 1616 Yards, 10 TDs)
Before Chase, Jefferson was the rookie phenom destroying records. He has matured into a sophomore star with game breaking speed. He had nearly a third of the Vikings targets and had the third highest target percentage in the NFL. He also ranked top fifteen in yards per catch in spite of his insane volume. The Vikings force fed him the ball and he handled it perfectly, with a better QB he could be the #1 receiver.
2. Cooper Kupp - LA Rams (2021: 145 Receptions, 1947 Yards, 16 TDs)
He was by far the most statistically productive wide receiver in his first year with new QB Matthew Stafford. He led all WR's in receptions, yards, and touchdowns, on his way to a record breaking season. Not to mention he was the Super Bowl MVP, an award usually won by the winning QB. His status as #2 is a product of his durability issues over the years, but if he stays healthy he may just take the crown.
1. Davante Adams - LV Raiders (2021: 123 Receptions, 1553 Yards, 11 TDs)
Adams is the most talented wide receiver of his generation and it is indisputable. He hauled in 96% of his catchable targets and shredded all coverages. He has averaged 90 yards per game in 3 of his 4 last seasons in spite of the huge amounts of attention he requires from defenses. He moves to a Raiders team that hasn't had a true WR1 in nearly five years. He leaves behind an all-time great in Aaron Rodgers for Derek Carr, but he should have no issues adjusting.
Rankings for the ten best NFL wide receivers of all time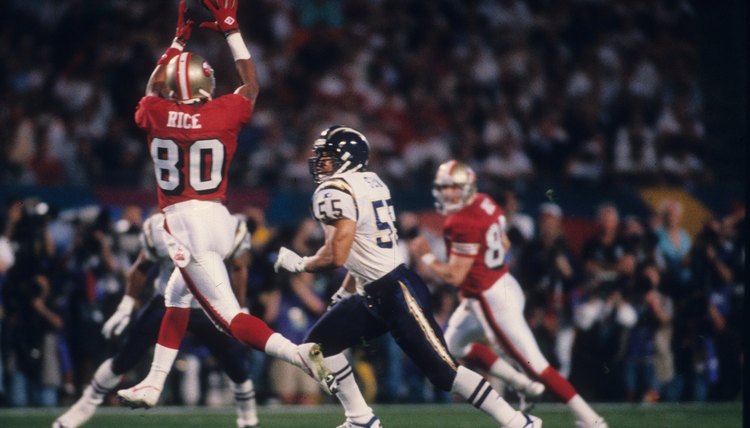 While some of these names may have a chance at the Hall of Fame, this list is of those who transcended entire generations of football. These are the innovators, the creators, and the pioneers of the position that has come to mean so much. These are the top ten NFL WRs of all time.
​10. Art Monk - Washington Football Team​
​9. Marvin Harrison - Indianapolis Colts​
​8. Cris Carter - Minnesota Vikings​
​7. Calvin Johnson - Detroit Lions​
​6. Larry Fitzgerald - Arizona Cardinals​
5. Steve Largent - Seattle Seahawks
Largent played in an era where consistent play was hard to come by from the position. He didn't innovate the game or make a highlight reel that needs 20 minutes to cover but he put up numbers. He sat atop every receiving record when he retired and notched eight 1,000 yard seasons in an era where even five was unheard of. His career stats would be higher if he didn't play in two strike shortened seasons but alas.
4. Terrell Owens - San Francisco 49ers
Owens was a matchup nightmare and one of the most controversial and recognizable stars of his era. T.O. played sixteen seasons and sits second all-time in yards and third in touchdowns. Some of his success can be owed to the era he played in and his longevity but Owens had undoubtable talent. With six pro bowls and five All-Pro selections, he hogged the accolades in his prime.
3. Randy Moss - Minnesota Vikings
Moss started the trend of star Vikings wide outs and set the bar in the stratosphere. In his first six years, he accumulated over 8,000 yards and 77 touchdowns. He has notched ten years of over 1,000 yards and broke the record for most touchdowns in a season with 23. Moss was one of the most physically gifted wide receivers ever and although he suffered from some inconsistency, he truly lived up to the hype.
2. Don Hutson - Green Bay Packers
If you want to know how good this guy is, go ask your great-grandfather. He was a certified champion with three NFL championships and eight all-pro selections in his eleven year career. He also recorded nearly 8,000 career receiving yards in a time when nobody before him had 3,500. He caught 99 TDs, setting a record that wasn't broken until the 1980's. Hutson changed the game in a way nobody else has.
1. Jerry Rice - San Francisco 49ers
Rice is the gold standard of WR's and it is undebatable, don't even try to argue otherwise. He leads the NFL in career TDs, receptions, and yards. He played twenty seasons and made All-Pro lists in half of them. He caught 22 touchdowns in 1987 despite only playing TWELVE GAMES. He was a part of the Joe Montana dynasty that won 3 rings and was the offensive player of the year twice. End of discussion.
Writer Bio
Blaise is a Freshman at the University of Missouri, studying Journalism at the world-renowned J school. He is the host of the Fast Five Podcast with his Childhood friend Sam Sinclair and interns with the Sports AI platform Pine Sports. He is a huge fan of the Kansas City Chiefs and the St Louis. Cardinals and hopes to cover them professionally in his near future.