How to Taper for Sprinters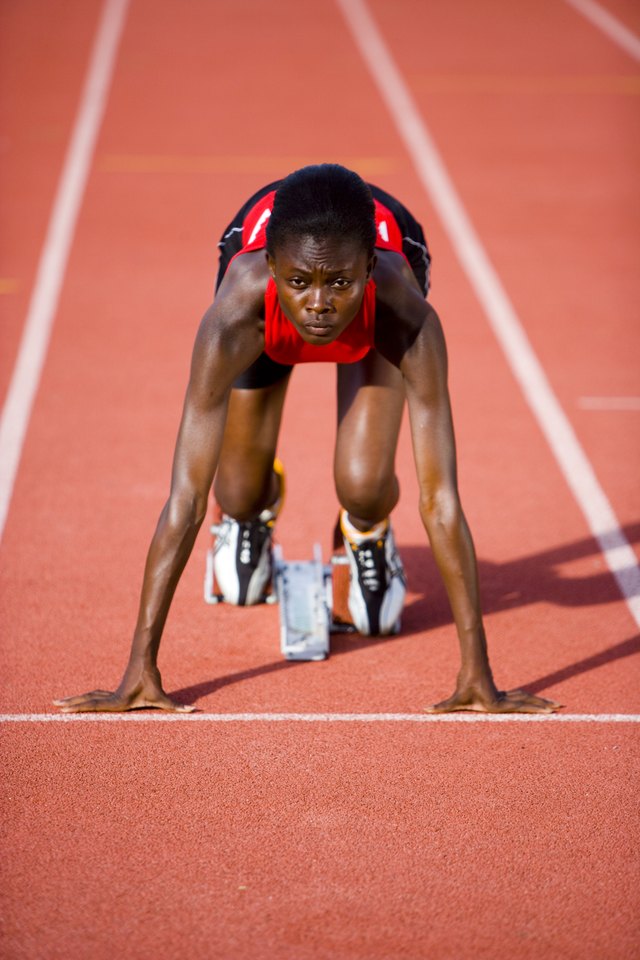 Tapering is a well-documented training strategy for reaching peak performance at the right time. While many athletes and coaches understand that they should reduce the amount they train prior to a major competition, they fail to understand how long the taper should be or how to train during the taper. Research suggests that for sprinters, the taper should look much different than for distance runners.
Determine Taper Length
The first step in tapering for a sprint competition is to determine how long the taper should be. While research has suggested that tapers of anywhere from a few days to several weeks can be effective, you can design your taper by following a few rules of thumb. First, for short-distance events such as sprints, the taper should be shorter. Second, the more physically fit you are, the longer the taper should be. Renowned British track and field coach Brian Mackenzie suggests that sprinters should plan on tapering for seven to 10 days prior to competition.
Determine Taper Style
Some training programs taper off in a linear fashion, with a gradual reduction in volume. Others taper off in a sudden and sharp reduction in training. Research supports both strategies, although exercise scientist and tapering specialist Inigo Mujika advocates a linear strategy. Gradually reduce training over several days.
Reduce Volume
Reducing volume is important to allowing the body to make adaptations between training sessions and achieving optimal performance. A sprinting taper should include an overall reduction in training volume of 60 percent to 80 percent, and a reduced training frequency of about 20 percent. For example, if you run 50 kilometers each week and train six days, your taper should include about 15 kilometers and four days of training.
Maintain Intensity
While you need to drastically reduce the volume of training during a taper, you must also maintain, or even increase, the intensity of each workout. This serves to stimulate the central nervous system and and maintain your maximal oxygen consumption. Perform each workout at 90 percent to 100 percent of your maximum intensity.
Include a Loading Week
One final important aspect of tapering is to include a "loading" week just prior to the taper. This strategy overloads the body beyond its normal capacity and forces it to super-compensate, or make new performance gains, during the subsequent taper. Increase training volume by about 20 percent the week before the taper to capitalize on this natural phenomenon.
References
Essentials of Strength Training and Conditioning (3rd Ed.); Thomas R. Baechle and Roger W. Earle
Tapering and Peaking for Optimal Performance; Inigo Mujika
Writer Bio
Graham Ulmer began writing professionally in 2006 and has been published in the "Military Medicine" journal. He is a certified strength-and-conditioning specialist with the National Strength and Conditioning Association. Ulmer holds a Master of Science in exercise science from the University of Idaho and a Bachelor of Science in psychology from Washington State University.