How to Identify Ping Square Groove Clubs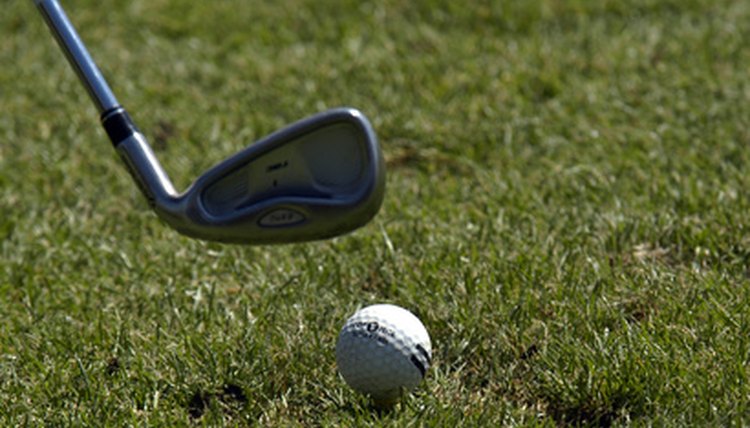 Ping golf clubs have grooves in the face, to assist the golfer in putting spin on the ball and to clear water away from the impact zone. Square groove refers to the cross section of the grooves. Square grooves made headlines when the Ping Eye-2 irons were banned by the United States Golf Association for providing too much assistance to the golfer. They are now illegal in elite-level competition and will be in the organized amateur game by 2024.
Look at the grooves through a magnifying glass. The cross section of the grooves has a slight taper, giving a box or u-shaped appearance. This shape is where they differ from the V-groove shape that is the other shape of grooves used on clubs.
Confirm the manufacturer name and model. All Ping clubs manufactured up to 2010 have been manufactured with square grooves. The PING logo is present on the rear of the iron along with the club make, manufacturer Karsten's name and serial number. Ping clubs include: The G10, V2 Rapture, i10, S57, S59, Rhapsody, G5, Zing, Eye 2 and the Eye 2+.
Check the patent for legality. US Patents D4512577 and D276644 stamped in the cavity of a Ping Eye 2 club denotes the clubs that were manufactured between 1985 and 1990 and have been "grandfathered" (allowed through old rules) onto the PGA Tour, despite the illegality of using similar clubs manufactured after this time.
Writer Bio
Mark Slingo has been a professional writer since 2008. His work has appeared in Forward, ScubaGlobe, Scuba Jedi, "Pattaya Mail" and other publications. Slingo has a Bachelor of Arts in politics from the University of Newcastle and a diploma in journalism from the British College of Journalism.