Middle School Baseball Pitching Rules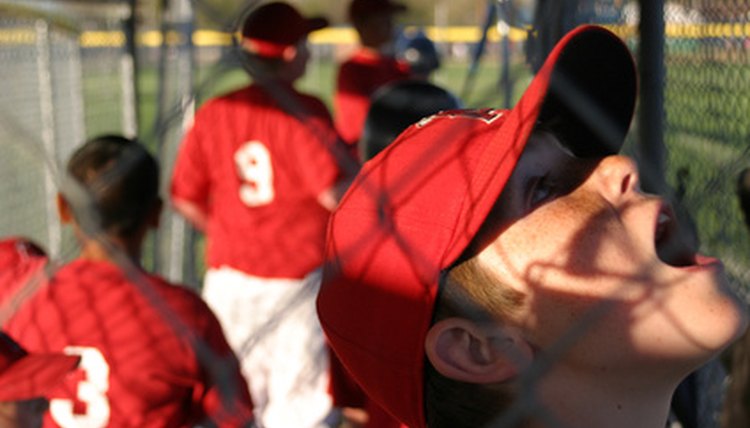 Unlike collegiate athletics, there is no one governing body for middle school sports in the United States. However, most states and local leagues have developed similar rules governing the permissible number of innings pitched and distance requirements from the mound to the plate. Because middle school sports are not as competitive as high school sports, information on specifics can be hard to find. Enough resources exist, however, to get a general idea of rules for middle school pitchers.
Innings Pitched
The Tennessee Secondary School Athletic Association, Massachusetts Interscholastic Athletic Association, and a number of local leagues have adopted similar protocol for the number of innings middle school athletes in both baseball and softball leagues may pitch. As per these commonly accepted rules, students are not permitted to pitch more than 12 innings per week, and no more than seven in one day. Pitching to a single batter is considered an inning pitched by these rules. A student who pitches more than four innings in one day is prohibited from pitching for subsequent days. Variations on this stipulate that students may pitch no more than seven innings in a week.
Distance Rules
According to rules put forth by California's Academic Athletic Association, a middle school pitching mound is required to be 54 feet from home plate. Some middle school fields place a pitching rubber 50 feet from home plate. It is the responsibility of the umpire to measure the distance from the plate to the rubber. If moving the rubber isn't feasible, a substitute should be set at the appropriate distance. The Massachusetts Interscholastic Athletic Association is in concurrence with this rule.
Other Rules
As per the Tennessee Secondary School Athletic Association rules for middle school baseball, pitchers who have been removed from the mound may play in other positions during the game unless prevented from doing so on account of mandatory rest provisions. California's Athletic Academic Association maintains a separate and very explicit rule stipulating that all pitchers wear a baseball hat while pitching. American Legion middle school baseball rules require students to play for the team that is closets to the domicile of the player's parents.
Writer Bio
Will Gish slipped into itinerancy and writing in 2005. His work can be found on various websites. He is the primary entertainment writer for "College Gentleman" magazine and contributes content to various other music and film websites. Gish has a Bachelor of Arts in art history from University of Massachusetts, Amherst.