Truist Park, Home of the Atlanta Braves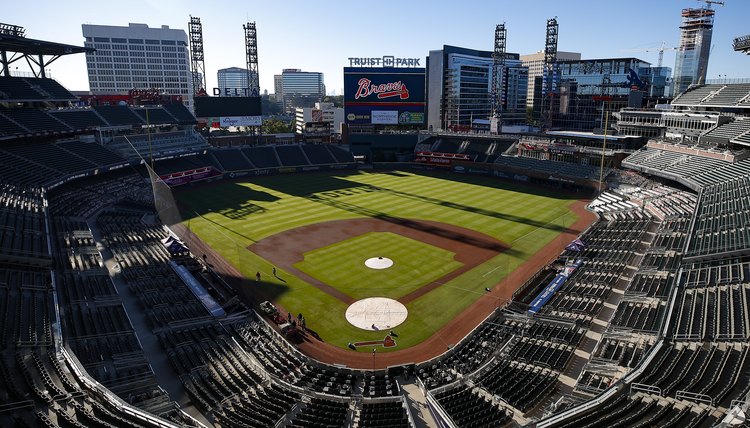 When did Truist Park open?
Truist Park opened in 2017, after the Braves left their former home Turner Field. The grand opening was a baseball game between the Georgia Bulldogs and the Missouri Tigers.
What team plays at Truist Park?
The MLB's Atlanta Braves are the main tenant at Truist Park. But the park has hosted college football games and concerts.
Who owns Truist Park?
The county of Cobb County owns Truist Park and is operated by the Atlanta Braves organization. It was designed by the Populous group.
What are Truist Park dimensions?
Truist Park is a neutral park for both batters and pitchers. Its dimensions are as follows:
​Left field​ – 335 ft (102 m)
​Left-center​ – 385 ft (117 m)
​Center field​ – 400 ft (122 m)
​Right-center​ – 375 ft (114 m)
​Right field​ – 325 ft (99 m)
What is Truist Park seating capacity?
Truist Park has a maximum capacity of 41,084 in both standing and seating capacity. The record attendance was 43,619 during a regular season Braves game.
How much are suites at Truist Park?
Suites at Truist Park usually cost between $2,500-$5,000 per game. The price can vary widely on a suite depending on it's location, the opponent and box size.
What are the amenities at Truist Park?
Truist Park has various interesting amenities and things to check out around the Stadium. Monument Park behind home plate features many visual exhibits from the Braves history along with statues of former Braves players.
The Battery is adjacent to Truist Park and offers all sorts of shopping and entertainment for the whole family. It also features plenty of hotel space for those looking to stay close to the park.
The ballpark's main club is the Truist club 58 feet behind home plate. It features stunning views and complimentary food and drink.
Truist Park Bag Policy
Bags are not allowed to enter Truist park unless it is a medical or diaper bag. Exceptions will also be made for purses smaller than 5 x 9 inches.
Can you bring a Stroller into Truist Park?
Strollers are allowed inside as long as they fold beneath a seat.
Can I bring a Purse into Truist Park?
Purses are allowed in Truist park as long as they are smaller than 5 x 9 inches.
Can you bring food into Truist Park?
All outside food can be brought into Truist park as long as it can fit inside a one gallon plastic bag. Guests can also bring a sealed plastic water bottle.
Where is Truist Park located?
Truist Park is located in Atlanta's northern metro area. It's exact address is 755 Battery Ave SE, Atlanta, GA 30339
What time do the gates open at Truist Park?
Gates will open two hours before game time at Truist Park. Exceptions will be made for Thursday and Sunday day games, where gates open ninety minutes before game time.
Can you tailgate at Truist Park?
Tailgating is allowed at Truist park in the North 29 and West 85 lots.
How much is Truist Park parking?
Truist Park has many available parking lots and ranges from 10 to 25 dollars per lot.
Truist Park seating map
Can you pay with cash at Truist Park?
Truist Park is a cashless venue but fans can convert their cash into a Atlanta Braves credit card at locations around the ballpark.
Best bets for Truist Park food
There are numerous good food options at Truist Park ranging from local favorites to good old fashioned ballpark classics. Here are some of the best:
H&F Burger - An Atlanta favorite, this ballpark burger is massive and delicious. It has seating both inside and on the patio
King of Pops - For a sweet treat, check out this roaming popsicle stand that has become a fan favorite at Truist Park.
Coors Light Chop House - For the older folks, check out this brew house in right field. It features lots of good brews and amazing views of the field.
Hotels near Truist Park
These are the three closest hotels to Truist Park
Omni Hotel at the Battery: 0.1 Miles from Truist Park

Doubletree Suites at the Battery: 0.31 Miles from Truist Park

Aloft Atlanta: 0.32 Miles from Truist Park

Restaurants near Truist Park
There are a lot of restaurants near Truist Park as it is in the Battery. Here are the highlights:
Writer Bio
Blaise is a Freshman at the University of Missouri, studying Journalism at the world-renowned J school. He is the host of the Fast Five Podcast with his Childhood friend Sam Sinclair and interns with the Sports AI platform Pine Sports. He is a huge fan of the Kansas City Chiefs and the St Louis. Cardinals and hopes to cover them professionally in his near future.