Comerica Park, Home of the Detroit Tigers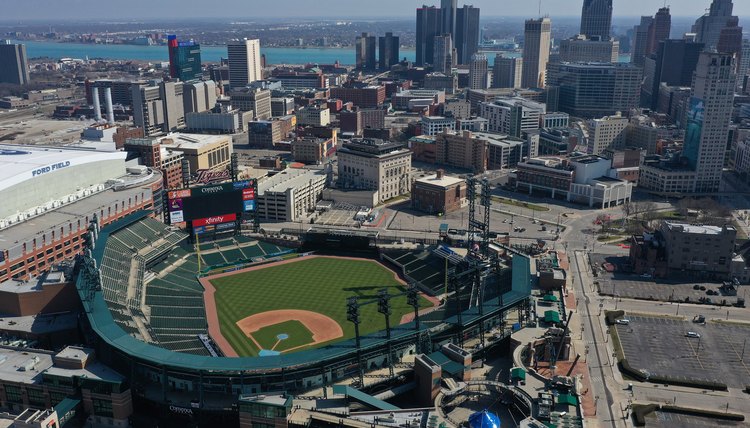 When did Comerica Park open?
Comerica Park opened on April 11, 2000 after over two years of construction.
What team plays at Comerica Park?
The Detroit Tigers play at Comerica Park as a member of Major League Baseball.
Who owns Comerica Park?
Comerica Park is owned by the Detroit-Wayne County Stadium Authority.
What are the Comerica Park dimensions?
Left Field: 345 feet (105m)
Left Center: 370 feet (110m)
Center Field: 420 feet (130m)
Right Center: 365 feet (111m)
Right Field: 330 feet (100m)
What is the Comerica Park seating capacity?
Comerica Park's seating capacity is 41,083.
How many people attend Comerica Park?
​2021 Season Attendance Statistics​
Average Attendance: 13,613 (33%)
Highest Attendance: 32,845 vs CLE on August 14th
Lowest Attendance: 7,133 vs KCR on May 12th
What are the amenities at Comerica Park?
Comerica Bank Carousel features 30 hand-painted tigers and two chariots, and is located behind the first base area

Tiger Den Lounge is a private bar and dining location reserved for members of the Motor City Casino Hotel Tiger Club, located off the main concourse near section 131

Fly Ball Ferris Wheel features cars shaped like baseballs that can seat up to five passengers and is fully wheelchair accessible

A 'liquid fireworks' display can be seen in the fountain behind the center field wall, where the fountain is synchronized to music and changing lights that celebrate home runs and other in-game moments

The Walk of Fame is located all throughout the main concourse, and features historic displays that celebrate Tigers baseball history dating back to the 1800s

What is Comerica Park's bag policy?
Comerica Park follows a strict bag policy. Bags that ​are permitted​ into the stadium include:
Bags required for medical purposes

Single-compartment items smaller than 4"x 6" x 1.5"

Bags that are ​not permitted​ into the stadium include:
Backpacks, purses, clutches

Any bag that has more than one compartment and/or exceeds 4" x 6" x 1.5"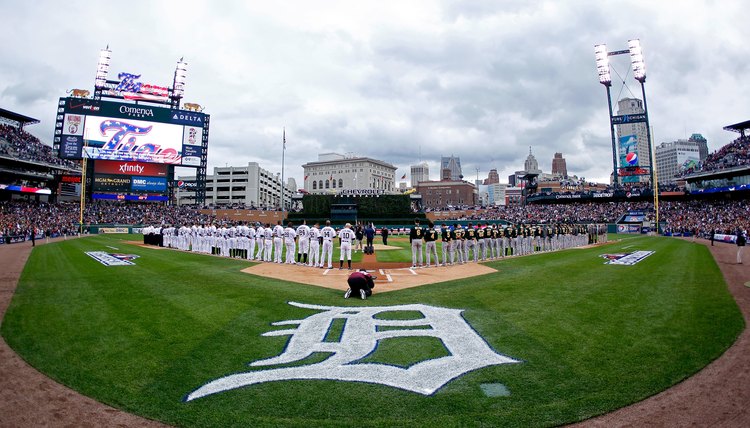 SportsRec
Where is Comerica Park located?
Comerica Park is located at 2100 Woodward Ave, Detroit, MI 48201
What time do the gates open at Comerica Park?
For all games at Comerica Park, entry gates open one hour and 40 minutes prior to the scheduled first pitch, unless otherwise advertised.
Can you tailgate at Comerica Park?
Tailgating ​is permitted​ in the surrounding parking lots operated by Olympia Development. Pre-purchase parking in an Olympia Development lot is available online.
Can you pay with cash at Comerica Park?
Comerica Park is a ​cashless venue​. Cash2Card Kiosks can be found in the following locations around the stadium:
Concourse Section 121

Concourse Section 138

Concourse Section 328

What are the most popular foods at Comerica Park?
​Bahi Mi​, the "Asian Slaw," is a hot dog bun filled with bacon, lettuce, cabbage, and sriracha aioli

​Beef Brisket Nachos​ are topped off with steaming melted cheese, located at the Big Cat Court Mexican area

​Brushfire Grill​ offers vegetarian options for fans, including bean burgers, veggie dogs, and more, and can be found near the Ferris wheel

​Coney Dog Egg Rolls​ are a crispy egg roll with a hot dog

​Late Night Burgers​ are topped off with bacon, cheese, fried eggs, and other toppings of your choice

​Dippin' Dots​ ice cream is perfect for kids on hot days, and can be found at several locations around the ballpark

Hotels near Comerica Park
The following hotels are among the closest to Comerica Park, as well as some of the highest rated hotels in the area:
Shinola Hotel: 0.3mi from Comerica Park

Element Detroit at the Metropolitan: 0.2mi from Comerica Park

Aloft Detroit at The David Whitney: 0.1mi from Comerica Park

Restaurants near Comerica Park
​Union Assembly​ features Detroit-style pizza, triple pepper buffalo wings, blood orange barbecue ribs, a variety of salads, and an extensive beverage menu just a short walk away from Comerica Park.
Union Assembly address: 2131 Woodward Ave

In the same building as Union Assembly, ​Mom's Spaghetti​ has a variety of spaghetti styles, and also has a delicious sandwich called the "s'ghetti" that features noodles and melted mozzarella between two slices of Texas toast.
Mom's Spaghetti address: 2131 Woodward Ave

​Frita Batidos Detroit​ has items like Cuban-style burgers, hibiscus shakes, and churros, and game day specials make it a great place to eat before or after a game.
Frita Batidos Detroit address: 66 W Columbia St

​Tin Roof Detroit​ has it all- a restaurant, a bar, and a live music venue. The menu includes wings, street corn quesadillas, coney dogs, and Nashville hot chicken, though it is limited on game days.
Tin Roof Detroit address: 47 E Adams Ave

​The Royce Detroit​ is more of an up-scale location where fans can enjoy a glass of wine before or after the game, and sample some imported charcuterie, cheeses, and seafood.
The Royce Detroit address: Kales Building, 76 W Adams Ave