Kauffman Stadium, Home of the Kansas City Royals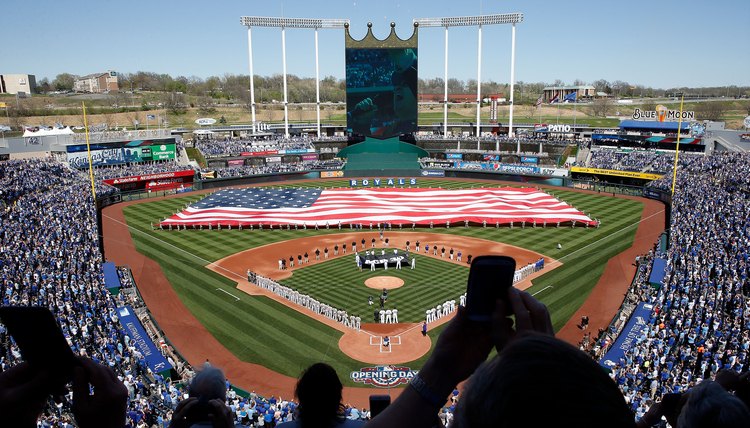 Truman Sports Complex, Jackson County Upcoming 14-Day Weather Report (10/20/2022 to 11/04/2022)
Planning for a visit to Truman Sports Complex? Don't let unexpected weather ruin your fun. Here's the weather report for the next two weeks in Jackson County, Missouri.
For today's weather verdict, wind is expected to travel at the speed of 5.36 MPH. The sky is clear. Humidity level is 31. During the day, the temperature will feel like 65, and feel like 54 at night. Looking forward to catch the beautiful sunset before the game? Don't miss it at 6:32 PM today.
When did Kauffman Stadium open?
Kauffman Stadium opened on April 10, 1973 after over 4 years of construction.
What team plays at Kauffman Stadium?
The Kansas City Royals play at Kauffman Stadium as a member of Major League Baseball.
Who owns Kauffman Stadium?
Kauffman Stadium is owned by Jackson County Sports Complex Authority, the same group that owns Arrowhead Stadium, home of the Kansas City Chiefs.
What are the Kauffman Stadium dimensions?
Left Field: 330 feet (101m)
Left Center: 387 feet (118m)
Center Field: 410 feet (125m)
Right Center: 387 feet (118m)
Right Field: 330 feet (101m)
Backstop: 60 feet (18m)
What is the Kauffman Stadium seating capacity?
Kauffman Stadium's seating capacity is 37,903.
How many people attend Kauffman Stadium?
​2021 Season Attendance Statistics​
Average Attendance: 14,316 (38%)
Highest Attendance: 35,784 vs STL on August 14th
Lowest Attendance: 4,481 vs TBR on April 20th
What are the amenities at Kauffman Stadium?
The tallest LED video display in baseball

A newly-renovated 360-degree concourse ensures a view of the field from anywhere in the stadium

The CommunityAmerica Crown Club offers a field-level view of the game, while the UMB Dugout Suites bring fans even closer to the action right down the line from both the home and visiting dugouts

The Pepsi Party Porch is a standing-room only area between the outfield wall and the fountains, and is in the 'splash zone' of the iconic fountains

In the left-field area, the Royals Hall of Fame features several interactive and historic exhibits and memorabilia

The kids area in left field features batting and pitching cages, the New Era Cap Store, five holes of putt-putt golf, a Royals-themed carousel, and areas for base running
What is Kauffman Stadium's bag policy?
Bags that ​are permitted​ into Kauffman Stadium include:
1 clear bag no larger than 12" x 12" x 6" with all items visible

One-gallon clear zip-seal bag

Small clutch bags that do not exceed 9" x 5" may enter the stadium along with one of the clear bag options

Exceptions may be made for bags that are used for medical purposes, such as diaper bags, and all bags are subject to inspection.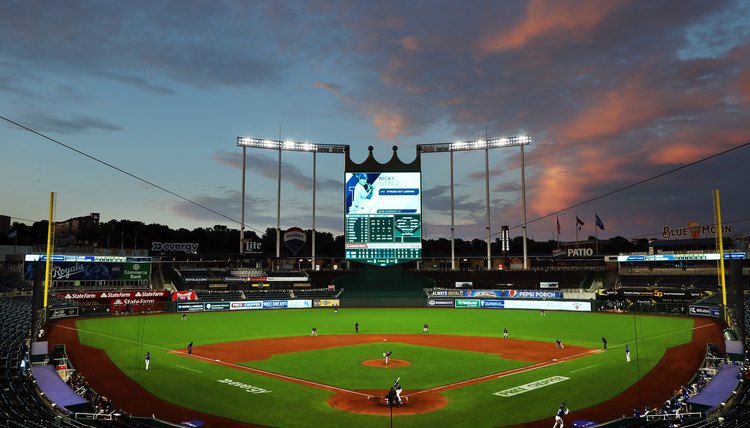 SportsRec
Where is Kauffman Stadium located?
Kauffman Stadium is located at 1 Royal Way, Kansas City, MO 64129
What time do the gates open at Kauffman Stadium?
For Friday-Sunday games, all entry gates open 1.5 hours prior to first pitch. For Monday-Thursday games, all entry gates open 1 hour prior to first pitch. For all games, The Outfield Experience and Boulevard Brewing Craft and Draft opens 1.5 hours prior to first pitch through gates A & E.
Can you tailgate at Kauffman Stadium?
Tailgating ​is permitted​ at Kauffman Stadium. Large tailgate groups will be directed to Lot N.
Can you pay with cash at Kauffman Stadium?
Beginning in the 2022 season, Kauffman Stadium is a ​cashless venue.​ Reverse ATM's are available in the following locations around the stadium:
Plaza Team Store - Sections 221, 234

Behind Crown Vision - Sections 419, 423

What are the most popular foods at Kauffman Stadium?
Kauffman Stadium is an exceptional ballpark when it comes to food, featuring a large variety of ballpark classics and Kansas City favorites.
​Bullpen Burgers and Shakes​ serves classic burgers, French fries, and milkshakes, and is located out in right field

​Stadium Dog​ is home to all of the ballpark classics: hotdogs, French fries, pretzels, and much more

​The Brisket-Acho​ features BBQ baked beans, brisket, coleslaw, tortilla chips, and Sweet Baby Ray's barbecue sauce and is found in Sections 221, 225, 234, 314, 417, and 422

​The Rookie Sandwich​ is very similar to the Brisket-Acho, but this is stuffed between fresh bread to make a juicy and delicious sandwich that can be found in Sections 221, 234, 251, 417, and 422

​Cheddar Brat​ offers fans both traditional and plant-based brats

​The Brownie Milkshake​ from KC Baking Company is a fan-favorite at Kauffman Stadium, and includes chocolate ice cream, whipped cream, and a cherry on top

Hotels near Kauffman Stadium
The following hotels are among the closest and highest rated to Kauffman Stadium:
Best Western Premier Kansas City Sports Complex Hotel: 0.2mi from Kauffman Stadium

Hotel Lotus: 500 feet from Kauffman Stadium

WoodSpring Suites Kansas City Stadium: 0.4mi from Kauffman Stadium

Restaurants near Kauffman Stadium
​Score Sports Bar & Grill​: 0.8mi from Kauffman Stadium

​Dixon's Famous Chili​: 0.7mi from Kauffman Stadium

​Fuegos BBQ Mexican Cocina​: 0.7mi from Kauffman Stadium

​Hiboy Drive-in​: 0.8mi from Kauffman Stadium

​Taqueria El Jalisciense​: 0.8mu from Kauffman Stadium

​Back Porch Bar-B-Q​: 0.9mi from Kauffman Stadium