Target Field, Home of the Minnesota Twins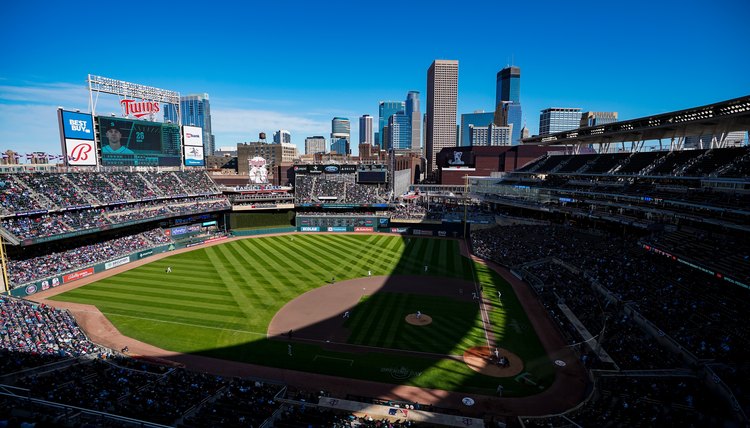 Target Field, Hennepin County Upcoming 14-Day Weather Report (10/20/2022 to 11/04/2022)
Planning a trip to Target Field? Don't let the weather ruin your visit. There is a weather report for the next two weeks in Minnesota.
For today's weather, the sky is clear. Humidity level is 38. The wind is expected to travel at the speed of 2.72 MPH.T he temperature will feel like 49 during the day and 46 at night. Looking forward to catch the beautiful sunset before the game? Don't miss it at 6:20 PM today.
When did Target Field open?
Target Field opened on April 12, 2010 after two years of construction.
What team plays at Target Field?
The Minnesota Twins play at Target Field as a member of Major League Baseball.
The only other team to play at Target Field was the Minnesota Golden Gophers, who played there during the 2011 NCAA Baseball season.
Who owns Target Field?
Target Field is owned by Hennepin County, the county in which the city of Minneapolis is located.
What are the Target Field dimensions?
Left Field: 339 feet (103m)
Left Center: 377 feet (115m)
Center Field left corner: 411 feet (125m)
Center Field right corner: 403 feet (123m)
Right Center: 367 feet (112m)
Right Field: 328 feet (100m)
What is the Target Field seating capacity?
Target Field's seating capacity is 38,544.
How many people attend Target Field?
​2021 Season Attendance Statistics​
Average Attendance: 16,377 (42%)
Highest Attendance: 29,342 vs MIL on Sunday, August 28th
Lowest Attendance: 6,724 vs BOS on April 13th
What are the amenities at Target Field?
Sundays are Kids Days at Target Field, meaning that any child 14 and younger can participate in a special pre-game autograph session, run the bases after the game, and enjoy food deals

TC's Clubhouse is a small play area for children that is located indoors near Club Level Section 229

The main concourse offers a 360-degree view of the playing field and a breathtaking view of downtown Minneapolis

What is Target Field's bag policy?
The following single-compartment bags ​are permitted​ to enter inside of Target Field:
Purses, clutch purses, single-compartment tote bags, clear bags, drawstring bags, diaper bags, soft-sided coolers, fanny packs

Bags used for medical purposes
Any other single-compartment bag that does not exceed 16" x 16" x 8"
The following bags are ​not permitted​ to enter Target Field:
Backpacks, multi-compartment laptop bags, duffel bags

Any bag that exceeds the size of 16" x 16" x 8"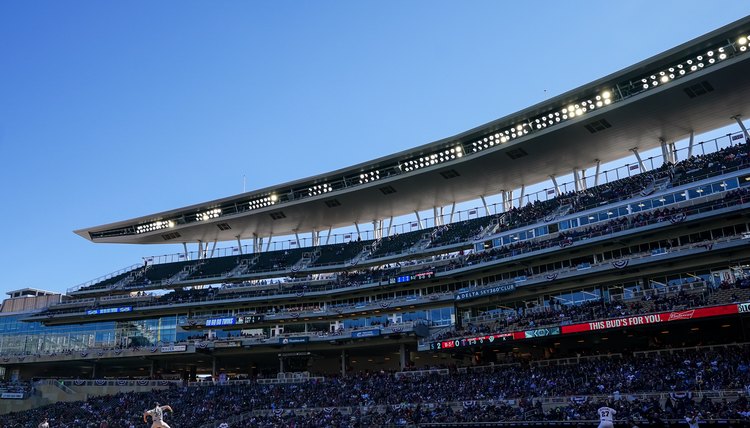 SportsRec
Where is Target Field located?
Target Field is located at 1 Twins Way, Minneapolis, MN 55403
What time do the gates open at Target Field?
For Monday-Thursday evening games, entry gates open 1 hour prior to first pitch. For Monday-Thursday afternoon games, entry gates open 1.5 hours prior to first pitch. For all Friday-Sunday games, entry gates open 2 hours prior to scheduled first pitch.
Can you tailgate at Target Field?
Tailgating is ​not permitted​ at Target Field.
Can you pay with cash at Target Field?
Target Field is a cashless venue. Five reverse ATM's are available in the following locations around the stadium:
Main Concourse - near section 103

At the top of the stairs near Gate 3

In the U.S. Bank Home Run Porch near Section 231

On the Terrace Concourse at the top of the escalators

What are the most popular foods at Target Field?
Target Field offers the traditional ballpark foods and also features several Minneapolis favorites, including:
​Bub's Gourmet Aussie Pies​ feature chicken wild rice stew and sloppy Joe mixed between a heavy dough crust that can be found near Section 126

A Minneapolis favorite, ​Mac's Fish​ serves its hand-battered walleye baskets with French fries and jalapeño-lime tartar sauce at Townball Tavern inside Target Field

​Adobo Chicken Tacos​ can be served either street-style, garnished with lime and pico, or Cali-style, and are found near Section 109

​Soul Bowl​ offers things like collard greens, Mac and cheese, French fries, and jerk chicken sandwiches, and can be found in Section 120

​Kramarczuk​ is a polish sausage served with Mac and cheese, and can be found in Sections 112, 117, and 312

Hotels near Target Field
The following hotels are among the closest to Target Field, as well as some of the highest rated in the area:
Element Minneapolis Downtown North Loop: 0.3mi from Target Field

Hampton Inn & Suites - Minneapolis/Downtown: o.3mi from Target Field

Loews Minneapolis Hotel: 0.2mi from Target Field

Restaurants near Target Field
​Fulton Brewing Taproom​ offers a variety of beers and hefty sandwiches, and is conveniently located within a 5-minute walk of Target Field

​Smack Shack​ is renowned for its lobster, and features a large patio as a part of the two-story restaurant that is located just over a half-mile from Target Field

​Nolo's Kitchen & Bar​ is an all-day restaurant that features menu items like chicken rigatoni and crispy chicken sandwiches, as well as a modern dive-bar on the lower level with affordable drinks and snacks

​Cuzzy's Grill & Bar​ is a dive bar that is known for its burgers, sandwiches, and wings just within 1o minutes of walking distance from Target Field
​City Works - Minneapolis​ is the ultimate sports bar, featuring tons of TV's on every wall and over 100 beers on tap just under a half mile away from Target Field
Writer Bio
This article was written by the CareerTrend team, copy edited and fact checked through a multi-point auditing system, in efforts to ensure our readers only receive the best information. To submit your questions or ideas, or to simply learn more about CareerTrend, contact us [here](http://careertrend.com/about-us).