Citi Field, Home of the New York Mets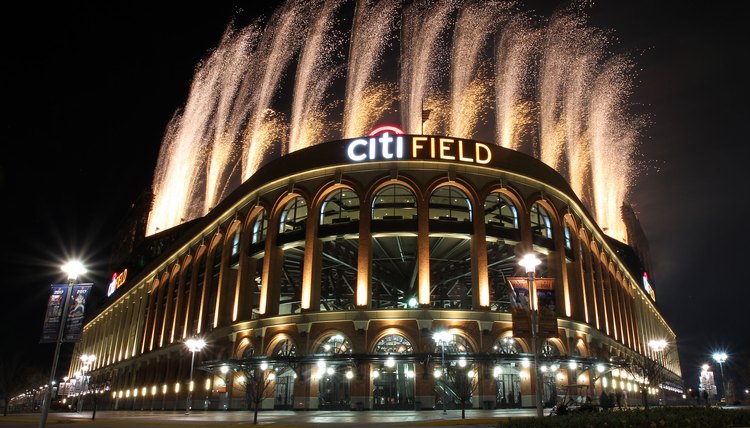 When did Citi Field open?
Citi Field was opened in 2009 as a replacement to the neighboring Shea Stadium. The first baseball game was March 9, 2009 between St.Johns and Georgetown
What team plays at Citi Field?
The MLB's New York Mets are the main tenants of Citi Field.
Who owns Citi Field?
Citi Field is owned and operated by the New York Mets and it was designed by the Populous group.
What are Citi Field dimensions?
Citi Field is a very pitcher friendly park. It's dimensions are as follows:
​Left field line​ - 335 feet (102 m)
​Deep left center​ - 385 feet (117 m)
​Center field​ - 408 feet (124 m)
​Deep right center​ - 398 feet (121 m)
​Right field line​ - 330 feet (101 m
What is Citi Field seating capacity?
The normal seating capacity is 41,922 but can increase to over 45,000 with standing room.
How much are suites at Citi Field?
Suites at Citi Field usually cost between $3,250-$12,000 per game. The price can vary widely on a suite depending on it's location, the opponent and box size.
What are the amenities at Citi Field?
Citi Field has various interesting amenities and things to check out around the Stadium. The entrance contains the Jackie Robinson Rotunda, a memorial to the late great ballplayer. It features images of Robinson and his values engraved into the ceiling.
Citi Field also contains the Home Run Apple. An apple that rises from center field after a Mets home run and lights up.
Citi Field also has the Fanfest area behind center field that contains a family entertainment complex with a wiffleball field and more.
Citi Field Park Bag Policy
According to the Mets website, "Backpacks are not permitted at Citi Field, however other bags such as purses, diaper bags that are not backpack-style, tote, drawstring, fully clear backpack-style bags with no obscured inner pockets and messenger style bags along with small soft-sided coolers are still permitted. Exceptions to this policy can be made for bags used for ADA/medical reasons by the Security Supervisor at each entry gate. All bags and hand-carried items are searched prior to entry. Items can be no larger than 16"x16"x8". There are no bag check facilities inside Citi Field."
Can you bring a Stroller into Citi Field?
Strollers are allowed as long as they don't interfere with other guests and can be stored under a seat. Strollers can also be stored at Guest Relations.
Can I bring a Purse into Citi Field?
All purses are allowed in Citi Field as long as they are no larger than 16"x16"x8".
Can you bring food into Citi Field?
Food can be brought into Citi Field as long as it is in a Soft-sided cooler.
Where is Citi Field located?
Citi Field is located in Flushing Meadows-Corona Park in New York City. It's exact address is 41 Seaver Way, Queens, NY 11368
What time do the gates open at Citi Field?
Gates open two hours before game time so fans can observe batting practice. Opening times vary for double headers.
Can you tailgate at Citi Field?
Tailgating is prohibited at Citi Field
How much is Citi Field parking?
Stadium parking at Citi Field is 25 dollars at all locations.
Citi Field seating map
Can you pay with cash at Citi Field?
Cash is not an acceptable form of tender at Citi Field.
Best bets for Citi Field food
There are numerous good food options at Citi Fields ranging from local favorites to good old fashioned ballpark classics.
Alonso's Arctic Grill - Pete Alonso has his very own restaurant in Citi Field including his signature Polar Burger. It's a fan favorite to say the least.
Blue Smoke - Authentic NYC BBQ with Pulled pork, brisket and signature pit beans that can feed the whole family
Fuku - A fried chicken spot that is innovative for its simple design and marketing.
Hotels near Citi Field
These are the three closest hotels to Citi Field:
Corona Hotel: 0.5 Miles from Citi Field

Spring Hill Suites: 0.6 Miles from Citi Field

The Parc Hotel: 0.6 Miles from Citi Field
Restaurants near Citi Field
There are a lot of restaurants near Citi Field. Here are the highlights:
Pine Restaurant & Bar of Queens

Los 3 Potrillos Restaurant & Bar #1
Writer Bio
Blaise is a Freshman at the University of Missouri, studying Journalism at the world-renowned J school. He is the host of the Fast Five Podcast with his Childhood friend Sam Sinclair and interns with the Sports AI platform Pine Sports. He is a huge fan of the Kansas City Chiefs and the St Louis. Cardinals and hopes to cover them professionally in his near future.