Oracle Park, Home of the San Francisco Giants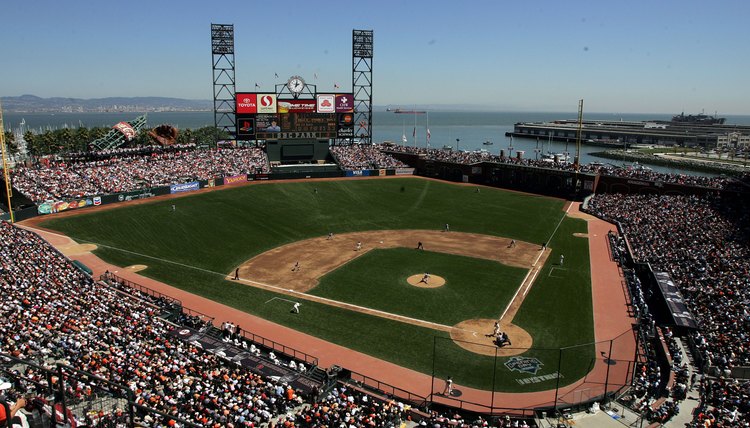 When did Oracle Park open?
Oracle Park opened on April 11, 2000 after nearly three years of construction, which began in 1997.
What team plays at Oracle Park?
The San Francisco Giants play at Oracle Park as a member of Major League Baseball.
Other teams that have played at Oracle Park in past years include:
San Francisco Demons (XFL) in 2001

Kraft Fight Hunger Bowl (NCAA Football) from 2002-2013

California Redwoods (UFL) in 2009

California Golden Bears (NCAA) in 2011

Who owns Oracle Park?
The Port of San Francisco owns Oracle Park. The Port of San Francisco is a semi-independent organization that oversees facilities in the San Francisco area.
What are the Oracle Park dimensions?
Left Field: 354 feet (108m)

Left-Center Field: 399 feet (122m)

Center Field: 391 feet (119m)

Right-Center Field: 415 feet (126m)

Right Field: 365 feet (111m)

Backstop: 48 feet (15m)

What is the Oracle Park seating capacity?
Oracle Park's seating capacity is 41,915.
How many people attend Oracle Park?
​2021 Season Attendance Statistics​
Average Attendance: 20,734 (50%)

Highest Attendance: 41,115 vs LAD on September 5th

Lowest Attendance: 3,662 vs CIN on April 12th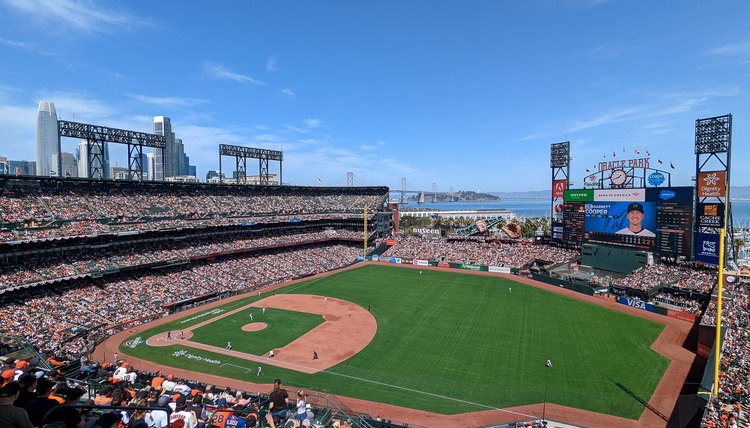 SportsRec
What are the amenities at Oracle Park?
The Vault: an exhibit space displaying Giants memorabilia and artifacts

Fan Lot: family attraction featuring special slides, a mini version of Oracle Park for young fans to run the bases and hit whiffle balls, a giant baseball glove, views of the field and downtown San Francisco, and a fantasy photo booth

The Garden: aeroponic towers and garden beds where fans can enjoy garden-fresh meals at two different bistros

China Basin Park: popular pre-game and post-game gathering spot where fans can picnic, play catch, or go for a stroll with a view of Oracle Park and the San Francisco Bay
What is Oracle Park's bag policy?
The following bags are ​NOT​ permitted in Oracle Park:
Backpacks (including clear backpacks), briefcases, rolling bags, and hard sided coolers

The following bags ​ARE​ permitted in Oracle Park:
Bags that do not exceed 16" x 16" x 8" in size are able to be brought into the ballpark ​following​ ​a thorough inspection​; may include purses, fanny packs, lunch bags, etc .

Where is Oracle Park located?
Oracle Park is located at 24 Willie Mays Plaza, San Francisco, CA 94107
What time do the gates open at Oracle Park?
Gates open ​two hours​ prior to game time.
Can you tailgate at Oracle Park?
Informal tailgating ​is allowed​ in Lot A & Lot C within the area immediately around one's vehicle, so long as it does not interfere with other parking spaces or drive aisles.
Tailgating is ​not permitted​ in Pier 48, Pier 30/32, or One Bryant.
Can you pay with cash at Oracle Park?
Cash is ​not accepted​ at concession stands in Oracle Park.
What are the most popular foods at Oracle Park?
Oracle Park offers a variety of San Francisco favorites. Some featured menu items around the ball park include:
Gilroy Garlic Fries are the most iconic Oracle Park dish of all, with their garlicy smell filling the ball park throughout the game

Organic Coup serves organic chicken wraps with organic spiced vegetables wrapped in a whole-grain tortilla with a choice of creamy ranch or spicy BBQ sauce

Crazy Crab Sandwiches are made up of a Dungeness crab between two slices of buttery, grilled sourdough bread

Street-style tacos served with split-roasted meats on hand-made tortillas can be found at Mission Street Taqueria

Super Duper Burgers, made using Brandt Farms' humanely raised beef, are served on artisanal buns baked fresh in the Bay Area

Pita Gyros features a wide range of Mediterranean favorites including authentic lamb and beef gyros, chicken gyros, and falafel sandwiches

Ghirardelli World Famous Hot Fudge Sundaes are topped with whipped cream, diced almonds, and a cheery

Located behind the centerfield wall, The Garden Bar features seasonal cocktails and other beverages
Hotels near Oracle Park
InterContinental San Francisco: 0.89mi from Oracle Park
Harbor Court Hotel: 0.98mi from Oracle Park
Hotel VIA: 0.1mi from Oracle Park
Restaurants near Oracle Park
​Public House​ is a sports dive bar that features 26 giant televisions and 24 beers on tap, and even has a "secret" entrance where fans can head right into the ballpark from the restaurant.
Public House address: 24 Willie Mays Plaza

​Garaje​ is about a seven minute walk from the ball park, and features outstanding veggie burgers, burritos, and tacos.
Garaje address: 475 3rd Street

​21st Amendment Brewery​ serves traditional pub food and its own handcrafted beers, and is just two blocks from the ball park.
21st Amendment Brewery address: 563 2nd Street