Nationals Park, Home of the Washington Nationals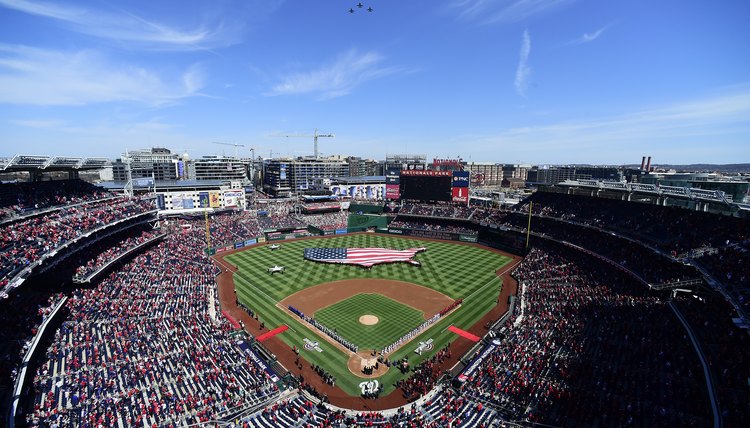 When did Nationals Park open?
Nationals Park was officially opened March 22, 2008 during a college baseball game for the George Washington Colonials. It played host to the Washington Nationals opening day March 30, 2008.
What team plays at Nationals Park?
The MLB's Washington Nationals are the main tenant of Nationals Park. It has also hosted many concerts, hockey games, and even a papal mass in its lifespan.
Who owns Nationals Park?
Events DC owns the park and the Nationals organization operates it. The Populous Group designed the ballpark in 2006.
What are Nationals Park dimensions?
Nationals Park is a pitcher friendly park and consists of the following dimensions:
​Left Field​ - 337 feet (103 m)
​Left-Center​ - 377 feet (115 m)
​Center Field​ - 402 feet (123 m)
​Right-Center​ - 370 feet (113 m)
​Right Field​ - 335 feet (102 m)
What is Nationals Park seating capacity?
The seating capacity of Nationals Park is 41,339 fans and does not change when moved to standing capacity. The most attended game was the October 12th, 2012 National League Divisional Playoff game against the St.Louis Cardinals, where 45,996 people were in attendance
How much are suites at Nationals Park?
Suites at Nationals Park usually cost between $4,500-$8,000 per game. The price can vary widely on a suite depending on it's location, the opponent and box size.
What are the amenities at Nationals Park?
Nationals Park has various interesting amenities and things to check out around the Stadium. It has a Ring of Honor celebrating players from Washington's Negro League past, the Montreal Expos,and the current Nationals franchise.
Fans can gamble at the new MGM Sportsbook located at the Center Field gate and even gamble from their mobile devices.
Fans can also see stunning views of the US Capitol from their seats and the signature cherry blossoms in Left Field.
Nationals Park Bag Policy
In 2022, the Nationals changed their bag policy stating that "bags must be clear with the contents plainly visible, or they will not be permitted inside Nationals Park."
Can you bring a Stroller into Nationals Park
Strollers can be brought into Nationals Park unless it cannot be folded to fit underneath a seat.
Can I bring a Purse into Nationals Park?
Yes, purses measuring 5" by 7" by ¾" or smaller, with or without a handle or strap can be taken into the ballpark are allowed in Nationals Park
Can you bring food into Nationals Park?
Single serving food items can be brought into Nationals Park along with clear liquids.
Where is Nationals Park located?
Nationals Park is located in the Navy Yard neighborhood of Washington, D.C. along the Anacostia River. The address is 1500 S Capitol St SE, Washington, DC 20003
What time do the gates open at Nationals Park?
All gates will open 90 minutes to game time on all days.
Can you tailgate at Nationals Park?
There is no tailgating at Nationals Park for game days in the parking lots. However, you can find plenty of bars near the venue to visit before or after a game.
How much is Nationals Park parking?
There are a variety of parking options for Nationals Park. Parking costs $35 for a single game.
Nationals Park seating map
Can you pay with cash at Nationals Park?
Cash is not accepted at Nationals Park at any payment location
Best bets for Nationals Park food
There are numerous good food options at Nationals Park ranging from local favorites to good old fashioned ballpark classics. Here are some of the best:
Budweiser Brew House - One of Major League Baseball's only in-stadium restaurants, the Center Field Brew House has premium drinks, and food
Medium Rare - A local favorite, it features steak sandwiches and extra crispy fries
DC Empanadas - Fans love this one! Choose from buffalo chicken, spinach, feta and more at this rocking stand!

Hotels near Nationals Park
These are the three closest hotels to Nationals Park in D.C.:
Hampton Inn D.C
: 0.2 Miles from Nationals Park 2. Residence Inn D.C
: 0.22 Miles from Nationals Park
Cambria Hotel D.C.: 0.3 Miles from Nationals Park
Restaurants near Nationals Park
There are a lot of restaurants near Nationals Park as it is in D.C.. Here are the highlights:
Ben's Chili Bowl

Jammin' Island BBQ

Red Porch

The Salt Line DC

Dacha Navy Yard
Writer Bio
Blaise is a Freshman at the University of Missouri, studying Journalism at the world-renowned J school. He is the host of the Fast Five Podcast with his Childhood friend Sam Sinclair and interns with the Sports AI platform Pine Sports. He is a huge fan of the Kansas City Chiefs and the St Louis. Cardinals and hopes to cover them professionally in his near future.