Why No Names on Jerseys in College Football?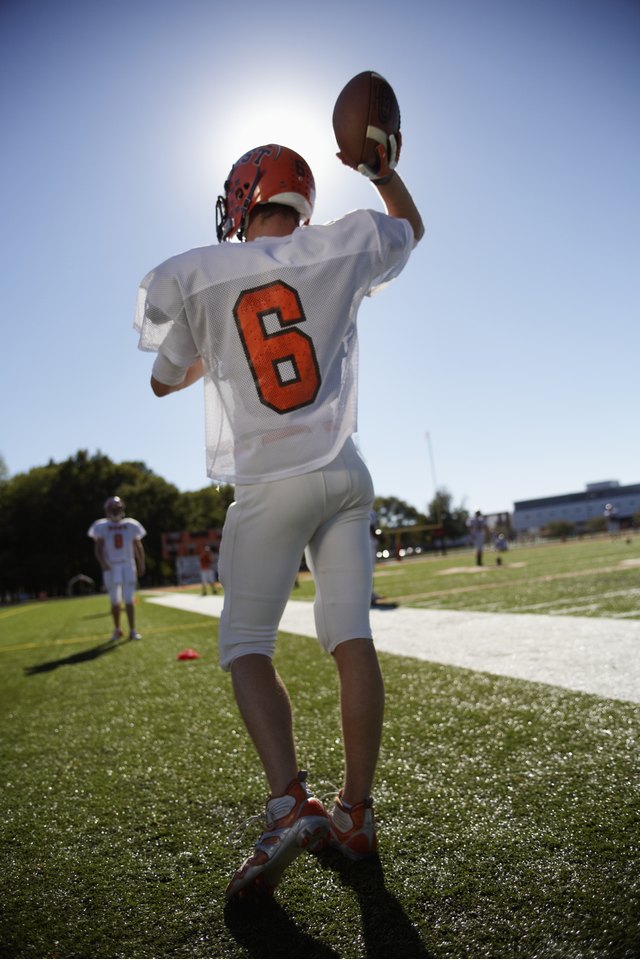 Many colleges put their football players' surnames on the back of their jerseys to identify the players. But some well-known colleges have chosen not to identify their football players by name on their jerseys. They make this choice for a variety of reasons.
History
According to ESPN, the idea of placing names on the back of jerseys originally came from Bill Veeck, the owner of baseball's Chicago White Sox. Vendors of scorecards protested, but the names were not visible from the grandstand; the purpose was to allow television viewers to identify the players. Some teams in the American Football League picked up on Veeck's idea and began placing names on the back of their players' jerseys in 1960, but the National Football League did not adopt the practice until 1970. It's unknown when college football largely moved to jersey names. Some colleges, such as USC, Notre Dame and Penn State, still don't have them.
Team
Football, of course, is a team sport, not an individual sport. Each player has a position and a role. If the players don't work together, the whole team suffers. Some college coaches believe that placing player names on jerseys will make the players forget that they play on a team. No NCAA regulation requires that names appear on the back of football jerseys. The decision is up to the college, but most college athletic directors leave the decision to the coaches. Notre Dame coaches Ara Parseghian, Charlie Weis and Brian Kelly allowed the jersey names during bowl games, but not during the regular season.
Tradition
One probable reason for omitting jersey names is tradition. The custom did not begin with college teams, and some colleges, such as Notre Dame and Penn State, want to keep the traditions of the past alive. Notre Dame did adopt jersey names during the 1987 football season, but then reversed the decision. Most Division I colleges have their players' names on their jerseys.
Finances
Most Division I colleges have a football budget that enables them to replace jerseys regularly, but many smaller colleges use the same uniforms for several years before purchasing new ones. These smaller colleges cannot afford to change the names on the jerseys each year. Adding and removing names repeatedly makes the uniform deteriorate more quickly.
References
Writer Bio
Gerald Elliott published his first article in 1980 in the "Stanford Daily" newspaper. Since 1988, Elliott has written and edited articles for the "Los Angeles Times," the "San Diego Union Tribune" and Ingenuity Design Solutions. Elliott received his Bachelor of Arts with a major in literature in 1970 from Stanford University.