Ja Morant and the Memphis Grizzlies, 2023 Season Preview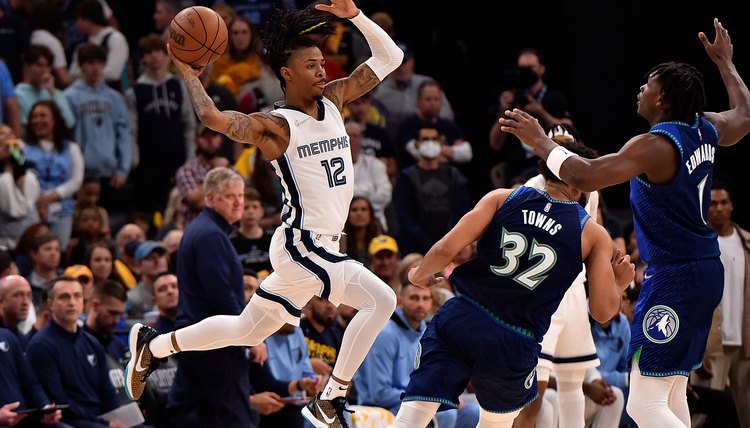 Ja Morant is one of the NBA's biggest and most marketable stars but a lack of playoff success had haunted him prior to the 2022 season. But with a talented squad led by Jaren Jackson Jr, Ja Morant was able to take the Grizzlies very far into the NBA playoffs last year. With some offseason moves, it's no wonder that many big outlets like ESPN are projecting them to be even better. Here is the season preview for the Memphis Grizzlies.
What was the 2022 Grizzlies season like?
The Grizzlies went into the 2022 season with mild expectations and they blew them out of the water. Last season, they ended up as the two seed in the western conference with an outstanding regular season record of 56-26. With key contributions from Desmond Bane, Dillon Brooks and bench point guard Tyus Jones, the Grizzlies established themselves as a contender in a tough western conference. Ja Morant made his first all-star game as a starter as he put up career highs in points, rebounds, and steals. They blew past the Minnesota Timberwolves in the first round of the NBA playoffs in six games, further establishing themselves as a NBA Finals worthy team.
What is the Warriors-Grizzlies rivalry?
The Grizzlies faced off against the Golden State Warriors in the second round of the Western Conference playoffs. It was a chippy postseason matchup with a lot of smack talk from both sides, which ultimately culminated in the Stephen Curry-led Warriors beating Memphis in six games. Draymond Green made multiple comments against the Grizzlies on his podcast and Klay Thompson made sure to bring up old tweets from Grizzlies players after they won the championship. Ja Morant fired back saying that he wanted to face them on Christmas Day saying "im coming to you then. tell em book dat ____ . im on yo block". They will in fact face off against the Warriors on Christmas Day in San Francisco.
Who is the Grizzlies Head Coach?
The Grizzlies are led by fourth year head coach Taylor Jenkins. Jenkins was mentored by Milwaukee Bucks head coach Bud Budenholzer and was an assistant coach to both the Atlanta Hawks and Bucks before moving to Memphis. Jenkins found moderate success in his first three years in Memphis going 128-99 all time as the Grizzlies head coach.
Who did the Grizzlies draft in the 2022 NBA draft?
The Grizzlies had a very interesting NBA draft as they made multiple draft night trades. It started in the first round with the Grizzlies trading two first round picks for the draft rights to Jake LaRavia, the starting small forward for Wake Forest. The Grizzlies also snagged David Roddy, a forward from Colorado State, with a trade that sent De'anthony Melton to the Sixers. The Grizzlies finished off the draft by selecting Vince Williams from VCU in the second round.
What moves did the Grizzlies make in the offseason?
The Grizzlies had a quiet offseason and didn't acquire too many new faces. They were able to bring in veteran SG Danny Green in the De'Anthony Melton trade, but didn't make any big signings. They lost Kyle Anderson to the Minnesota Timberwolves in free agency, but were able to keep many key players. Tyus Jones came back on a 2 year 29 million dollar contract, to play behind Ja Morant. Meanwhile, Morant signed a Rookie Max Extension worth nearly $200 million that will keep him in Memphis until 2027.
Will Ja Morant win MVP this year?
Next season will be a pivotal year for Ja as he looks to take a step into becoming one of the best players in his generation. But, there is some stiff competition for the most prestigious award in all of basketball. Here are the rankings for the odds on who will win NBA MVP, according to Draftkings Sportsbook:
Dallas Mavericks G Luka Doncic +425
Milwaukee Bucks F Giannis Antetokounmpo +600
Philadelphia 76ers C Joel Embiid +650
Brooklyn Nets F Kevin Durant +800
Denver Nuggets C Nikola Jokic +900
Golden State Warriors PG Steph Curry +1200
Boston Celtics F Jayson Tatum +1400
Ja Morant sits behind them at +1500 odds, just ahead of Clippers F Kawhi Leonard and Los Angeles Lakers F Lebron James.
Writer Bio
Blaise is a Freshman at the University of Missouri, studying Journalism at the world-renowned J school. He is the host of the Fast Five Podcast with his Childhood friend Sam Sinclair and interns with the Sports AI platform Pine Sports. He is a huge fan of the Kansas City Chiefs and the St Louis. Cardinals and hopes to cover them professionally in his near future.