Top College Quarterbacks 2022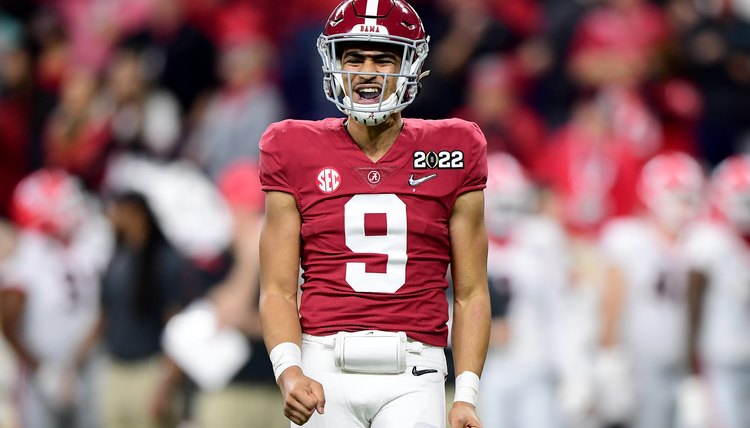 The college QB is one of the most important players in all of sports. Not only are they looked at to win games for their respective university, but they are also under constant surveillance for NFL fans and teams hoping that they could save their franchise. Every professional QB did their time as a college QB and were the talk of the town before they became the stars you know and love. So here are the top college QB's you should be watching.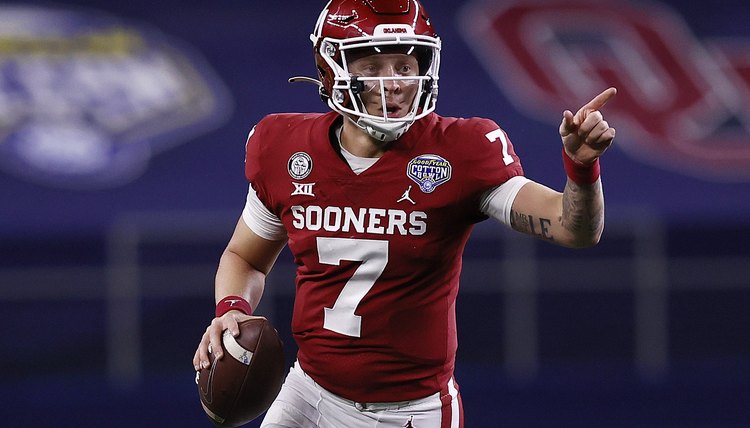 Bryce Young, QB for the Alabama Crimson Tide.
5. Spencer Rattler - South Carolina Gamecocks
Last Year: 140 of 187, 1,482 yards, 11 touchdowns, five interceptions.
The former Oklahoma Sooner jumped ship after a tumultuous 2021 season saw him be benched for Caleb Williams and a transfer after the loss of Oklahoma head coach Lincoln Riley. Now Rattler must try to rebuild his draft stock and show the world that he is an NFL caliber QB. He sure has the arm talent to prove it and his ability to make throws under pressure are Mahomes-esque. However his natural talent isn't enough for him to avoid mental errors, bad footwork and skittishness in the pocket. He now finds himself looking to save a South Carolina football program that hasn't been good in years.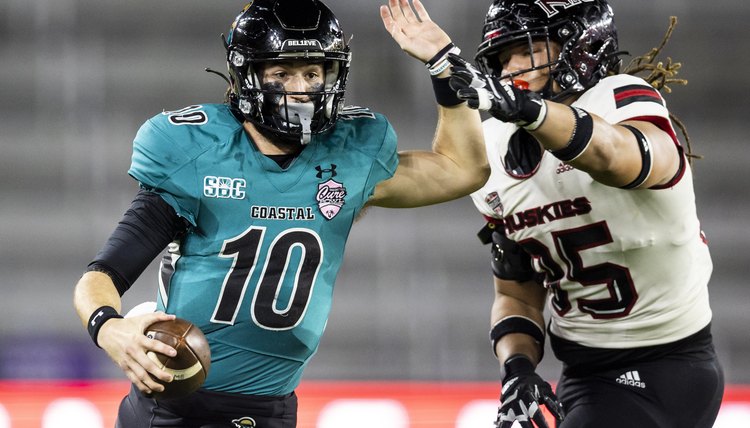 Bryce Young, QB for the Alabama Crimson Tide.
4. Grayson McCall - Coastal Carolina Chanticleers
Last Year: 176 of 241, 2,873 yards, 27 TDs, three interceptions.
McCall takes over Cincinnati's Desmond Ridder's spot as best non Power-5 conference quarterback. He has reset not only his own university's record books but the Sun Belt conference's too. He has a huge arm and can hit from deep with astounding accuracy. He connected on 19 deep passes for 605 yards and eight touchdowns with no interceptions in 2021. His 93.2 passing grade led all division one passers and is a proven winner. NFL scouts are licking their lips over this guy, if he can keep it up that is.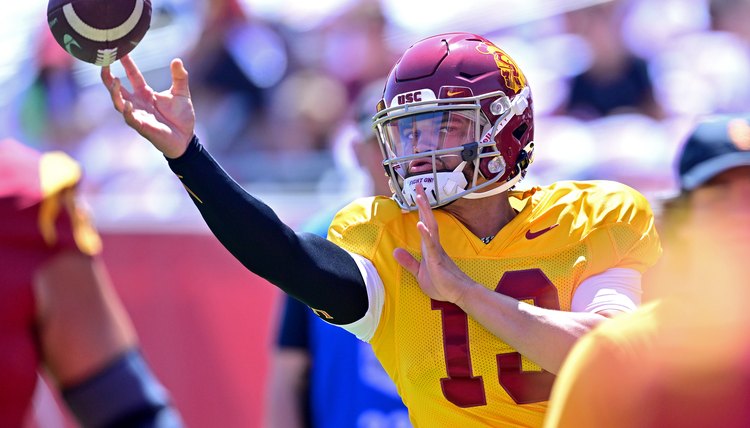 Bryce Young, QB for the Alabama Crimson Tide.
3. Caleb Williams - USC Trojans
Last Year: 136 of 211, 1,912 yards, 21 TDs, four INTs; 79 rushes, 442 rush yards, six rush TDs.
It's not often a true freshman makes as many waves as young Caleb Williams did last year. He snatched the top spot at the Sooners signal caller position from Spencer Rattler and ran with it. He showcased not only incredible passing skills but the ability to run with the ball and be a dual threat QB. His 91.3 passing grade broke Trevor Lawrence's record for a true freshman QB. Now he follows star head coach Lincoln Riley to the sunny beaches of South California. Will he restore the Trojans to national relevance?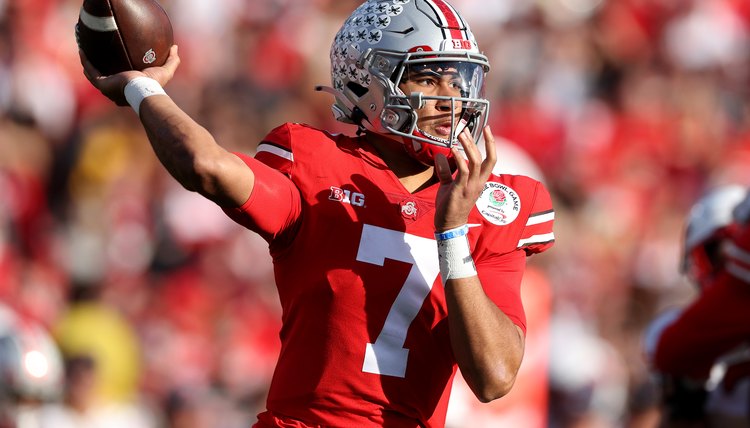 Bryce Young, QB for the Alabama Crimson Tide.
2. C.J. Stroud - Ohio State Buckeyes
Last Year: 317 of 441, 4,435 yards, 44 touchdowns, six interceptions.
The leader in FBS QBR had an amazing back half of the season. His last nine games had 36 touchdowns and a minuscule 3 interceptions. He evades sacks with ease and is so unbelievably smart with the ball, he plays every facet of the game so well. If he improves any more, the NCAA record book will be trembling in fear. The only criticism is he has it easy with star wideouts like Jaxson Smith-Njigba and a potent rushing attack. Will NFL teams be scared that he's a product of his environment and not his own talent?
Honorable Mentions
Tyler Van Dyke, QB, Miami (Fla.) 2021: 202-of-324 passing (62.3%), 2,931 yards, 25 TDs, 6 INTs

Anthony Richardson, QB, Florida 2021: : 38-of-64 passing (59.4%), 529 yards, 6 TDs, 5 INTs

Will Levis, QB, Kentucky 2021: 33-of-353 passing (66%), 2,826 yards, 24 TDs, 13 INTs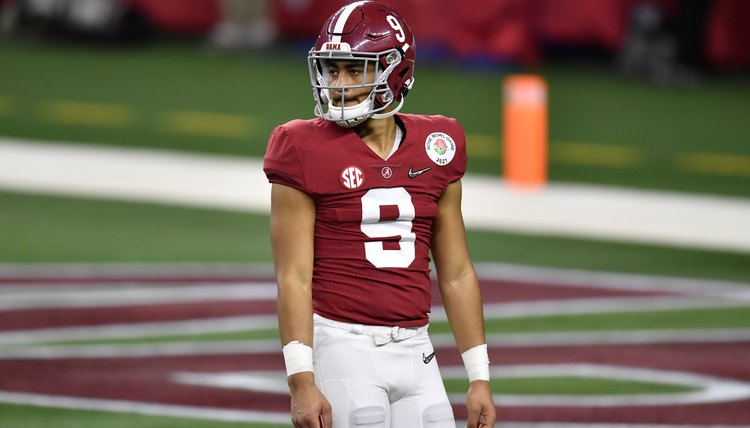 Bryce Young, QB for the Alabama Crimson Tide.
1. Bryce Young - Alabama Crimson Tide
2021 Stats: 366 of 547, 4,872 yards, 47 TDs, seven interceptions.
The unanimous best QB in Division one football and he plays for Alabama? It's so unfair. He led a historically weak Alabama to a national championship appearance, even though he came up short. He played under constant pressure due to a subpar O-line and against college football's toughest competition. When he did have a clean pocket, he was the best QB in all of college football statistically. He is poised beyond his years and is a threat to win a National Championship. Watch for him to make waves at next year's draft.
NFL Passing Leaders
NFL Passing Leaders in 2023. Patrick Mahomes has the most passing yards with 5,250 yards. Patrick Mahomes has the most passing touchdowns with 41 touchdowns. Last updated: May 12, 2023.
NFL Passing Leaders 2022

| Name | Team | Passing Yards | Passing Touchdowns |
| --- | --- | --- | --- |
| Patrick Mahomes | Kansas City Chiefs | 5,250 | 41 |
| Justin Herbert | Los Angeles Chargers | 4,739 | 25 |
| Tom Brady | Tampa Bay Buccaneers | 4,694 | 25 |
| Kirk Cousins | Minnesota Vikings | 4,547 | 29 |
| Joe Burrow | Cincinnati Bengals | 4,475 | 35 |
| Jared Goff | Detroit Lions | 4,438 | 29 |
| Josh Allen | Buffalo Bills | 4,283 | 35 |
| Geno Smith | Seattle Seahawks | 4,282 | 30 |
| Trevor Lawrence | Jacksonville Jaguars | 4,113 | 25 |
Writer Bio
Blaise is a Freshman at the University of Missouri, studying Journalism at the world-renowned J school. He is the host of the Fast Five Podcast with his Childhood friend Sam Sinclair and interns with the Sports AI platform Pine Sports. He is a huge fan of the Kansas City Chiefs and the St Louis. Cardinals and hopes to cover them professionally in his near future.