Bills vs Bengals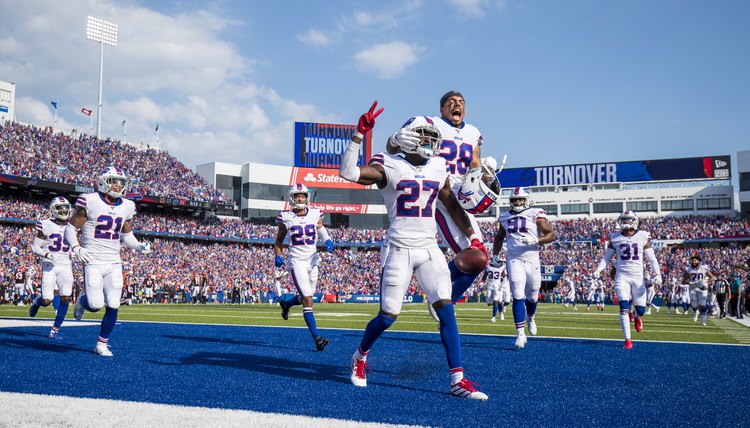 Late into last football season, not many fans would have predicted the Cincinnati Bengals to represent the AFC in Super Bowl LVI; but they did, in fact, and were even a few plays away from pulling off one of the greatest underdog stories in American football history.
In the Super Bowl loss, the LA Rams' defense tied a Super Bowl record of seven sacks on quarterback Joe Burrow, which came just weeks after he was sacked a record nine times in the AFC Divisional Round against the Tennessee Titans. The concern for Burrows' health and urgency to improve his protection was already a conversation after he missed the second half of his rookie season due to a torn ACL that came on a sack, but following the Super Bowl loss, the Bengals' front office made it a point to reconstruct the offensive line as soon as they could in the offseason.
Cincinnati went on to sign La'el Collins, Alex Cappa and Ted Karras, who are all proven linemen and expected to step right into starting roles for the Bengals. In their first game of the 2023 calendar year, they will be tested by one of last year's best defenses when the Bills visit for Sunday Night Football. Buffalo is expected to have one of the best defenses again this season with the addition of LB Von Miller, who signed a 6-year deal with the team after winning the Super Bowl in LA, sacking Burrow two times in the process.
Game Info
​Date​: Monday, January 2, 2023
​Kickoff​: 8:30PM EST
​Location​: Paul Brown Stadium, Cincinnati, OH
​TV​: ESPN
SportsRec Prediction
​Final: Bills 30, Bengals 17​
Despite improvements on the offensive line, the sheer power and depth of the Bills defense will be too much for the 2o22 AFC Champions to handle. Expect this one to be close for a period of time, but by the end of it, the Bills will have showed who is the team to beat in the AFC come the 2023 playoffs.
SportsRec
Bills vs Bengals History by the Numbers
The Bills and the Bengals have played against each other a total of 32 times throughout their history, including 2 times in the postseason

The Bills lead the all-time series by a score of 17-15

Through all 32 matchups, the Bills have outscored the Bengals by a score of 759-705

The Bengals lead the all-time playoff series by a score of 2-0
The Bengals' longest winning streak against the Bills was 5, dating from 1984-1989

The Bills' longest winning streak against the Bengals was 10, dating from 1989-2010

Bills vs Bengals Recent Matchups
9/22/2019: Bills 21, Bengals 17

10/08/2017: Bengals 20, Bills 16

11/20/2016: Bills 16, Bengals 12

10/18/2015: Bengals 34, Bills 21

10/13/2013: Bengals 27, Bills 24

10/02/2011: Bengals 23, Bills 20

11/21/2010: Bills 49, Bengals 31

11/04/2007: Bills 33, Bengals 21

12/24/2005: Bills 37, Bengals 27

12/19/2004: Bills 33, Bengals 17