Bills vs Patriots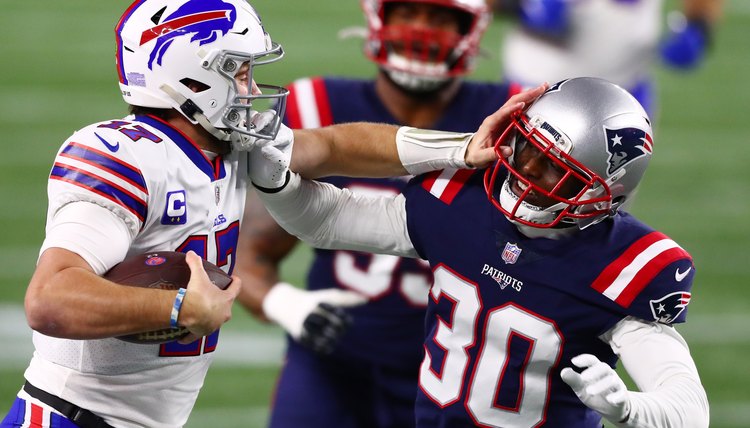 With Tom Brady under center for New England, the Patriots posted a remarkable 33-3 record against the Buffalo Bills in AFC East divisional play; the absence of Brady and the emergence of Josh Allen, however, has made the Bills the new team to beat in the division.
Following a second AFC East title and early playoff exit, Bills General Manager Brandon Beane's offseason moves have landed the team atop many leaderboards going into 2022-23, as well as the odds-on favorites to win Super Bowl LVII. Here is a list of the team's notable additions from the offseason:
Signed LB Von Miller to a 6-year, $120M deal

Signed RB Duke Johnson to a 1-year, $1.27M deal

Signed TE OJ Howard to a 1-year, $3.5M deal

Signed WR Jamison Crowder to a 1-year, $2M deal
Signed G Rodger Saffold to a $1-year, 6.25M deal
After spending more money than any other NFL team last offseason, this offseason looked much different for Bill Belichick and the New England Patriots. The team managed to return to the Wild Card round of the playoffs under rookie QB Mac Jones, but after losing CB J.C. Jackson to the Chargers and still lacking a true No.1 wide receiver on offense, the team has more questions than answers going into 2022-23.
Game Info
​Week 13​
​Date​: Thursday, December 1, 2022
​Kickoff​: 8:15 PM EST
​Location​: Gillette Stadium, Foxborough, MA
​TV​: Prime Video
​Week 18​
​Date​: TBD
​Kickoff​: TBD
​Location​: Highmark Stadium, Orchard Park, NY
​TV​: TBD
SportsRec Prediction
​Week 13 Final: Bills 30, Patriots 14​

​Week 18 Final: Patriots 21, Bills 17​

Josh Allen and the Bills will be in the midst of hitting their stride by the time Week 13 rolls around, and with the level of depth and talent that the team has, it will be difficult for anyone to beat them at that point. By Week 18, they should have a playoff spot locked up and be able to rest their starters, which will give Mac Jones and the Patriots an opportunity to steal one on the road.
SportsRec
Bills vs Patriots History by the Numbers
The Bills and the Patriots have played against each other a total of 125 times, including 2 times in the postseason

The Patriots lead the all-time series by a score of 77-47-1

Through all 125 matchups, the Patriots have outscored the Bills by a score of 2756-2324

The teams are 1-1 against each other in the playoffs

The Patriots' longest winning streak against the Bills was 15, dating from 2003-2010

The Bills' longest winning streak against the Patriots was 9, dating from 1971-1975

Bills vs Patriots Recent Matchups
1/15/2022: Bills 47, Patriots 17

12/26/2021: Bills 33, Patriots 21

12/06/2021: Patriots 14, Bills 10

12/28/2020: Bills 38, Patriots 9

11/01/2020: Bills 24, Patriots 21

12/21/2019: Patriots 24, Bills 17

9/29/2019: Patriots 16, Bills 10

12/23/2018: Patriots 24, Bills 12

10/29/2018: Patriots 25, Bills 6

12/24/2017: Patriots 37, Bills 16