Cardinals vs 49ers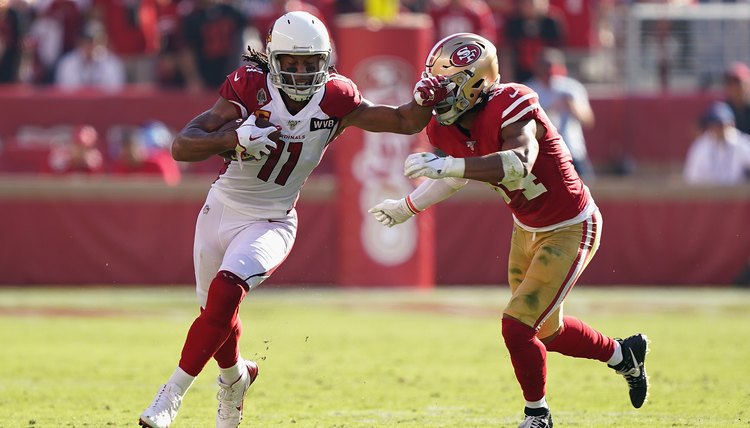 Cardinals fans had one of the more uncomfortable offseasons in the NFL for a couple reasons: first, at one point star QB Kyler Murray deleted all traces of the team from social media over contract frustrations; second, superstar WR DeAndre Hopkins was handed a six-game suspension for violating the NFL's policy on performance-enhancing drugs.
While Murray and the organization eventually got back on good terms, Hopkins' suspension seems unlikely to change at this point. The team will not be lacking all of its firepower at the wide receiver position, however. On draft night, Kliff Kingsbury and the Cardinals shocked fans across the league by making a trade with the Ravens that brought WR Marquise "Hollywood" Brown to Arizona, giving Murray an extremely capable weapon in Hopkins' absence.
49ers fans had their own fair share of drama in the off-season mostly due to Deebo Samuel, who at one point is believed to have requested a trade from the organization. He is back with the team, however, and will be catching passes from 2nd year QB Trey Lance as he steps into the starting role for San Francisco.
Game Info:
Week 11
Date: Monday, November 21, 2022

Kickoff: 5:15 PM PST

Location: Estadio Azteca, Mexico City, Mexico

TV: ESPN

Week 18
Date: TBD

Kickoff: TBD

Location: Levi's Stadium, Santa Clara, CA

TV: CBS

SportsRec Prediction
Week 11: Cardinals 28, 49ers 10

Week 18: 49ers 21, Cardinals 20

Meeting twice in the back half of the season could mean that these divisional games have important playoff implications, making them critical for both teams. The Cardinals have improved their win totals each season that Kyler Murray has been under center, and with DeAndre Hopkins returning well before their Week 11 matchup, expect the Cardinals to pick up the win in Mexico City. The 49ers have shown the ability to win in big games in the last few seasons, and seeing that the Week 18 matchup between the two teams could very well have significant playoff implications, it is not unreasonable to say that the 49ers can steal a last-second victory in the final game of the season.
Cardinals vs 49ers History by the Numbers
Over the course of their history, the Cardinals and 49ers have played against eachother a total of 61 times

The 49ers lead the all-time series by a score of 32-29-0

Through all 61 games, the 49ers have outscored the Cardinals by a score of 1368-1258

The Cardinals longest win streak against the 49ers was 8, from 2015-2018

The 49ers longest win streak against the Cardinals was 5, from 1980-1987, 1993-2002, and 2009-2011

Cardinals vs 49ers Recent Matchups
11/07/2021: Cardinals 31, 49ers 17

10/10/2021: Cardinals 17, 49ers 10

12/26/2020: 49ers 20, Cardinals 12

09/13/2020: Cardinals 24, 49ers 20

11/17/2019: 49ers 36, Cardinals 26