Eagles vs Washington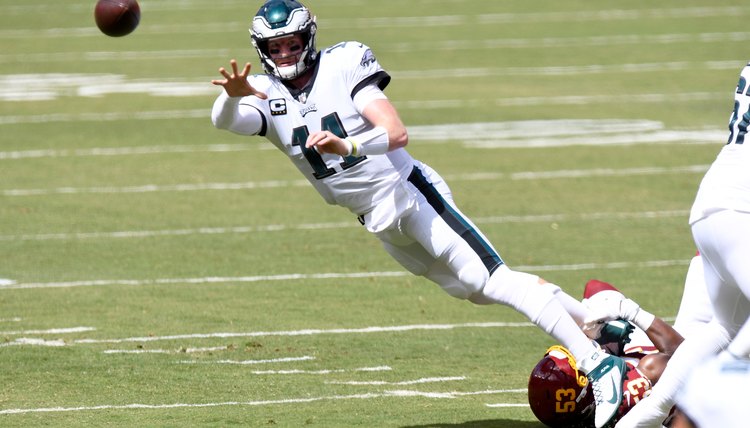 The Philadelphia Eagles and the Washington Commanders, formerly the Washington Football Team, meet twice in the 2022-23 season in NFC East divisional games. The Eagles swept the season series in 2021-22.
Since they last met, both teams have been in headlines for various reasons, good and bad. The Eagles were among the biggest winners of the NFL offseason, bringing in Georgia's DT Jordan Davis in the first round of the draft, and following that up by making a trade to land Titans star WR A.J. Brown in Philadelphia.
The Commanders did make a move to land former Eagles and Colts QB Carson Wentz in Washington, but much of the attention in the organization has been on owner Dan Snyder's legal troubles. The saga began in July 2021 when the NFL fined the team $10 million after an investigation into the franchise's workplace culture, which was quickly followed up by Congress pursuing its own investigation. Throughout the whole process, there have been numerous calls for Snyder to sell the team- a move that he seems to be strongly avoiding.
Game Info
​Week 3​
Date: Sunday, September 25, 2022
Kickoff: 1:00PM EDT
Location: FedEx Field, North Englewood, MD
TV: FOX
​Week 10​
Date: Monday, November 14, 2o22
Kickoff: 8:15PM EST
Location: Lincoln Financial Field, Philadelphia, PA
TV: ESPN
SportsRec Prediction
Week 3: Eagles 34, Commanders 24

Week 10: Eagles 27, Commanders 20

After sweeping the season series in 2021, the Eagles only got better this offseason. With a legitimate weapon in A.J. Brown and a potential star in Devonta Smith, the offense will be much improved from last season. On the defensive side of the ball, Jordan Davis and Nakobe Dean significantly improve the run defense, while all returners from last year's squad now have a full season under Head Coach Nick Sirianni under their belts. All of this put together should allow the Eagles to get the job done versus the Commanders in 2022.
Eagles vs Commanders History by the Numbers
The Philadelphia Eagles and Washington Commanders have met a total of 174 times, including once in the postseason

The Washington Commanders lead the all-time series by a score of 88-81-5

The Commanders won the only playoff matchup between the two teams by a score of 20-6 in the 1990 NFC Wild Card Game

Through all 174 games, the Eagles have outscored the Commanders by a score of 3671-3462

The Commanders' longest winning streak against the Eagles was 11, from 1937-1942

The Eagles' longest winning streak against the Commanders was 8, from 1947-1950

Eagles vs Commanders Recent Matchups
01/02/2022: Eagles 20, Commanders 16

12/21/2021: Eagles 27, Commanders 17

01/03/2021: Commanders 20, Eagles 14

09/13/2020: Commanders 27, Eagles 17

12/15/2019: Eagles 37, Commanders 27