Football Quarterback: most difficult position in football? Best NFL Quarterbacks All Time and 2022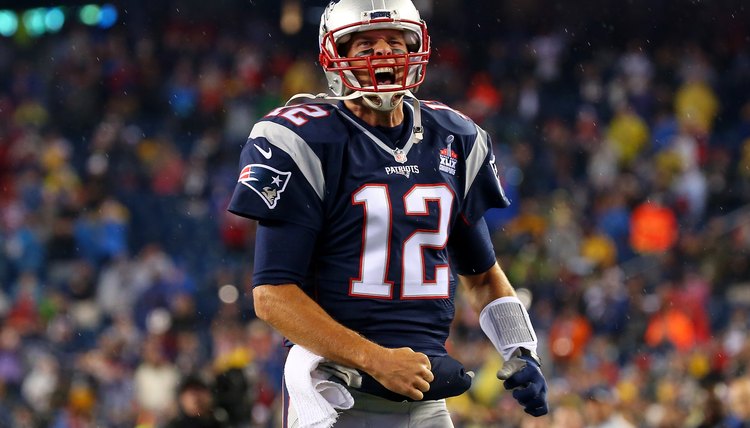 In American football, the quarterback position is often considered to be the most important on a football team, as well as the most difficult to play. So what exactly is a quarterback, and what do they do?
What is a Quarterback, and What makes the Position so Difficult?
A quarterback is one of the eleven offensive players on the football field at all times. The quarterback is responsible for a wide range of duties both on and off the field, which is what makes it the hardest position to play, especially at a high level. Here are some of the things a quarterback must do:
Quickly and clearly relay the entirety of a play call from the coaches on the sideline to the offensive linemen, running backs, wide receivers, and tight ends in the huddle

Watch enough film to recognize what the defensive backs, defensive ends, and defensive linemen are doing prior to the snap so they can pick up a blitz, change from a running play to a passing play or vice versa, or line up the offensive line/other offensive players to give them a better chance at executing their play or call an audible from the backfield if necessary

In a matter of milliseconds, read what the cornerbacks and linebackers of the opposing team do as soon as the ball is snapped and react accordingly

Know their team's playbook from front to back, understanding in detail what each player at every position must do on every single play

Have the ability to feel pressure of defensive tackles, blitzing outside linebackers and defensive backs, or other rushers coming from their blind side

On the high school and college levels, some quarterbacks might have to play the difficult position of the holder for the kicker or even act as the punter in some punt formations

Be well-spoken to their teammates as well as represent their team and organization in a professional manner

Posses the size, arm strength, mobility, and vision to precisely execute plays by handing off or throwing the football to running backs, receivers, or tight ends on each play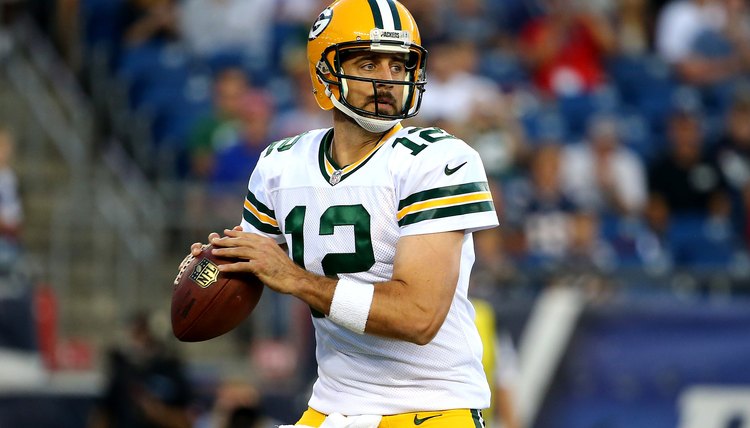 SportsRec
In the NFL, quarterbacks are often the highest paid players on a team largely in part due to their importance in every aspect of the football game and the organization as a whole, as listed above. Because of how tough the position is, great quarterbacks are truly hard to come by, and many NFL teams will go through several quarterbacks before finding one that they want to build a team around going forward.
While players like Tom Brady and Peyton Manning have shown the ability to flat out dominate defensive players and be elite passers in the NFL, many great high school and college quarterbacks fail when they finally get to the NFL simply because of how fast the game moves and all of the mental aspects that come with it.
The list of the greatest quarterbacks of all time is composed of players who were able to master the mental aspect of the game while also being exceptionally physically gifted. Many of the quarterbacks on this list are not only praised within quarterback conversations, but many are also considered among the greatest football players to ever live, period.
Greatest Quarterbacks of All Time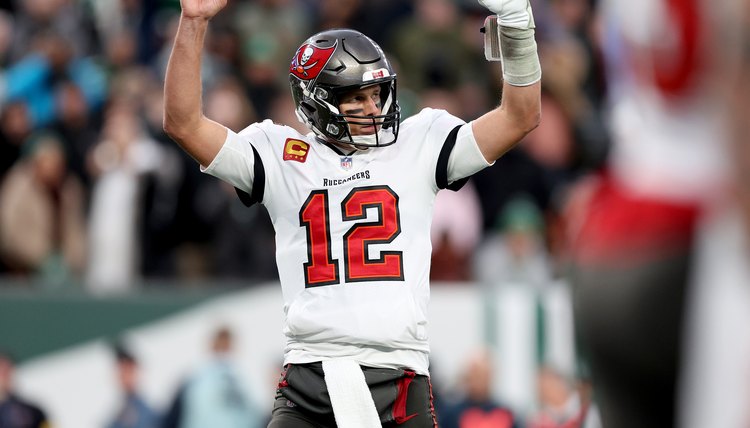 SportsRec
1. Tom Brady
Teams: New England Patriots: 2000-2019 (20 seasons), Tampa Bay Buccaneers: 2020-present (3 seasons)

Accolades: 7x Super Bowl Champion, 5x Super Bowl MVP, 3x NFL MVP, 15x Pro Bowl

Career Stats: 89,214 yards, 649 touchdowns, 97.2 QBR

Brady's story is nothing short of amazing, coming from being pick No. 199 in the 2000 NFL draft to an individual that many consider to be the greatest to ever play the game of football. He is one of the greatest winners in all of professional sports, and his longevity and consistent dominance is unlike anything anyone has seen before.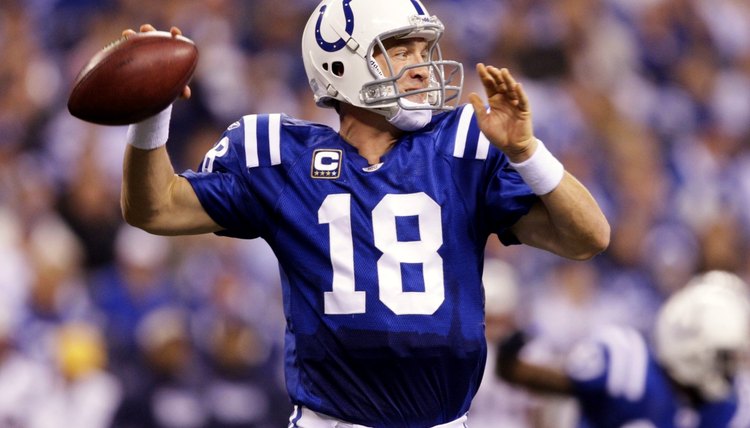 SportsRec
2. Peyton Manning
Teams: Indianapolis Colts: 1998-2010 (13 seasons), Denver Broncos: 2012-2015 (4 seasons)

Accolades: 2x Super Bowl Champion, 5x NFL MVP, 14x Pro Bowl, Hall of Fame

Career Stats: 71,940 yards, 539 touchdowns, 96.5 QBR

"The Sheriff" was not only one of the most skilled players of all time, but he was also one of the smartest players of all time. A huge part of his game was making adjustments and calling audibles at the line of scrimmage, and his success in doing so goes to show just how much preparation went into what he did on the football field each week.
SportsRec
3. Joe Montana
Teams: San Francisco 49ers: 1979–1992 (14 seasons), Kansas City Chiefs: 1993-94 (2 seasons)

Accolades: 4x Super Bowl Champion, 3x Super Bowl MVP, 2x NFL MVP, 8x Pro Bowl, Hall of Fame

Career Stats: 40,551 yards, 273 touchdowns, 92.3 QBR

Joe Montana was the master of late-game comebacks. He led his teams to 31 fourth quarter come-from-behind wins during his career, including, most notably, a 92-yard drive in Super Bowl XXIII against the Cincinnati Bengals. He holds the NFL record for most 300-yard games in the postseason (6) and also owns records in career playoff passing attempts, completions, touchdowns and passing yards.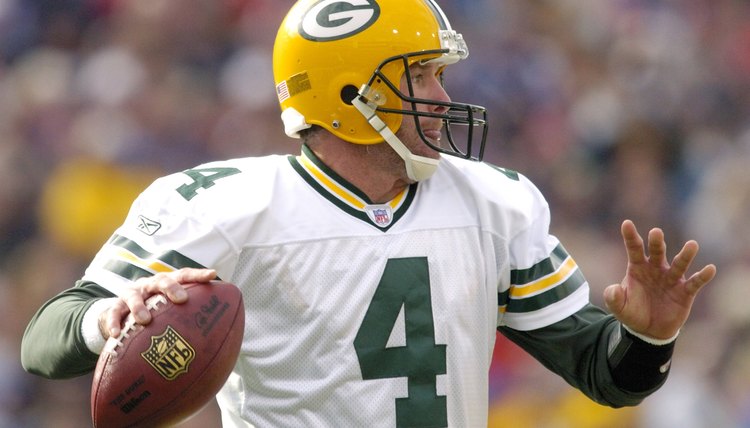 SportsRec
4. Brett Farve
Teams: Atlanta Falcons: 1991 (1 season), Green Bay Packers: 1992-2007 (16 seasons), New York Jets: 2008 (1 season), Minnesota Vikings: 2009-10 (2 seasons)

Accolades: Super Bowl Champion, 3x NFL MVP, 11x Pro Bowl, Hall of Fame

Career Stats: 71,838 yards, 508 touchdowns, 86.0 QBR

Thrust into the starting role just three weeks into his rookie season, Farve immediately made an impact on a Packers organization that had only two winning seasons in the previous ten seasons. He would go on to throw for 3,000+ passing yards for 18 straight seasons, 4,000 yards in six of those, be named to 11 Pro Bowls, and be the only player in NFL history to win NFL MVP three seasons in a row. He led the Packers to three straight NFC Championships from 1995-1998, which resulted in one Super Bowl victory- Super Bowl XXXI over the Patriots.
SportsRec
5. Dan Marino
Teams: Miami Dolphins 1983-1999 (17 seasons)g

Accolades: NFL MVP, 9x Pro Bowl, Hall of Fame

Career Stats: 61,361 yards, 420 touchdowns, 86.4 QBR

Dan Marino became the full-time starter for the Dolphins in week six of his rookie season, and he immediately made his presence known. He guided the team to a 12-4 record in the regular season, earning him Rookie of the Year honors. In just his second season, he became the first player to ever throw for more than 5,000 passing yards (5,084) and was named the NFL MVP. He would go on to finish his 17-year career with 61,361 passing yards and 420 touchdowns.
Today's NFL is full of a wide age range of quarterbacks, from older future Hall of Famers to younger, more athletic players in the position than the league has ever seen before. Here are the best of the best going into 2022-23.
Ranking the Best NFL Quarterbacks of the 2022-23 NFL season
SportsRec
1. Patrick Mahomes, Kansas City Chiefs
2022-23 stats: 435-648, 5,250 YDS, 41 TD, 12 INT, 105.2 RTG
In a year that many thought Mahomes and the Chiefs offense would take a step back after Tyreek Hill was traded to the Dolphins, Mahomes proved, once again, to be pro football's best signal-caller. He led the league in passing yards (5,250) and touchdown passes (41), and ranked second in passer rating (105.2) behind only Tua Tagovailoa while leading the Chiefs to their fifth straight AFC Championship and second Super Bowl in the last four seasons. He was awarded both the NFL MVP and Super Bowl MVP, despite playing on a high-ankle sprain suffered in the Chiefs' AFC Divisional game against Trevor Lawrence and the Jacksonville Jaguars.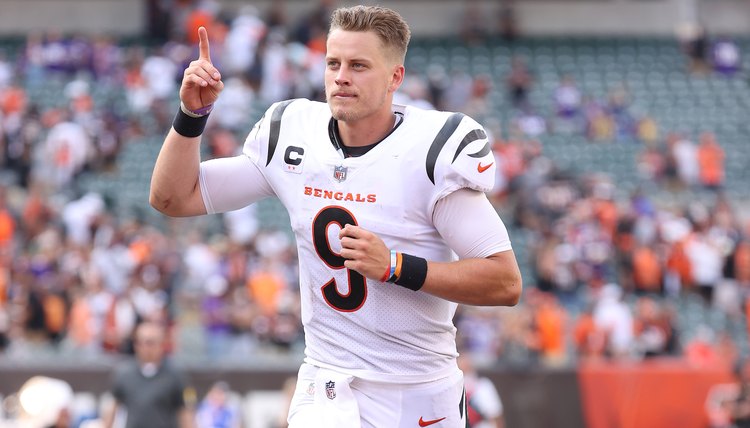 SportsRec
2. Joe Burrow, Cincinnati Bengals
2022-23 stats: 414-606, 4,475 YDS, 35 TD, 12 INT, 100.8 RTG
Following a 4-interception Week 1 performance against the Pittsburgh Steelers, Burrow turned in another spectacular season, leading the Bengals to a second consecutive AFC Championship. He had five 300-plus yard games- against the Steelers (2X), Saints, Falcons and Patriots, and was third in the league in completion percentage (68.0%).
SportsRec
3. Josh Allen, Buffalo Bills
2022-23 stats: 359-567, 4,283 YDS, 35 TD, 14 INT, 96.6 RTG
Allen remained one of the top quarterbacks in the league in 2022-23, but it was very much an up-and-down year for the signal caller in Buffalo. While he had seven games throwing for over 300 yards, he also had six games with two interceptions. Leading a Bills team that came into the season with Super Bowl aspirations, Allen and his squad were unable to advance to the AFC Championship for the second consecutive year. One of his best games of the season was Week 2, when he threw for 317 yards and four touchdowns in a 41-7 victory over the Tennessee Titans.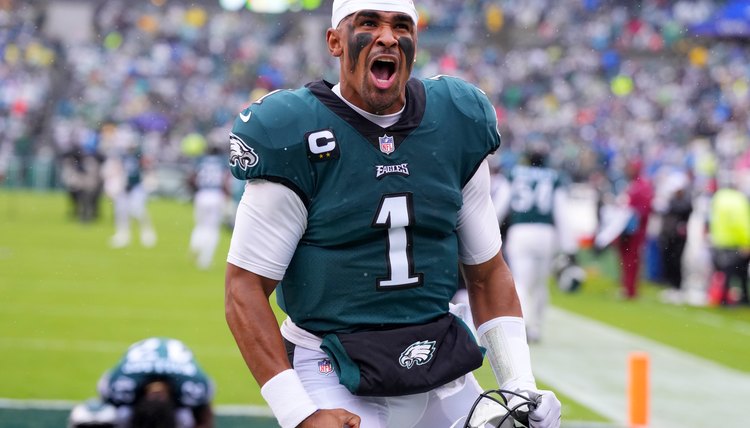 SportsRec
4. Jalen Hurts, Philadelphia Eagles
2022-23 stats: 306-460, 3,701 YDS, 22 TD, 6 INT, 101.6 RTG
Coming into the year with big question marks around his ability to be a starter in the NFL, Hurts completely changed the outlook of his NFL career and ended up being a top contender for the Most Valuable Player. He only accounted for 22 passing touchdowns in the regular season, but his postseason performances against the New York Giants, San Francisco 49ers and in the Super Bowl against the Chiefs give Eagles fans a lot of hope going into the future.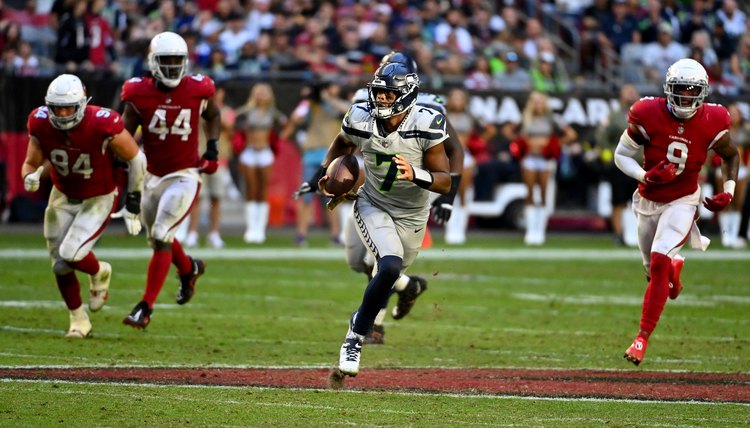 SportsRec
5. Geno Smith, Seattle Seahawks
2022-23 stats: 399-572, 4,282 YDS, 30 TD, 11 INT, 100.9 RTG
After trading Russell Wilson to the Broncos, many expected the Seahawks to go into rebuild mode; Geno Smith had other plans. Putting together his best NFL season after being drafted to the Jets with the 39th overall pick in the 2013 draft , he led the league in completion percentage and likely earned himself a starting spot in Seattle for at least next season.