NFL Football: San Francisco 49ers Super Bowl Wins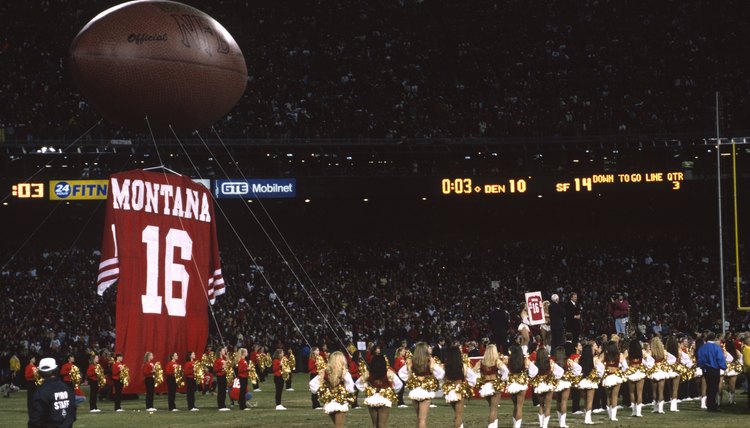 The San Francisco 49ers are one of the most storied franchises in NFL history. From Joe Montana to Jerry Rice, Steve Young to Ronnie Lott, Bill Walsh to George Seifert, the Niners have seen many Hall of Fame caliber players suit up in the red and gold. That's why it is unsurprising that the 49ers have won multiple Super Bowl championships since their inception in 1946.
How many Super Bowls have the 49ers won?
The San Francisco 49ers have won five Super Bowls. Most Recently, Super Bowl XXIX in the 1994 season. They have appeared in seven Super Bowls all time, losing Super Bowl XLVII to the Baltimore Ravens and losing Super Bowl LIV to the Kansas City Chiefs.
When was the 49ers first Super Bowl win?
Super Bowl XVI - 1981 season: 49ers 26, Bengals 21
The 49ers first Super Bowl was Super Bowl XVI on January 24, 1982 at the Pontiac Silverdome in Pontiac, MI. This came off the back of the hiring of star coach Joe Walsh in 1978 and the drafting of Hall of Fame quarterback Joe Montana the following year. It was a heavily contested game but the 49ers were able to capitalize off four Bengals turnovers and a 20-0 halftime lead. QB Joe Montana won Super Bowl MVP with two touchdowns and 175 total yards
When did the 49ers win their Super Bowls?
Super Bowl XIX - 1984 season: 49ers 38, Dolphins 16
Super Bowl XIX was played January 20, 1985 at Stanford Stadium in Stanford, CA and won by the 49ers. It was an all time great matchup between two Hall of Fame QB's; Montana and Miami legend Dan Marino. The 49ers dominated with Montana throwing a Super Bowl Record 331 yards and three touchdowns and the defense getting two interceptions from Marino. QB Joe Montana won Super Bowl MVP.
Super Bowl XXIII - 1988 season: 49ers 20, Bengals 16
The 49ers won Super Bowl XXIII which was played January 22, 1989 at Joe Robbie Stadium in Miami, FL. It was the first with 49ers legend Jerry Rice who was drafted in 1985 and the second Super Bowl matchup with the 49ers and Bengals. It was another closely contested game that culminated in a 92 yard TD drive by Montana and Co. to win the game. WR Jerry Rice won Super Bowl MVP with a Super Bowl record 215 receiving yards.
Super Bowl XXIV - 1989 season: 49ers 55, Broncos 10
Super Bowl XXIV was won by the Niners and played January 28, 1990 at Louisiana Superdome in New Orleans, LA. It was the first with head coach George Sifert who replaced a retired Bill Walsh. The game featured the largest margin of victory in a Super Bowl (45) and the most points scored by a single team in a Super Bowl (55). The star of the show was yet again Montana who threw for a Super Bowl record five touchdowns and became the third player to win Super Bowl MVP and the AP MVP.
Super Bowl XXIX - 1994 season 49ers 49, Chargers 26
The latest Super Bowl win for the Niners was Super Bowl XXIX which was played January 29, 1995 at Joe Robbie Stadium in Miami, FL. It was the first Super Bowl without Joe Montana at QB as he was replaced by Steve Young in 1992. Super Bowl XXIX was the highest scoring Super Bowl ever thanks to great QB play from Chargers QB Stan Humphries and Young. However the Niners were victorious with QB Steve Young throwing for a Super Bowl record six touch downs and was named Super Bowl MVP.
Writer Bio
Blaise is a Freshman at the University of Missouri, studying Journalism at the world-renowned J school. He is the host of the Fast Five Podcast with his Childhood friend Sam Sinclair and interns with the Sports AI platform Pine Sports. He is a huge fan of the Kansas City Chiefs and the St Louis. Cardinals and hopes to cover them professionally in his near future.