NFL Weekly Wrap Up: Week 1 Scores, Stats, Fantasy Leaders & more.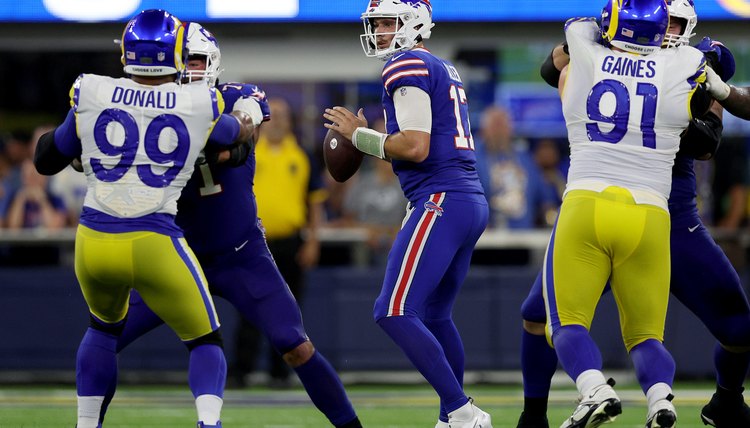 Week 1 of the 2022-23 NFL season is officially in the books, and we are here to recap everything that happened in the wild opening weekend that it was.
Week 1 NFL Final Scores
Buffalo Bills 31, Los Angeles Rams 10
Josh Allen and the Buffalo Bills showed the league why they are the early Super Bowl favorites, dominating the defending World Champions on both sides of the ball on the road at SoFi Stadium.
​Bills​
Josh Allen: 26/31, 297 YDS, 3 TD, 2 INT

Stefon Diggs: 8 REC, 122 YDS, 1 TD

Gabe Davis: 4 REC, 88 YDS, 1 TD

​Rams​
Matthew Stafford: 29/41, 240 YDS, 1 TD, 3 INT

Darrell Henderson Jr.: 13 CAR, 47 YDS

Cooper Kupp: 13 REC, 128 YDS, 1 TD
Chicago Bears 19, San Francisco 49ers 10
After a sloppy first half, the Bears get a come-from-behind win at home in the first game of the Trey Lance era for San Francisco and the first game of the Matt Eberflus era for Chicago.
​Bears​
Justin Fields: 8-17, 121 YDS, 2 TD, 1 INT

Khalil Herbert: 9 CAR, 45 YDS, 1 TD

Dante Pettis: 1 REC, 51 YDS, 1 TD

​49ers​
Trey Lance: 13-28, 164 YDS, 1 INT, 13 CAR, 54 YDS

Jauan Jennings: 4 REC, 62 YDS

New Orleans Saints 27, Atlanta Falcons 26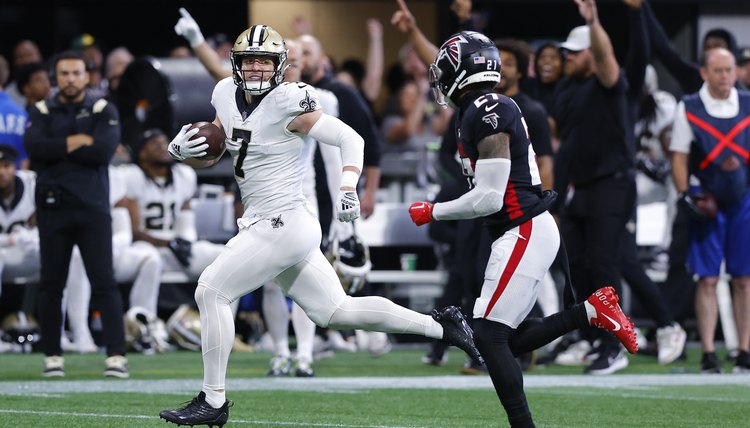 SportsRec
Despite a 16-point deficit in the fourth quarter, Jameis Winston led the Saints down the field twice for a pair of quick touchdowns and Will Lutz converted a 51-yard field goal with 19 seconds remaining to give the Saints the narrow victory in Dennis Allen's coaching debut.
​Saints​
Jameis Winston: 23-34, 269 YDS, 2 TD

Taysom Hill: 4 CAR, 81 YDS, 1 TD

Jarvis Landry: 7 REC, 114 YDS

​Falcons​
Marcus Mariota: 20-33, 215 YDS

Cordarrelle Patterson: 22 CAR, 120 YDS, 1 TD

Drake London: 5 REC, 74 YDS

Pittsburgh Steelers 23, Cincinnati Bengals 20 (OT)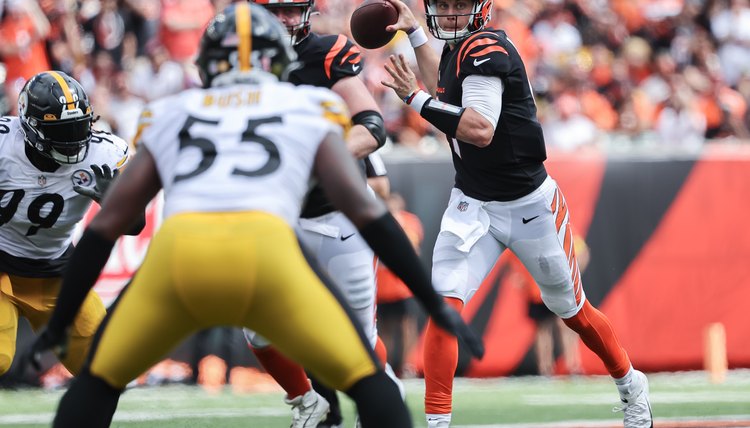 SportsRec
It's not often that a defense catches Joe Burrow on a bad day, but the Steelers sure did, turning the star QB over a total of 5 times in the game. Perhaps the biggest storyline coming out of this game is the health concerns surrounding TJ Watt, as the reigning Defensive Player of the Year left the game late with a torn pec that will hold him out for several weeks.
​Steelers​
Mitch Trubisky: 21-38, 194 YDS, 1 TD

Chase Claypool: 6 CAR, 36 YDS

Pat Freiermuth: 5 REC, 75 YDS

​Bengals​
Joe Burrow: 33-53, 338 YDS, 2 TD, 4 INT

Joe Mixon: 27 CAR, 82 YDS

Ja'Marr Chase: 10 REC, 129 YDS, 1 TD

Philadelphia Eagles 38, Detroit Lions 35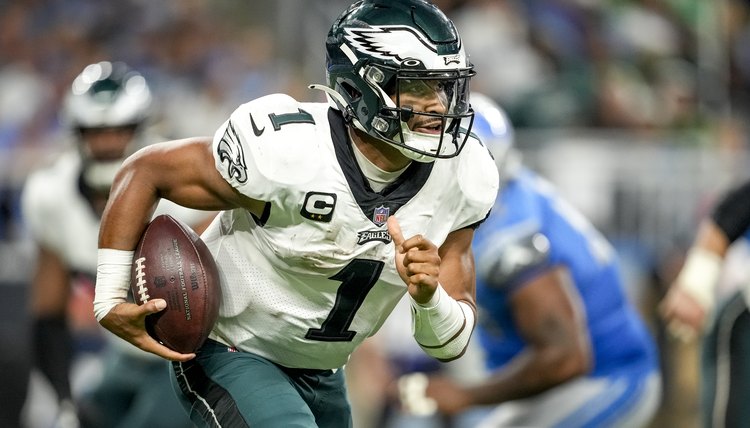 SportsRec
After the Eagles jumped out to an early two score lead, Dan Campbell's Detroit Lions refused to go away late and almost completed the unlikely comeback to open the season.
​Eagles​
Jalen Hurts: 18-32, 243 YDS

Miles Sanders: 13 CAR, 96 YDS, 1 TD

AJ Brown: 10 REC, 155 YDS

​Lions​
Jared Goff: 21-37, 215 YDS, 2 TD, 1 INT

D'Andre Swift: 15 CAR, 144 YDS, 1 TD

Amon-Ra St. Brown: 8 REC, 64 YDS, 1 TD

Miami Dolphins 20, New England Patriots 7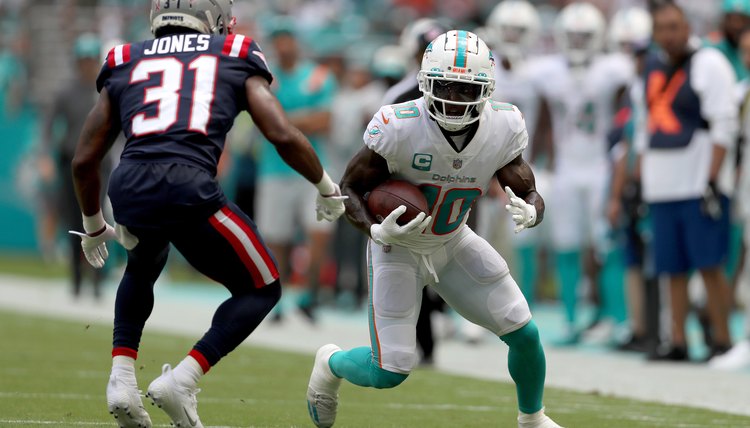 SportsRec
With a defensive touchdown, an interception, forced fumble, and two sacks, the Dolphins' defense made Bill Belichick's offense look uncomfortable from start to finish in Mike McDaniel's first career win as a head coach.
​Dolphins​
Tua Tagovailoa: 23-33, 270 YDS, 1 TD

Chase Edmonds: 12 CAR, 25 YDS

Tyreek Hill: 8 REC, 94 YDS

​Patriots​
Mac Jones: 21-30, 213 YDS, 1 TD, 1 INT

Damien Harris: 9 CAR, 48 YDS

Jakobi Meyers: 4 REC, 55 YDS

Baltimore Ravens 24, New York Jets 9
SportsRec
After deciding to bet on himself in hopes of a big payday in the near future, Lamar Jackson began the 2022-23 season with 3 touchdowns and one of the largest margins of victory seen around the league in Week 1.
​Ravens​
Lamar Jackson: 17-30, 213 YDS, 3 TD, 1 INT

Kenyan Drake: 11 CAR, 31 YDS

Rashod Bateman: 2 REC, 59 YDS, 1 TD

​Jets​
Joe Flacco: 37-59, 307 YDS, 1 TD, 1 INT

Michael Carter: 10 CAR, 60 YDS

Corey Davis: 6 REC, 77 YDS

Washington Commanders 28, Jacksonville Jaguars 22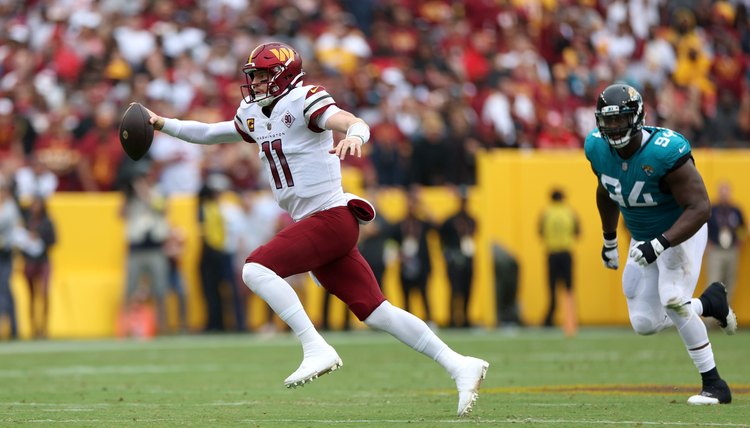 SportsRec
Carson Wentz threw for four touchdowns for the first time since the game he tore his ACL back in 2017, and the Commanders needed all of them to complete the comeback against Trevor Lawrence and the Jaguars.
​Commanders​
Carson Wentz: 27-41, 313 YDS, 4 TD, 2 INT

Antonio Gibson: 14 CAR, 58 YDS, 7 REC, 72 YDS

​Jaguars​
Trevor Lawrence: 24-42, 275 YDS, 1 TD, 1 INT

Jerome Robinson: 11 CAR, 66 YDS, 1 TD

Christian Kirk: 6 REC, 117 YDS

Cleveland Browns 26, Carolina Panthers 24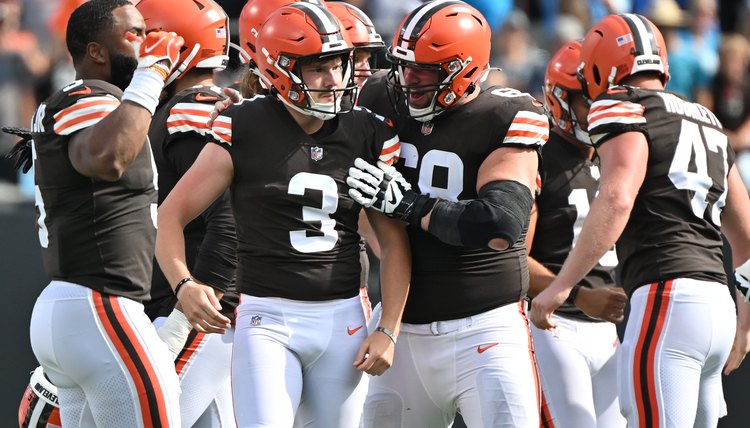 SportsRec
Cade York's 58-yard field goal gave the Browns an opening day win and a 1-0 start for the first time since 2004, spoiling Baker Mayfield's revenge game against his former team.
​Browns​
Jacoby Brissett: 18-34, 147 YDS, 1 TD

Nick Chubb: 22 CAR, 141 YDS

Donovan Peoples-Jones: 6 REC, 60 YDS
​Panthers​
Baker Mayfield: 16-27, 235 YDS, 1 TD, 1 INT

Christian McCaffrey: 10 CAR, 33 YDS, 1 TD

Robbie Anderson: 5 REC, 102 YDS, 1 TD

Indianapolis Colts 20, Houston Texans 20 (OT)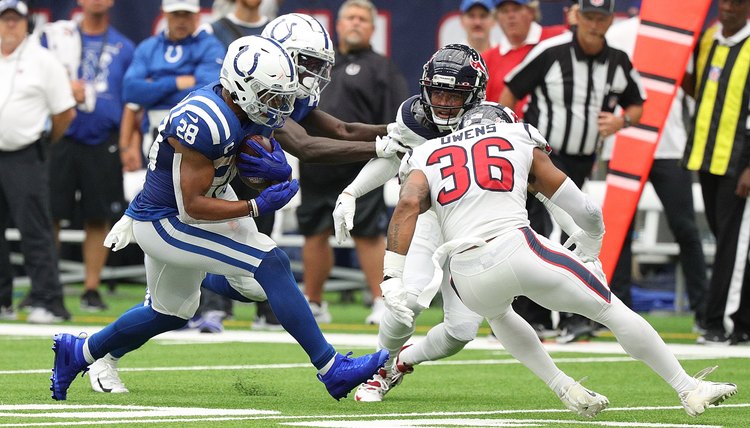 SportsRec
Matt Ryan managed to rally the Colts back from being down 20-3 going into the fourth quarter, but neither his team nor the Davis Mills led Texans could out get anything going in the overtime period, resulting in the first tie of the new season.
​Colts​
Matt Ryan: 32-50, 352 YDS, 1 TD, 1 INT

Jonathan Taylor: 31 CAR, 161 YDS, 1 TD

Michael Pittman Jr.: 9 REC, 121 YDS, 1 TD

​Texans​
Davis Mills: 23-37, 240 YDS, 2 TD

Rex Burkhead: 14 CAR, 40 YDS

Brandin Cooks: 7 REC, 82 YDS

New York Giants 21, Tennessee Titans 20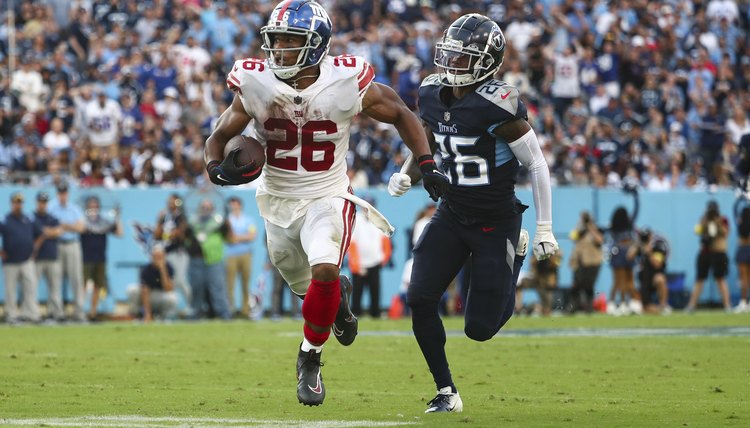 SportsRec
After Daniel Jones found Chris Myarick for a last minute touchdown to bring the game to within one, Giants coach Brian Daboll opted to keep his offense on the field and go for the win and was successful. Daboll gets his first victory as a head coach against last year's No. 1 seed in the AFC.
​Giants​
Daniel Jones: 17-21, 188 YDS, 2 TD, 1 INT

Saquon Barkley: 18 CAR, 164 YDS, 1 TD

Sterling Shepard: 2 REC, 71 YDS, 1 TD

​Titans​
Ryan Tannehill: 20-33, 266 YDS, 2 TD

Derrick Henry: 21 CAR, 82 YDS

Kyle Philips: 6 REC, 66 YDS

Minnesota Vikings 23, Green Bay Packers 7
SportsRec
The Vikings flat out dominated the short-handed Packers on Sunday afternoon, with Justin Jefferson's career day possibly being a glimpse of the future of the NFC North once the back-to-back MVP decides to walk away.
​Vikings​
Kirk Cousins: 23-32, 277 YDS, 2 TD

Dalvin Cook: 20 CAR, 90 YDS

Justin Jefferson: 9 REC, 184 YDS, 2 TD

​Packers​
Aaron Rodgers: 22-34, 195 YDS, 1 INT

Aaron Jones: 5 CAR, 49 YDS

AJ Dillion: 5 REC, 46 YDS

Kansas City Chiefs 44, Arizona Cardinals 21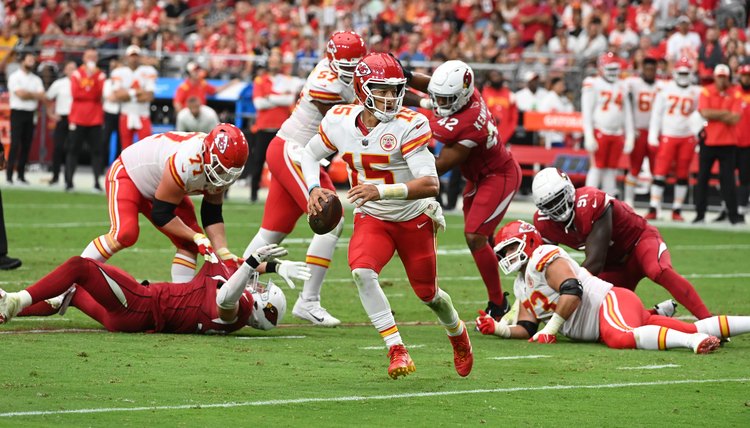 SportsRec
Throwing for three touchdown passes on Kansas City's first three drives of the game, this one was never in doubt for Patrick Mahomes and the Chiefs in their first game since trading away Tyreek Hill to the Dolphins.
​Chiefs​
Patrick Mahomes: 30-39, 360 YDS, 5 TD

Isiah Pacheco: 12 CAR, 62 YDS, 1 TD

Travis Kelce: 8 REC, 121 YDS, 1 TD

​Cardinals​
Kyler Murray: 22-34, 193 YDS, 2 TD

Greg Dortch: 7 REC, 63 YDS

Los Angeles Chargers 24, Las Vegas Raiders 19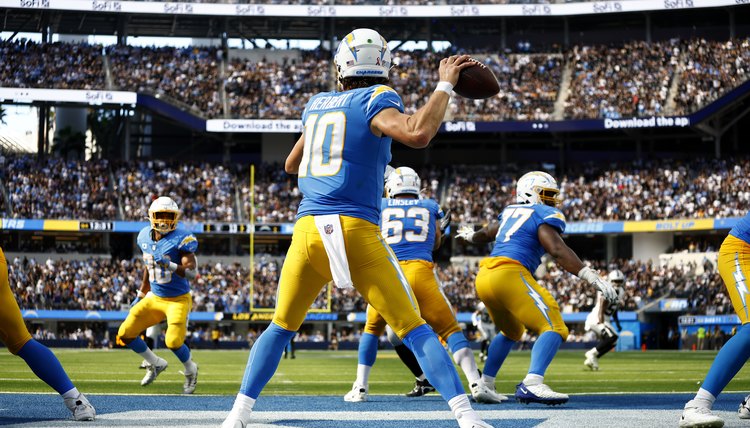 SportsRec
The Chargers' busy off-season seemed to show its worth on Sunday, as all three of Justin Herbert's touchdown passes were caught by guys making their Chargers' debut. Khalil Mack totaled three sacks in his first game as a Charger on the defensive side of the ball, propelling the team to its fourth straight season opening win.
​Chargers​
Justin Herbert: 26-34, 279 YDS, 3 TD

Austin Ekeler: 14 CAR, 36 YDS

Keenan Allen: 4 REC, 66 YDS

​Raiders​
Derek Carr: 22-37, 295 YDS, 2 TD, 3 INT

Josh Jacobs: 10 CAR, 57 YDS

Davante Adams: 10 REC, 141 YDS, 1 TD

Tampa Bay Buccaneers 19, Dallas Cowboys 3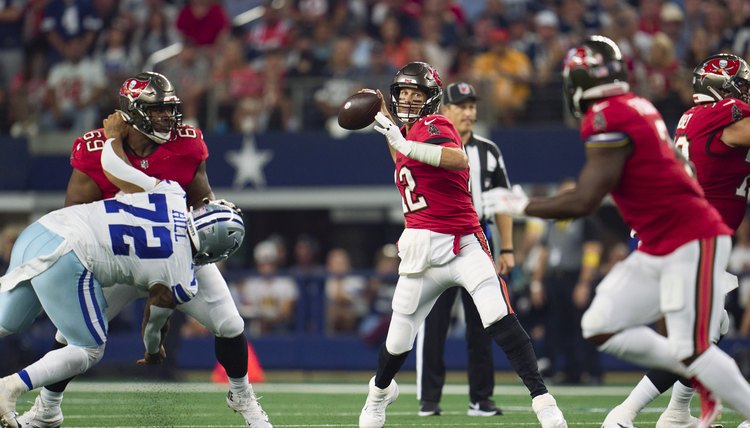 SportsRec
The big storyline out of this one is the hand injury suffered by quarterback Dak Prescott, and speculation is that he will he out somewhere from the next 4-6 weeks in what is a pivotal year for Mike McCarthy and the Cowboys.
​Buccaneers​
Tom Brady: 18-27, 212 YDS, 1 TD, 1 INT

Leonard Fournette: 21 CAR, 127 YDS

Mike Evans: 5 REC, 71 YDS, 1 TD

​Cowboys​
Dak Prescott: 14-29, 134 YDS, 1 INT

Ezekiel Elliot: 10 CAR, 52 YDS

Noah Brown: 5 REC, 68 YDS

Seattle Seahawks 17, Denver Broncos 16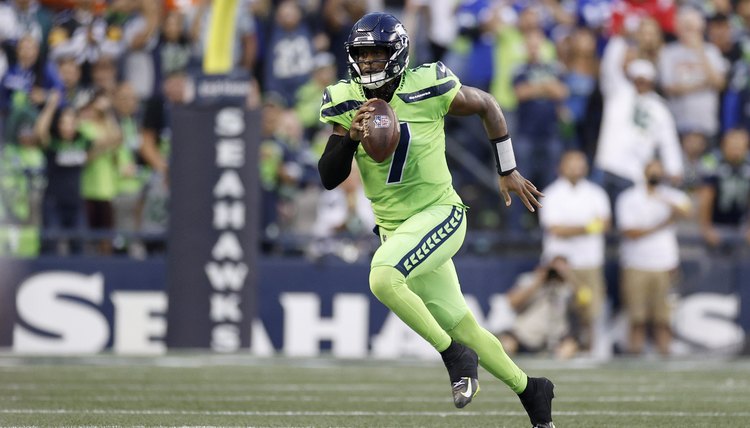 SportsRec
Russell Wilson's return to Seattle was spoiled by Geno Smith and the Seahawks in a game that left many questioning new Broncos' head coach Nathaniel Hackett's use of timeouts late in the game.
​Seahawks​
Geno Smith: 23-28, 195 YDS, 2 TD

Rashaad Penny: 12 CAR, 60 YDS

Will Dissly: 3 REC, 43 YDS, 1 TD

​Broncos​
Russell Wilson: 29-42, 340 YDS, 1 TD

Melvin Gordon III: 12 CAR, 58 YDS

Jerry Jeudy: 4 REC, 102 YDS, 1 TD

Week 1 NFL Standings
AFC East

| Team | W | L | T |
| --- | --- | --- | --- |
| MIA | 1 | 0 | 0 |
| BUF | 1 | 0 | 0 |
| NYJ | 0 | 1 | 0 |
| NE | 0 | 1 | 0 |
AFC North

| Team | W | L | T |
| --- | --- | --- | --- |
| PIT | 1 | 0 | 0 |
| BAL | 1 | 0 | 0 |
| CLE | 1 | 0 | 0 |
| CIN | 0 | 1 | 0 |
AFC South

| Team | W | L | T |
| --- | --- | --- | --- |
| HOU | 0 | 0 | 1 |
| IND | 0 | 0 | 1 |
| JAX | 0 | 1 | 0 |
| TEN | 0 | 1 | 0 |
AFC West

| Team | W | L | T |
| --- | --- | --- | --- |
| LAC | 1 | 0 | 0 |
| KC | 1 | 0 | 0 |
| LV | 0 | 1 | 0 |
| DEN | 0 | 1 | 0 |
NFC East

| Team | W | L | T |
| --- | --- | --- | --- |
| PHI | 1 | 0 | 0 |
| WSH | 1 | 0 | 0 |
| NYG | 1 | 0 | 0 |
| DAL | 0 | 1 | 0 |
NFC North

| Team | W | L | T |
| --- | --- | --- | --- |
| MIN | 1 | 0 | 0 |
| CHI | 1 | 0 | 0 |
| DET | 0 | 1 | 0 |
| GB | 0 | 1 | 0 |
NFC South

| Team | W | L | T |
| --- | --- | --- | --- |
| NO | 1 | 0 | 0 |
| TB | 1 | 0 | 0 |
| ATL | 0 | 1 | 0 |
| CAR | 0 | 1 | 0 |
NFC West

| Team | W | L | T |
| --- | --- | --- | --- |
| SEA | 1 | 0 | 0 |
| SF | 0 | 1 | 0 |
| ARI | 0 | 1 | 0 |
| LAR | 0 | 1 | 0 |
Week 1 Fantasy Leaders (PPR)
Quarterbacks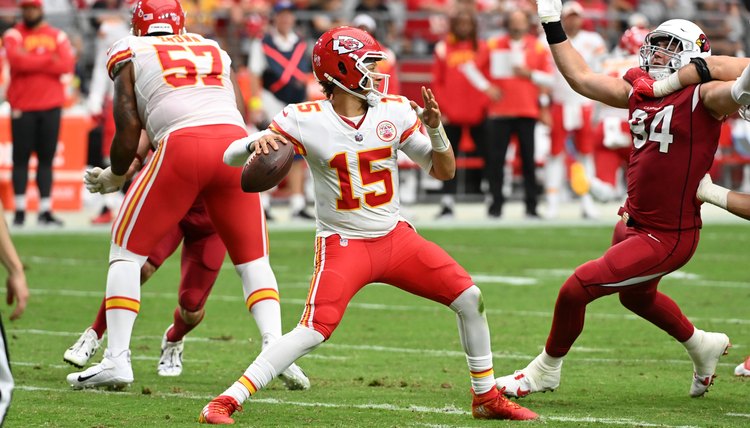 SportsRec
Patrick Mahomes: 34.9

Josh Allen: 33.4

Carson Wentz: 29.7

Jalen Hurts: 24.7

Justin Herbert: 23.2

Running Backs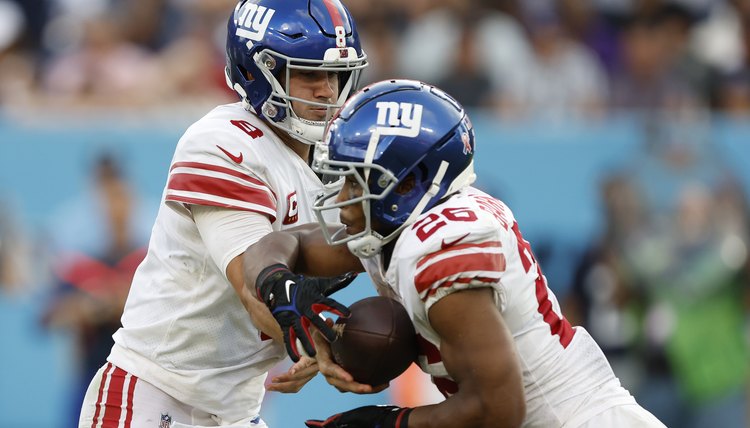 SportsRec
Saquon Barkley: 33.4

Jonathan Taylor: 27.5

D'Andre Swift: 26.5

Kareem Hunt: 23.0

Cordarrelle Patterson: 22.6

Wide Receiver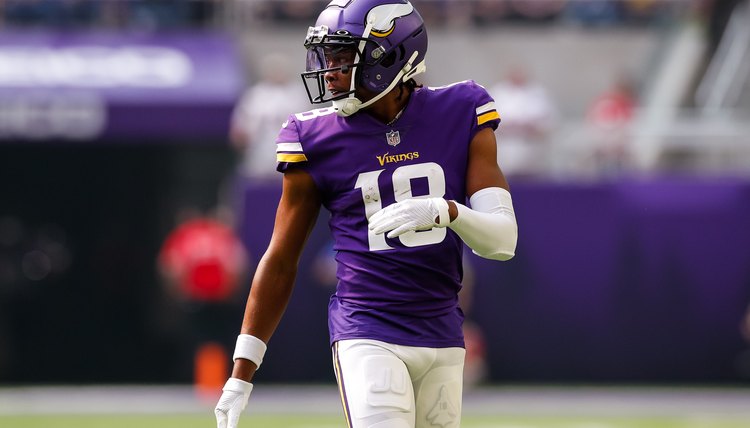 SportsRec
Justin Jefferson: 39.4

Cooper Kupp: 31.8

Davante Adams: 30.1

Ja'Marr Chase: 28.9

Michael Pittman Jr.: 27.1

Tight End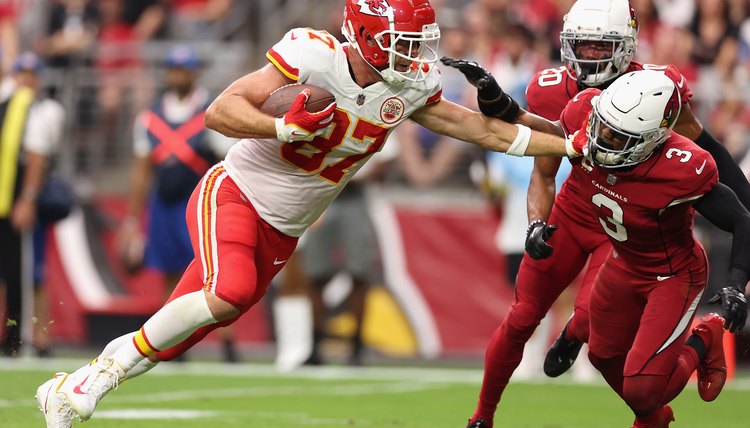 SportsRec
Travis Kelce: 26.1

O.J. Howard: 17.8

Taysom Hill: 15.3

Gerald Everett: 14.4

Will Dissly: 13.3

Kicker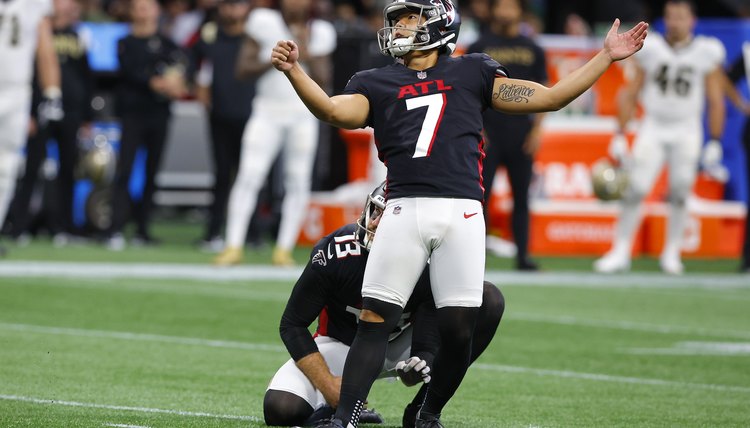 SportsRec
Younghoe Koo: 19.0

Cade York: 16.0

Ryan Succop: 15.0

Chris Boswell: 14.0

Greg Joseph: 13.0

D/ST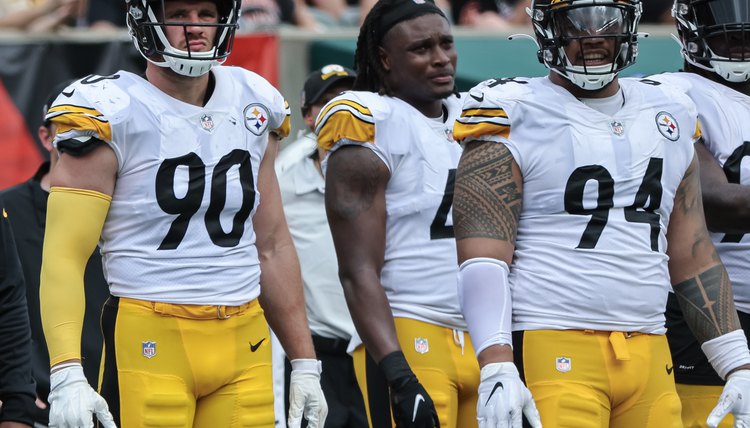 SportsRec
Pittsburgh Steelers: 26.0

Miami Dolphins: 18.0

Buffalo Bills: 17.0

Los Angeles Chargers/Tampa Bay Buccaneers: 13.0

Minnesota Vikings: 12.0

Week 1 MVP Ladder
1. Patrick Mahomes, Kansas City Chiefs
2022-23 Stats: 30-39, 360 YDS, 5 TD

2. Justin Jefferson, Minnesota Vikings
2022-23 Stats: 9 REC, 184 YDS, 2 TD

3. Josh Allen, Buffalo Bills
2022-23 Stats: 26/31, 297 YDS, 3 TD, 2 INT

4. Justin Herbert, Los Angeles Chargers
2022-23 Stats: 26-34, 279 YDS, 3 TD

5. Lamar Jackson, Baltimore Ravens
2022-23 Stats: 17-30, 213 YDS, 3 TD, 1 INT

Week 2 Matchups
Thursday Night Football
Los Angeles Chargers @ Kansas City Chiefs
Sunday, 1:00PM EDT
Miami Dolphins @ Baltimore Ravens
New York Jets @ Cleveland Browns
Washington Commanders @ Detroit Lions
Indianapolis Colts @ Jacksonville Jaguars
Tampa Bay Buccaneers @ New Orleans Saints
Carolina Panthers @ New York Giants
New England Patriots @ Pittsburgh Steelers
Sunday, 4:05PM EDT
Atlanta Falcons @ Los Angeles Rams
Seattle Seahawks @ San Francisco 49ers
Sunday, 4:25PM EDT
Cincinnati Bengals @ Dallas Cowboys
Houston Texans @ Denver Broncos
Arizona Cardinals @ Las Vegas Raiders
Sunday Night Football
Chicago Bears @ Green Bay Packers
Monday Night Football, 7:15PM EDT
Tennessee Titans @ Buffalo Bills
Monday Night Football, 8:30PM EDT
Minnesota Vikings @ Philadelphia Eagles