Rams vs 49ers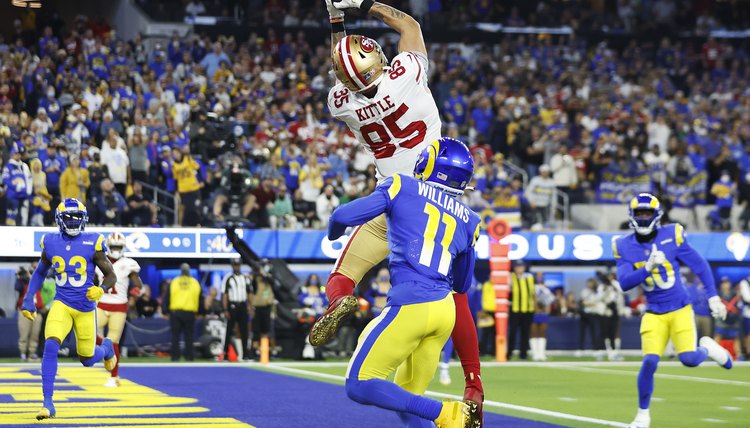 Coming off of their Super Bowl victory, the Los Angeles Rams had one of the most active offseasons in the NFL. Here are the noteworthy moves:
WR ​Cooper Kupp​- resigned 3-year contract extension through 2026

MLB ​Bobby Wagner​- signed 5-year, $50M contract

WR ​Allen Robinson​ signed 3-year, $46.5M contract

QB ​Matthew Stafford​ re-signed 4-year extension through 2024

OLB ​Von Miller​ signed with the Buffalo Bills

OT ​Andrew Whitworth​ retired

P ​Johnny Hekker​ cut

WR ​Odell Beckham Jr.​ remains a free agent
Following their second NFC Championship appearance in three seasons, the 49ers went into the offseason with more questions than answers. The biggest question mark revolved around the Quarterback position after Jimmy Garoppolo seemingly bid farewell to 49ers fans following the NFC Title loss to the Rams:
"It's been crazy, man. Just all the comebacks at Levi, comebacks on the road, ups and downs, it's been a hell of a ride, guys. I love you guys. See ya." Following a shoulder procedure in March, teams are still hesitant to make a move for Garoppolo until he makes a full recovery.
As training camp approaches, Trey Lance has been taking all of the starting reps for the team after making limited appearances in 2021, and all signs point towards him being under center come Week 1. Lance will be tested early and often in the NFC West, a division that features Matthew Stafford and the reigning Super Bowl champion Los Angeles Rams. The two teams will meet for the first time in Week 4.
Game Info
​Week 4​
Date: Monday, October 3, 2022

Kickoff:5:15 PM PDT

Location: Levi's Stadium, Santa Clara, CA

TV: ESPN

​Week 8​
Date: Sunday, October 30, 2022

Kickoff: 1:25 PM PDT

Location: SoFi Stadium, Inglewood, CA

TV: FOX

SportsRec Prediction
​Week 4: Rams 20, 49ers 17​

​Week 8: Rams 30, 49ers 14​

As long as Matthew Stafford, Cooper Kupp, Aaron Donald and Jalen Ramsey are on the same team, it's hard to pick anybody against them. After some contract disputes, Deebo Samuel's return to the Niners will help them stick around early in the season, but by the time Week 8 comes around, expect the Rams to be back hitting their stride in full force. This will be good experience for Lance, but don't expect him to pull off this caliber of victory this early in his career.
Rams vs 49ers History by the Numbers
The two teams have met each other a total of 146 times

The 49ers lead the all-time series by a score of 75-68-3

Through all 146 games, the 49ers have outscored the Rams by a score of 3294-3109

The 49ers longest winning streak against the Rams was 17, from 1990-1998

The Rams longest winning streak against the 49ers was 10, from 1970-1975

The teams are 1-1 against the other in the playoffs

Rams vs 49ers Recent Matchups
1/30/2022: Rams 20, 49ers 17

1/09/2022: 49ers 27, Rams 24

11/15/2021: 49ers 31, Rams 10

11/29/2020: 49ers 23, Rams 20

10/18/2020: 49ers 24, Rams 16