Rams vs Bucs, Sunday Nov 6
The defending Super Bowl champion Los Angeles Rams meet Tom Brady and the Buccaneers in Week 9 of the 2022-23 NFL season in a rematch of last season's NFC Divisional Round thriller.
The Rams' offseason was very active despite limited cap space, with some of their biggest moves including the following:
Signed LT Joseph Notebloom to a 3-year, $40M deal

Signed LB Bobby Wagner to a 5-year, $50M deal

Signed WR Allen Robinson to a 3-year, $46.5M deal

Signed DT Aaron Donald to a 3-year, $95M extension

Signed QB Matthew Stafford to a 4-year, $160M extension

Signed WR Cooper Kupp to a 3-year, $80M extension

The Rams also lost key pieces from last season's Super Bowl team with the retirement of Andrew Whitworth, Von Miller signing with the Buffalo Bills, and Robert Woods being traded to the Tennessee Titans.
The Tampa Bay Buccaneers seemed headed in a much different direction with the initial retirement of Tom Brady, but his quick un-retirement immediately makes them a contender in the NFC once again.
The team will be without Rob Gronkowski, who announced his retirement from football in June, and will also be under new leadership as Todd Bowles takes the role of Head Coach and Bruce Arians moves into a front office role.
The matchup of two of the top contenders in the NFC may very well be a preview of a playoff rematch come the end of the regular season.
Game Info
​Date:​ Sunday, November 6, 2022
​Kickoff:​ 4:25pm ET
​Location:​ Raymond James Stadium, Tampa, FL
​TV:​ CBS
SportsRec Prediction
​Prediction: Rams 24, Bucs 20​
Last season's Divisional Round game was one to remember, as the Rams defeated the Bucs 30-27 to advance in the playoffs. This season's matchup should be another thriller that comes down to the wire, likely being decided by one score or less. The sheer depth of talent on both sides of the ball for the Super Bowl Champs will allow them to outlast Brady and the Bucs on the road, solidifying their place among the top teams in the NFC once again.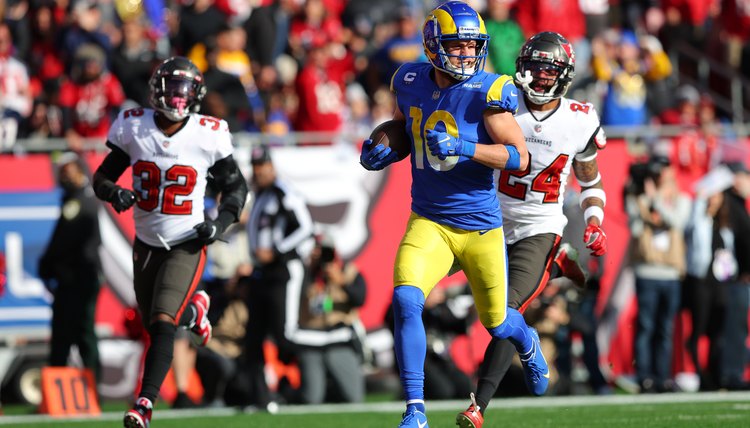 SportsRec
Rams vs Bucs History by the Numbers
The Rams and Bucs have played against each other a total of 28 times throughout their history, including 3 times in the postseason

The Rams lead the all-time series by a score of 19-9

The Rams lead the all-time postseason series by a score of 3-0

Through all 28 games, the Rams have outscored the Bucs by a combined score of 681-587

The Rams' longest winning streak against the Bucs was 6, from 1984-1992

The Bucs' longest winning streak against the Rams was 3, from 2000-2002

Rams vs Bucs Previous Matchups
01/23/2022: Rams 30, Bucs 27

09/26/2021: Rams 34, Bucs 24

11/23/2020: Rams 27, Bucs 24

09/29/2019: Bucs 55, Rams 40

09/25/2016: Rams 37, Bucs 32

12/17/2015: Rams 31, Bucs 23

09/14/2014: Rams 19, Bucs 17

12/22/2013: Rams 23, Bucs 13

12/23/2012: Rams 28, Bucs 13

10/24/2010: Bucs 18, Rams 17