Rams vs Chiefs, Sunday Nov 27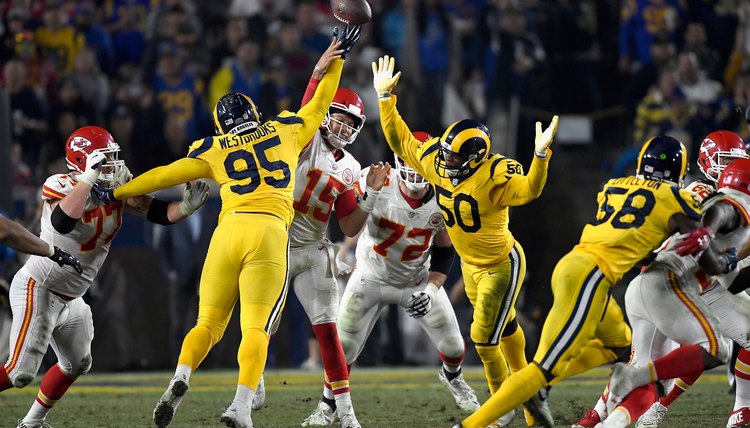 The defending Super Bowl champion Los Angeles Rams will meet former NFL MVP Patrick Mahomes and the Kansas City Chiefs in Week 12 of the 2022-23 NFL season.
The Rams' offseason was one of the most active of any team in the NFL. After losing Von Miller to the Bills and trading Robert Woods to the Titans, the team brought in LB Bobby Wagner and WR Allen Robinson to fill their spots. The Rams also lost offensive lineman Andrew Whitworth to retirement and extended the contracts of core players like Matthew Stafford, Aaron Donald, and Cooper Kupp in recent months.
Coming off of their sixth straight AFC West title in 2021-22, the Kansas City Chiefs go into 2022-23 without WR Tyreek Hill, who was traded to the Miami Dolphins, as well as S Tyrann Mathieu, who they let walk in free agency. Head Coach Andy Reid and the Chiefs' front office went on to sign S Justin Reid to a 3-year deal, former Packers WR Marquez Valdes-Scantling to a 3-year deal, and former Steelers WR JuJu Smith-Schuster to a 1-year deal.
The Week 12 matchup will be one of the more anticipated games of the regular season, with both the Rams and the Chiefs being among the favorites to make it out of their Conference and compete for Super Bowl LVII.
Game Info
​Date:​ Sunday, November 27, 2o22
​Kickoff:​ 4:25pm ET
​Location:​ Arrowhead Stadium, Kansas City, MO
​TV:​ FOX
SportsRec Prediction
​Prediction: Rams 34, Chiefs 24​
The additions of MVS and JuJu give the Chiefs' offense a bit of a boost after losing Tyreek Hill, but it would be difficult to bet against the Rams' defense even if he was still on the team due to the level of depth and lack of weaknesses they have all around the field. Patrick Mahomes will do his thing and still find ways to get the ball in the end zone, but Matthew Stafford's ability to put points on the board in a hurry will give the Rams a slight edge on the road.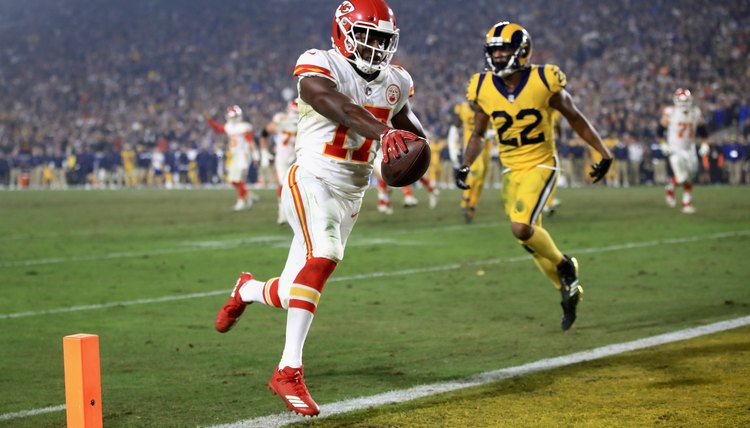 SportsRec
Rams vs Chiefs History by the Numbers
The Rams and the Chiefs have played against each other a total of 12 times throughout their history

The Chiefs lead the all-time series by a score of 7-5

Through all 12 matchups, the Chiefs have outscored the Rams by a score of 328-250

The Rams and the Chiefs have played against each other 0 times in the postseason

The Chiefs' longest winning streak against the Rams was 6, from 1997-2014

The Rams' longest winning streak against the Chiefs was 3, from 1973-1985

Rams vs Chiefs Previous Matchups
11/19/2018: Rams 54, Chiefs 51

10/26/2014: Chiefs 34, Rams 7

12/19/2010: Chiefs 27, Rams 13

11/05/2006: Chiefs 31, Rams 17

12/08/2002: Chiefs 49, Rams 10

10/22/2000: Chiefs 54, Rams 34

10/26/1997: Chiefs 28, Rams 20

09/25/1994: Rams 16, Chiefs 0

11/10/1991: Chiefs 27, Rams 20

10/20/1985: Rams 16, Chiefs 0