The NFL Rules for a Drop Kick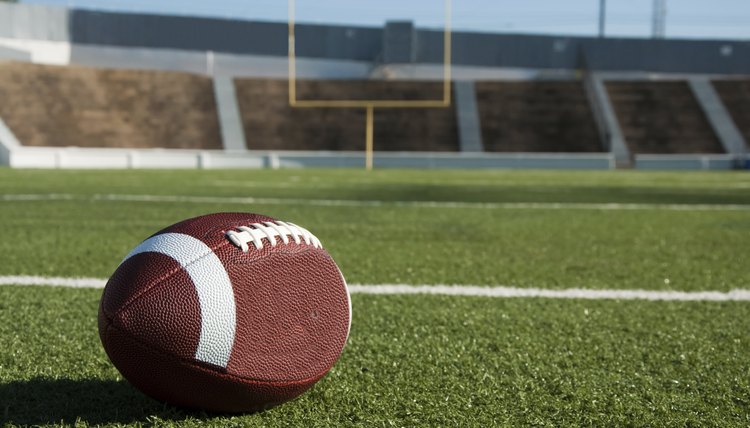 If a kicker drops the football to the ground and kicks it immediately after it lands, he has completed a drop kick. In professional football's early history, the more rounded ball made drop kicks more predictable, and they were commonly used to score field goals and extra points. With the football's redesign, its pointier ends meant its bounce became dangerously unpredictable, relegating the drop kick to obscurity. However, it remains a legal kick in the NFL's official rules and can be used for field goals, extra points and fair-catch kicks.
Field Goals and Extra Points
An NFL kicker can use either a drop kick or a placekick to kick the ball through the uprights of the opponent's goal for field goals from behind the line of scrimmage, or to score an extra point following a touchdown. In 2006, New England Patriots quarterback Doug Flutie converted a drop kick for an extra point after a fourth-quarter touchdown against the Miami Dolphins. The drop kick was the 43-year-old Flutie's last play in the NFL, and the first successful drop kick in the NFL since the 1941 championship.
Fair-Catch Kicks
The NFL also allows drop kicks under a rarely used rule that allows the receiving team of a kickoff or safety kick to attempt a field goal. After signaling for a fair catch, if the ball is caught before it hits the ground, the team may attempt a field goal from that spot on their next play. The play is rarely attempted, and was last successfully used in 1968.
References
Writer Bio
Jennifer Mueller began writing and editing professionally in 1995, when she became sports editor of her university's newspaper while also writing a bi-monthly general interest column for an independent tourist publication. Mueller holds a Bachelor of Arts in political science from the University of North Carolina at Asheville and a Juris Doctor from Indiana University Maurer School of Law.