NFL Sack Leaders 2022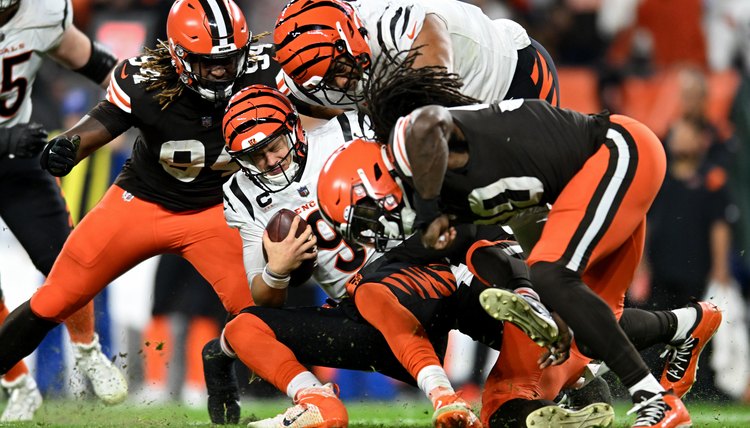 One of the most disruptive plays in football is the sack, as entire offenses can crumble when pass rushers are able to sack the quarterback often during a game. No better example is the 2021 Cincinnati Bengals who, in spite of their high powered offense, was unable to overcome the incredible pass rush presented by the Los Angeles Rams in Super Bowl LVI. It's another reason why Aaron Donald was made the highest player in the NFL who isn't a quarterback. Many players have recorded sacks in the young 2022 season, but only a select few held spots on the leaderboard.
What is a Sack?
Before we get into who led the NFL in sacks we must first understand what a sack is:
A sack is when a defensive player tackles the Quarterback behind the line of scrimmage while he possesses the ball

Sacks can also be recorded when a QB runs out of bounds behind the line of scrimmage while possessing the ball. Sacks are usually caused by defensive pressure or when the offensive line is overwhelmed by the defensive players.
Sacks are vital because:
A sack causes a loss of down for the offense,

A sack causes a loss of yardage,

A sack can potentially cause a turnover if the ball is fumbled.

NFL Sack Leaders in the 2022 Season (Through Week 17)
NFL Sack Leaders

| Player | Team | Sacks |
| --- | --- | --- |
| Nick Bosa | San Francisco 49ers | 17.5 |
| Haason Reddick | Philadelphia Eagles | 16.0 |
| Matthew Judon | New England Patriots | 15.5 |
| Myles Garrett | Cleveland Browns | 15.0 |
| Chris Jones | Kansas City Chiefs | 13.0 |
| Micah Parsons | Dallas Cowboys | 13.0 |
| Brian Burns | Carolina Panthers | 12.5 |
| Alex Highsmith | Pittsburgh Steelers | 12.0 |
| Quinnen Williams | New York Jets | 12.0 |
| Maxx Crosby | Las Vegas Raiders | 11.5 |
| Daron Payne | Washington Commanders | 11.5 |
| Josh Uche | New England Patriots | 11.5 |
Who is the active leader in career sacks?
Since entering the league in 2011, Von Miller has been a force to reckon on the defensive line. He leads all active NFL players in career sacks with 121.5 sacks all time. 110 of these came as a member of the Denver Broncos where he won Super Bowl 50. He went on to win another ring with the Los Angeles Rams in Super Bowl LVI. His best season came in 2012, where he collected 18.5 sacks.
SportsRec
Who led the 2021 NFL Postseason in sacks?
The lead for last season's NFL playoffs sack leader was shared by two players. These players were San Francisco's Nick Bosa and the aforementioned Von Miller, both from the NFC. Miller collected two of his four sacks in Super Bowl LVI, while Bosa collected 1.5 of his in a matchup against Miller's Rams.
Trey Hendrickson (CIN) was right behind Bosa and Miller, with 3.5 sacks in the 2021 postseason.
Who has the single-season sack record?
Up until the 2021 NFL season, Michael Strahan firmly held sole possession of the NFL single-season sack record at 22.5, as a member of the New York Giants. In 2021, however, Steelers' defensive end T.J. Watt tied Strahan's record of 22.5. Watt tied the record in Week 18 of the season in an AFC matchup against the Ravens.
With the NFL season sitting at 18 regular season games, expect more players to be trending towards the top of statistical categories like sacks, interceptions, and touchdowns.
Writer Bio
Blaise is a Freshman at the University of Missouri, studying Journalism at the world-renowned J school. He is the host of the Fast Five Podcast with his Childhood friend Sam Sinclair and interns with the Sports AI platform Pine Sports. He is a huge fan of the Kansas City Chiefs and the St Louis. Cardinals and hopes to cover them professionally in his near future.