The Best Soccer Colleges in Georgia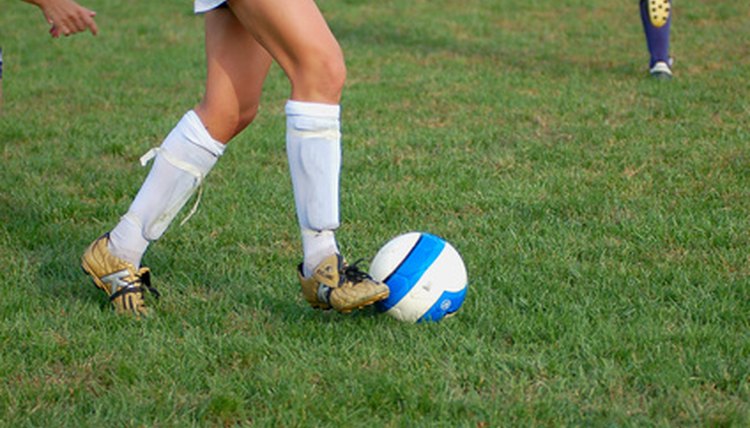 Georgia colleges are more well-known for basketball and football, but according to the College Board, more than 30 colleges in Georgia offered men's and/or women's soccer programs in the 2009-10 academic year. All sizes of school and competitive levels were represented. There may not be a college soccer program in Georgia with the pedigree of the University of North Carolina women or the Indiana University men, but these are some of the better options for student-athletes who want to get their degree while playing a reasonably high level of soccer.
Armstrong Atlantic State University
In 2009, the Pirates women went 16-4-3. In fact, the university's web archive shows the team has posted a winning record every year since 2005. In 2009, the Pirates won the Peach Belt Conference championship and advanced to the NCAA Division II second round in 2009. The university doesn't field a men's soccer team.
Armstrong Atlantic State University 11935 Abercorn St. Savannah, GA 31419 800-633-2349 armstrong.edu
Berry College
On both the men's and women's sides, the Berry Vikings play an interesting mix of NCAA and NAIA teams. In 2009, the men were 12-2-4, while the women were 11-5-1. In addition, Berry senior defender Mark Bloom signed a pro contract to play for AC St. Louis of the North American Soccer League (NASL).
Berry College 2277 Martha Berry Hwy. N.W. Mount Berry, GA 30149 706-232-5374 berry.edu
Clayton State University
Another member of the Peach Belt Conference, Clayton State is especially strong on the men's side. In 2009, the team was 11-5-1 and had four conference championships and five NCAA Division II appearances during the 2000s. The women struggled to a 4-9-1 record in 2009, however, the team did advance to the NCAA tournament in 2004 and 2005, winning a Peach Belt Conference title in 2005.
Clayton State University 2000 Clayton State Blvd. Morrow, GA 30260 678-466-4000 clayton.edu
Columbus State University
Like Armstrong Atlantic State, Columbus State is a member of the Peach Belt Conference, qualified for the 2009 NCAA Division II tournament and fields only a women's team. Unfortunately for Armstrong Atlantic State, it was Columbus State that knocked it out of the NCAA tournament in 2009. Columbus State posted a 16-3-3 record in 2009 and advanced to the NCAA Division II Southeast Regional final.
Columbus State University 4225 University Ave. Columbus, GA 31907 706-568-2204 csucougars.com
Covenant College
Located in Lookout Mountain, Ga., Covenant is a Christian liberal arts college with a men's soccer program that had a strong year in 2009. The team went 13-6-2 and finished third in the NCCAA (National Christian College Athletic Association) national tournament. The women's team finished with a 9-9-4 record in 2009 but managed to make a run for third place in the NCCAA national tournament as well.
Covenant College 14049 Scenic Highway Lookout Mountain, GA 30750 706-820-1560
Emory University
The Emory Eagles compete at the NCAA Division III level with a decent track record for success. In 2009, the men's team was 12-4-2, and the program has made 12 NCAA tournament appearances since 1984. Although the women's team was only 8-5-5 in 2009, it reached the NCAA tournament six times between 1993 and 2007.
Emory University 201 Dowman Drive Atlanta, GA 30322 404-727-6123 emory.edu
Georgia College & State University
Yet another Peach Belt Conference school that only has a women's team, the Bobcats had a winning record in four of five seasons between 2005 and 2009. In 2009, the team was 10-6-5 overall, good for third in the conference.
Georgia College & State University 231 W. Hancock St. Milledgeville, GA 31061 800-342-0471 gcsu.edu
Kennesaw State University
An NCAA Division I women's team, the 2009 Atlantic Sun Conference champion Kennesaw State Owls played Wake Forest in the first round of 2009 Women's College Cup NCAA Division I tournament. The Owls lost to the Demon Deacons 2-0, but showed they belonged in the big dance after an 11-6-0 season.
Kennesaw State University 1000 Chastain Road Kennesaw GA 30144 770-423-6000 kennesaw.edu
Piedmont College
On the men's side, Piedmont finished with a .500 record or better every year between 2002 and 2009. In that same time period, the Piedmont women have had just two losing seasons. In 2009, both the men's and women's teams lost in the Great South Athletic Conference finals.
Piedmont College 165 Central Ave. Demorest, GA 30535 706-778-3000 piedmont.edu
Savannah College of Art and Design (SCAD)
Perhaps the most surprising school, the SCAD men's program has been fairly successful since transitioning back to the NAIA from NCAA Division II before the 2003-04 season. In 2009, the Bees were 12-3-3 and fell in the Sun Conference championship match on penalty kicks, just missing a trip to the NAIA National Championships. On the women's side, SCAD was 8-8-0 in 2009, its first non-winning season since 2004.
Savannah College of Art and Design P.O. Box 3146 Savannah, GA 31402 912-525-5000 scad.edu
Shorter College
This may be an NAIA program, but the Shorter men's soccer team must be doing something right. Not only was the team 12-6-2 in 2009, but senior defender Anthony O'Garro signed with the NASL's AC St. Louis. The women's team isn't quite as strong, but finished right around .500 in 2008 and 2009.
Shorter College 315 Shorter Ave. Rome, GA 30165
800-868-6980 shorter.edu
The University of Georgia
The Georgia Bulldogs may only have a women's team, but it is a consistently strong NCAA DI program. In 2009, the team qualified for its third straight NCAA Division I tournament appearance. The Bulldogs advanced to the second round, where they lost to perennial powerhouse North Carolina, ending the year with a 15-6-1 record.
The University of Georgia Athens, GA 30602 706-542-3000 uga.edu
References
Writer Bio
A 1999 graduate of Clark University, Eric Slack has written extensively on many subjects including health care, energy, technology, sports, music, hospitality and the retail industry. His magazine and online writing experience includes "Inside Healthcare," "Energy Today," InsideCRM.com, Freekick, and Retail Merchandiser.