What Do Guys Wear in Volleyball?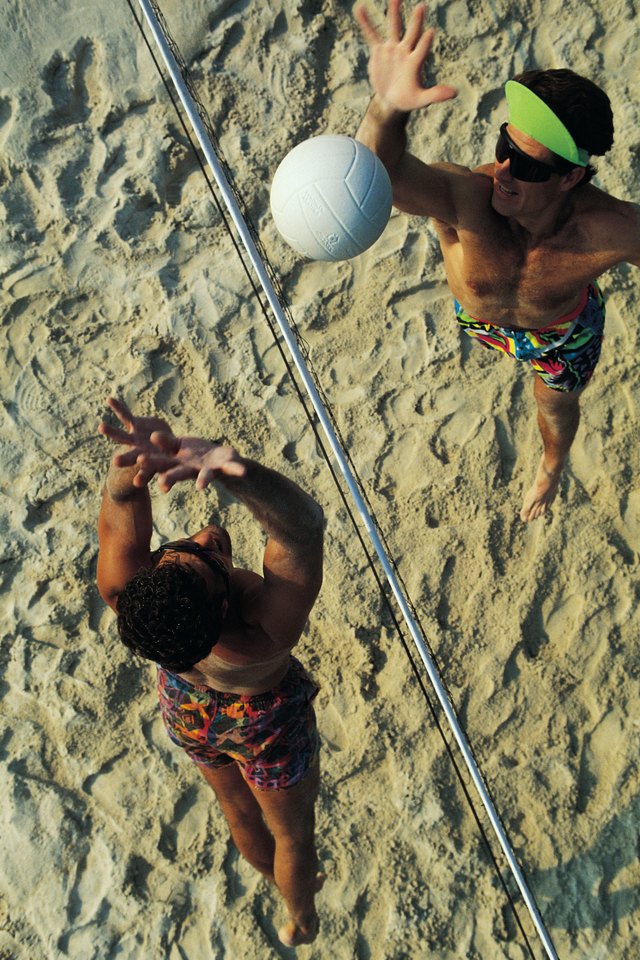 Indoors or out, volleyball is a popular sport played in hundreds of countries around the world. The sport is well-known for its bikini-clad female sand volleyball players, but it's also a sport enjoyed by many men. Depending on the venue, you may have to consider the rules and regulations of your particular league when choosing your gear. If you're competing in an International Volleyball Federation game, for example, you'll have some specific guidelines on the size, length and brands you can wear. If, by contrast, you're involved in a recreational league, what you wear can be more of a personal choice.
Tops
If you're in an indoor league, you'll most likely be wearing a lot more gear. When it comes to tops, it may be the difference between wearing a shirt or not. In indoor volleyball, men typically wear a snug-fitting short sleeved or sleeveless shirt made of a breathable synthetic fiber. Outdoors, men typically go with a sleeveless top, or forego the top all together. For FIVB players, shirts must have a collar, and the sleeves cannot extend past the elbow.
Bottoms
Whether it's indoor or outdoors, shorts are the standard wear for male volleyball players. As with any athletic gear, the shorts should be chosen to allow the best range of motion on the court, as well as be breathable. Men's shorts should be snug fitting and relatively short; according to the FIVB regulations, shorts should not have an inseam of more than 3.9 inches.
Shoes
If you're playing sand volleyball, the question of shoes is likely going to be a moot point; most outdoor volleyball is played barefoot. If you're indoors, however, you'll need a pair of shoes that won't leave black marks as you're moving around the court. If you're a recreational player, a pair of cross-training or court shoes will suffice; if you're a more serious player, you'll find shoes specially designed for volleyball from companies including Mizuno, adidas, Asics and more. You'll also find specially designed volleyball socks of calf or knee-height, designed to stay up and further protect your legs from skidding.
Safety
Once you have the basic gear, you'll need to consider the extras that can help keep you safe and comfortable. These considerations differ depending on indoor or outdoor venues. Indoors, knee pads are essential to allow you to fall on your knees or slide across the floor. Knee pads typically come in a variety of sizes for men and women. Outdoors, knee pads are not worn, however you'll need to protect yourself from the sun. A good pair of sunglasses with a strap at the back can help you see the ball during sunny weather. Likewise, a hat or visor can help block the sun. Also don't forget to wear sunscreen if you're going to be playing for any length of time.
References
Writer Bio
Nicole Vulcan has been a journalist since 1997, covering parenting and fitness for The Oregonian, careers for CareerAddict, and travel, gardening and fitness for Black Hills Woman and other publications. Vulcan holds a Bachelor of Arts in English and journalism from the University of Minnesota. She's also a lifelong athlete and is pursuing certification as a personal trainer.