How to Put on a Scarf as a Belt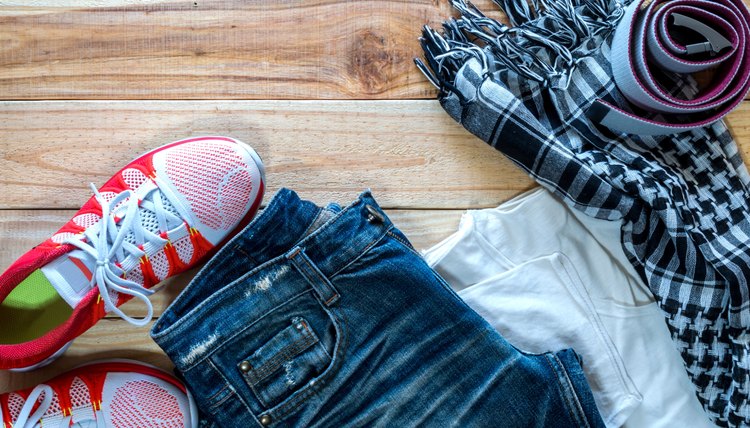 A long, flowing scarf adds a soft feminine touch to any outfit, but for a different look a lengthy scarf makes a stylish, handy belt. For the best effect, the scarf needs to be long enough to wrap around your waist twice and leave 3 inches on each end of the tie. If you wear a scarf-belt too snugly, it can make even a small-waisted person look uncomfortable. This cloth accessory looks smart when worn with a dress, tunic shirt or a pair of jeans.
Belt for Looped Pants, Skirts or Jeans
Tuck your shirt into your pants or skirt to show off the belt.
Smooth out the scarf making sure there are no knots. Slide the scarf through the belt loop to the left of your zipper. Push the scarf through each loop, all the way to the loop located to the right of the zipper.
Grasp both sides of the scarf loosely and tie it in a fluffy bow. Adjust the bow size with your fingers and slide the bow to the left, right or the center of your pants.
Wearing With a Tunic or Dress
Put on your tunic shirt or dress. Hold the scarf in front of you, centering it over your abdomen.
Wrap the scarf/belt around your waist like a sash. Grasp the ends of the scarf and gather them together in the front of your garment at the abdomen. Pull the scarf tightly but loose enough for you to breathe.
Secure the scarf with a neat knot. Tug on the knot gently to make sure it will stay. Slide the scarf ends under the sash you created or leave them to dangle.
Tips
For a bohemian look, wear a fringed scarf around your waist handkerchief-style.
References
Writer Bio
Mimi Bullock's writing reflects her love of traveling the back roads of small towns and sampling the local cuisine. As a regular feature writer for "Southern Hospitality Traveler" and journalist for "Beachin' Magazine," she gets to experience the rich heritage of the southern culture. She is also a licensed cosmetologist who has her own skin care line.