How Are Bicycle Shorts Supposed to Fit?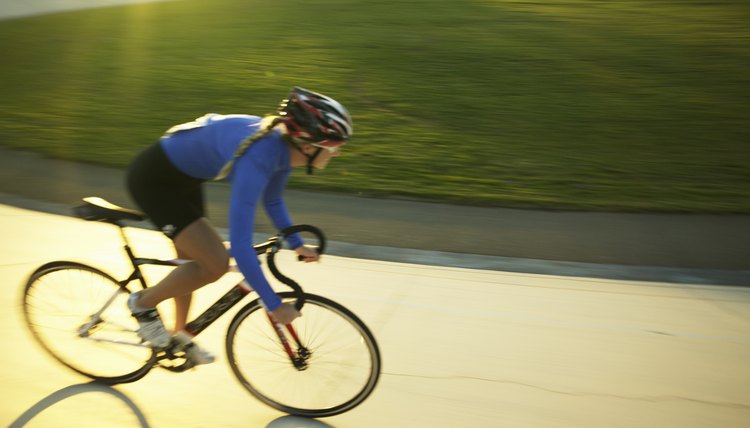 If you spend extended amounts of time perched atop a tiny bicycle saddle, bike shorts are essential. Bike shorts help absorb road vibration, provide cushioning for your most sensitive areas and can mean the difference between a pleasant afternoon ride and an excruciating torture-fest. When you're buying bike shorts, there are a few things to consider to ensure you get a proper fit.
Overall Fit
Bike shorts are designed to be worn without underwear. When you slip into a pair, they should be snug, but not tight. Light compression will help keep the chamois, waistband and leg grippers in place while providing a bit of support for your quads, hamstrings and glutes. The shorts should not be uncomfortably tight, though -- especially at the waistband. An excessively tight waistband will be very uncomfortable and dig into your stomach when you lean forward. You should be able to move your legs freely when you're wearing bicycle shorts. If your leg movement feels restricted, the shorts are probably too small.
Waistband
Most shorts have non-adjustable elastic waistbands, but some styles come with slightly looser waists that have drawstrings, giving you the ability to customize your waist fit. Many styles of women's shorts now come with a non-elastic yoga waistband to maximize comfort and style. Shorts typically sit at your natural waistline and are a little higher in the back to provide coverage when you're stooped forward in ride position. Some riders who prefer shorts that sit lower on their waists may roll the waistband down.
Leg Openings and Length
Elastic or latex grippers on the inside of the leg openings help to keep the shorts from creeping up as you ride. If you don't like the way they feel, some of the less expensive shorts come without leg grippers. A short with a longer inseam usually stays in place better and will prove more protection against sunburn and chafing. Most cycling shorts come in a 7- to 9-inch inseam, but some pairs of women's shorts come in shorter styles. If you find a pair that's a tad longer than you prefer but fits perfectly everywhere else, you can roll the legs up once or twice to cut an inch or two off of the length.
Chamois
The padded part of the bike shorts, referred to as the chamois, is extremely important for maximizing comfort. Shorts come with chamois of varying thickness and construction, and finding the best type for you may take some trial. Generally, if you ride in a more upright position, you'll want a chamois that's thicker under your sit bones. If you tend to stretch out in a more aerodynamic position, you may need more cushioning toward the front of the shorts. If you're not accustomed to bike shorts, the chamois may feel bulky and awkward at first -- that's to be expected. However, it should not be so thick and inflexible that it's uncomfortable or disrupts your natural pedal stroke. If the shorts aren't seamless, pay attention to where the seams of the chamois hit you. Stitching that rubs directly on your skin can cause nasty chaffing.
Panel Construction
Bike shorts are typically constructed of six to eight lycra panels. In the past, more panels correlated with increased comfort, but improvements in fabric technology have made it so more panels aren't always better. As long as the shorts are snug while still allowing freedom of movement, the number of panels isn't extremely important.
References
Writer Bio
Jessica Bell has been working in the health and fitness industry since 2002. She has served as a personal trainer and group fitness instructor. Bell holds an M.A. in communications and a B.A. in English.