What Is Intersquad Baseball?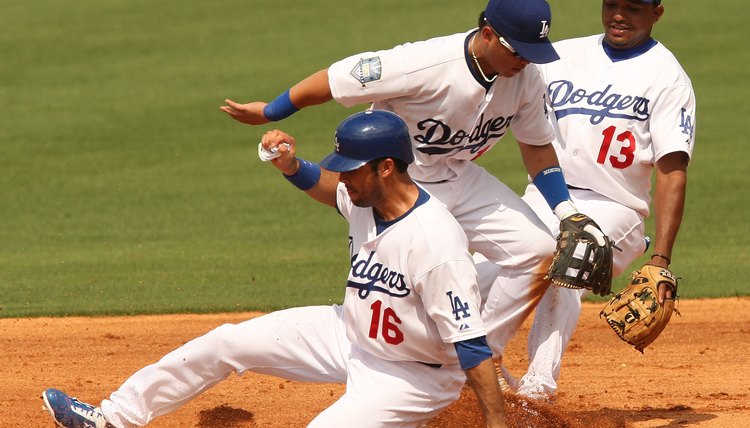 When a baseball team divides itself into separate squads, which then play against each other, the contest is commonly known as an intersquad game, or a scrimmage game. The contest can also be called an "intrasquad" game because the players compete against fellow teammates. In common baseball language, however, the terms "intersquad" and "intrasquad" are used interchangeably.
Major Leagues
Major League Baseball teams typically play intersquad scrimmages at the start of spring training to evaluate the organization's younger players. They also allow more experienced players to go through real-game situations before the exhibition season. The games also allow additional pitchers to get some work if they haven't thrown often enough during exhibition games.
College
College baseball's regular season begins in late winter and runs through the spring, but teams typically practice and hold tryouts in the fall. Intersquad games are part of many teams' regular fall practice activities. The University of Minnesota, for example, divides its team into two squads and has them meet in a seven-game series that spans about three weeks, known as the Steak N' Beans Series. Unlike a standard playoff series, the teams play all seven games, no matter how many each squad wins.
High School
High school teams use intersquad scrimmages for some of the same reasons as professional teams -- to help tune up for the season and give their players practice in game-like conditions. Additionally, high school coaches use the games to evaluate their players. Schools may also play intersquad games to help raise money. Hollidaysburg Area High School in Pennsylvania, for example, plays an annual 100-inning intersquad game with special rules. Players and coaches recruit game sponsors to raise money for uniforms and other team expenses.
Roster Choices
A manager may divide the team into squads by himself or he may appoint two coaches to lead the squads and have them draft players into two teams. The manager can also name captains and have them pick the teams. The manager may permit the game to play out as a normal contes, or predetermine hitting lineups and pitcher usage, particularly if he's evaluating his talent.
References
Writer Bio
M.L. Rose has worked as a print and online journalist for more than 20 years. He has contributed to a variety of national and local publications, specializing in sports writing. Rose holds a B.A. in communications.