The Best Underwear for Golf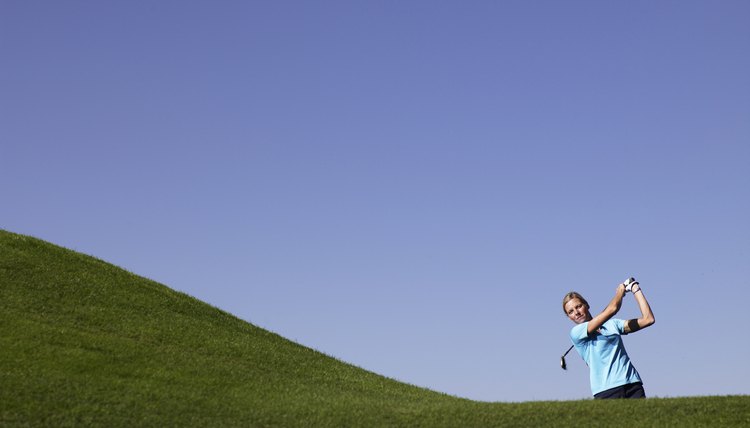 Having a comfortable day on the golf course requires apparel designed for mobility, comfort and performance. When gearing up for a day on the course, don't forget one of the most important pieces in your wardrobe: your underwear. The best underwear for golf are those you won't notice, so you can keep your focus at the tee box.
Selecting Underwear for Golf
Because golf is often played under hot, humid conditions, it is important to select underwear that is breathable and fast-wicking to keep you cool and comfortable through a long round. Select underwear that is also quick-drying, with a wide, strong elastic band for added support and mobility. Golf requires a wide range of motion, and your underwear must be designed so that your body can move freely through a swing, while walking or when crouching to line up a putt.
Popular Types of Underwear for Golf
Whether wearing boxers or briefs, several brands market underwear specifically for athletic performance. Compared to normal underwear, these types use lightweight, stretchier material that dries faster and transports moisture away from your skin. Nylon, polyester and spandex are more flexible than cotton and will stay dry as you sweat.
Golf Underwear Fit and Construction
The ideal underwear construction for golf offers a moisture-wicking waistband and an athletic feel, barely noticeable even through a wide range of motion. Find a pair that is light and breathable but durable enough to not wear or tear. Loose threads or imprecise stitches will hamper comfort and durability. Men should find underwear with a specially designed pouch to support their package, for less-restrictive movement and support through a swing. Microfiber mesh increases airflow, and flexible material is a must. For women, these same guidelines apply; string underwear reduces comfort, and cotton material isn't as flexible as spandex. Look for something with a wide waistband and more coverage than an everyday pair.
Popular Golf Underwear Design
For those who prefer an athletic look, many designs are available that blend sporty and serious. If wearing light-colored, thin material on a hot day, wear a lighter color of underwear to avoid visibility. For those looking for something more fun, bright graphic prints and patterns have become the norm in golf fashion, so don't be afraid to stray from more neutral color palettes. Just remember that you may find yourself showing them off if your ball ends up in a pond.
References
Writer Bio
Nicoleas Mayne is an internationally recognized marketing specialist and owner of a global marketing firm with clients across Canada, the USA and worldwide. Mayne has extensive experience in the legal industry, style industry and political marketing sector, and has education in political studies, law and religion. He is also an avid watch collector and owner of over 30 vintage and high-end timepieces.