Colors That Compliment Cognac or Amber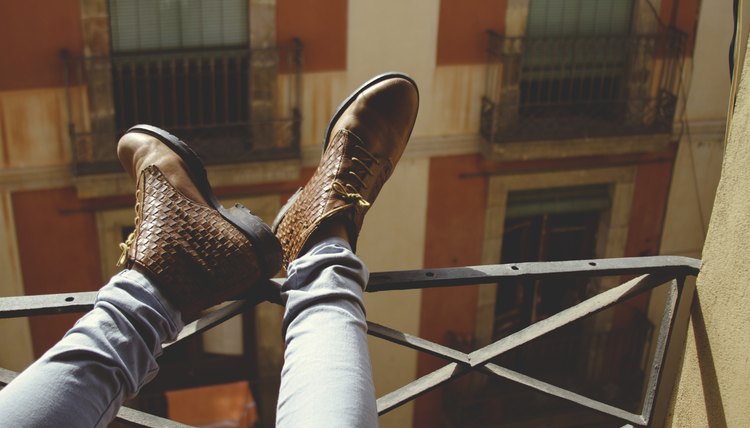 Amber, the yellow-gold named for a gem, and cognac, a reddish brown that shares a name with a French brandy, are quiet classics that can stay in your wardrobe for years. The shades are often worn in the fall. But while they whisper rather than shout, these jewel tones have more to say than plain brown, giving them an edge as you consider what to pair with newer ensembles.
Neutrals
In summer, amber or cognac pair easily with white or cream. Wear white skinny jeans or a long skirt with a fisherman's sweater, and accent with cognac boots or sandals and a belt. Alternatively, let cognac shine on its own. Wear a cognac-colored dress with neutral trim and carry a neutral-and-black print bag. Amber will also pair easily with off-white or linen, and shades of gray, light or dark, can work with amber or cognac.
Black
German designer Eva Lutz made cognac a staple in her Fall/Winter '13/14 collection, consistently pairing the color with black. Actress Mireille Enos shined at a "World War Z" premiere in a J.Mendel off-the-shoulder gown of black shot with flames of cognac and amber.
For more down-to-earth fare, wear a basic black dress or slacks with a sweater in amber or cognac -- or reverse the look with a dress in amber or cognac and a black cardigan or shawl.
Brights, Blues and Greens
Pantone, the color expert, chose emerald green as its 2013 color of the year. Greens, as well as mustard and burned brown hues, are expected to continue to be influential. When Pantone asked designers to show how colors will figure in their fall 2013 looks, Marcia Patmos paired a dress of Mykonos, a muted medium blue, with long cognac gloves and pumps with ankle straps.
Emerald -- maybe in a pretty floral or leaf print -- can also work well with a cognac belt or shoes. "Glamour" showed a pumpkin-color twin set paired with cognac shorts, and "InStyle" cited Sarah Jessica Parker in a color-blocked burnt orange sweater and navy culottes. For a wild card, you could try wearing cognac and carrying a clutch in dusty rose.
Accessories
It's more than likely you have a pair of cognac shoes or boots already in your closet, but you can up the ante. Elizabeth Olsen paired a cognac floppy hat and leggings in the same color with a white shirt, blue denim vest and big blue tote for a casual and comfy look. Try a scarf -- perfect with a black dress or sweater -- in cognac or amber, or a print with both. Amber jewelry is a pretty way to add color to neutrals, and it pairs well with its color-wheel opposite, turquoise, as well as basic black or gray.
References
Writer Bio
Bonny Brown Jones has been a writer, columnist, copy editor and senior copy editor for newspapers that have included the "Orlando Sentinel," "Miami Herald" and "Columbus (Ohio) Dispatch." Jones has a Bachelor of Arts in English from Ohio State University.