5 Things You Need to Know About Getting Hit with a Baseball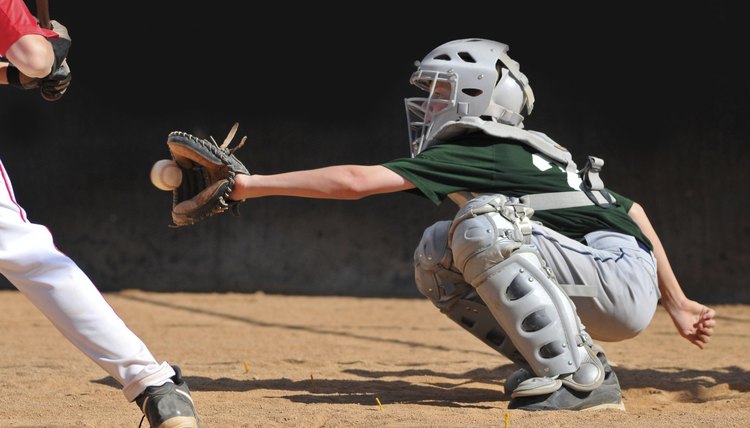 Each year, hospital emergency rooms see more than 95,000 baseball-related injuries. Many consist of minor sprains or muscle strain, but the most serious injuries come from getting hit with a baseball or a baseball bat, particularly on the head, eyes or chest. Baseball leads the way in sports injuries to the eyes. A conk on an unprotected head with a baseball can cause a concussion or intracranial bleeding. A blow to the chest can be particularly dangerous to children, whose chest walls compress more easily. On the average, three to four people, usually children, die from baseball injuries annually. In baseball, you need to keep your eye on the ball to get a runner out and to stay safe.
I Got a Hit on the Head
A concussion is one of the most common injuries when you get hit in the head with a baseball. Concussions, also known as traumatic brain injuries, can be tricky to diagnose. Know that a person doesn't need to lose consciousness to have a concussion. Occasionally, concussions also occur from a hit on another part of the body that sends an "impulsive force" message to the head. Concussion symptoms may show up immediately or days later, from nausea to fuzzy vision to problems with thinking. See a doctor if you think a concussion has occurred, and understand that multiple concussions over a lifetime can lead to permanent changes in the brain. Make sure qualified healthcare personnel are available at baseball games to assess injuries and provide first aid.
Suit Up with Safety Gear
Sports injuries from a baseball can be limited by wearing appropriate safety gear. For catchers, this means chest protectors, helmets, masks and neck protectors that meet safety standards. Perhaps batters are most at risk from a stray baseball. Wearing baseball helmets with face guards or safety goggles are a must when batting, waiting to bat or running bases. Safety tested polycarbonate face guards along with baseball helmets prevent or limit injury to the head, eyes, teeth and face.
Go Low Impact
When appropriate, use low-impact baseballs for children 14 and under playing little league baseball. The National Operating Committee on Standards for Athletic Equipment (NOCSAE) tests safety sports equipment, providing a safety seal of approval when items pass. In recent years, baseballs joined helmets and facemasks in sports equipment testing. An approved low-impact baseball carrying the NOCSAE stamp is less likely to cause a serious head or chest injury.
Bystanders Beware
Don't think that because you're not playing baseball you can't get hit with a ball. Baseballs seem to come from nowhere, whether it's players warming up or a foul ball hit over the backstop. The most important thing is to stay vigilant against these rogue baseballs. Players not actively playing should remain behind the protective fencing of a dugout.
Writer Bio
This article was written by a professional writer, copy edited and fact checked through a multi-point auditing system, in efforts to ensure our readers only receive the best information. To submit your questions or ideas, or to simply learn more, see our about us page: link below.