10 Low-Calorie Recipes That Are Full of Flavor
Creating meals that are rich in nutrients and flavor yet relatively low in calories can help ensure lasting weight control and overall wellness. And while that sounds like a daunting task, it doesn't have to be! To manage your weight and fend off chronic disease, the 2015-2020 Dietary Guidelines for Americans recommend eating more nutrient-dense foods, such as fruits, vegetables and whole grains, and limiting refined grains, unhealthy fats and added sugars. So check out these meal ideas (with full recipes) that can help you prepare healthy and delicious meals to please any palate.
1. Quinoa Stir-Fry
For whole-grain nutrition in a hurry, opt for quinoa. This ancient grain cooks faster and contains more protein than other grains and can be a substitute for rice, according to the Academy of Nutrition and Dietetics. For a light, flavorful meal, registered dietitian Tina Marinaccio stir-fries quinoa with onions, bell peppers and cashews. For sweetness and spice, she adds jalapenos, a touch of pure pineapple juice, cilantro and scallions. "This is a protein-packed, economical vegetarian dish with great textures that can be served as a main or side," says Marinaccio. If you serve it as a main dish, she suggests a side of kale salad. You can also stir-fry leftover veggies with herbs and spices to serve atop plain cooked quinoa.
CALORIES PER SERVING: 433
Eating healthy doesn't have to be flavorless.
2. Sesame-Crusted Chicken Breast With Pasta and Asparagus
Breaded and fried, chicken Parmesan is a high-fat dish. So for an equally flavorful yet lighter alternative, coat a boneless, skinless chicken breast in sesame seeds and sauté in a small amount of olive oil until brown on both sides, and then bake it until it's cooked through. For added fiber and antioxidants without loading up on calories, serve the chicken on a moderate portion of whole-grain pasta with a side of roasted asparagus or other colorful vegetables. Rather than cook asparagus in butter, Kansas-based registered dietitian Dirk M. Noteboom recommends sprinkling with olive oil and adding a low-sodium seasoning. Bake them wrapped in foil alongside the chicken.
CALORIES PER SERVING: 362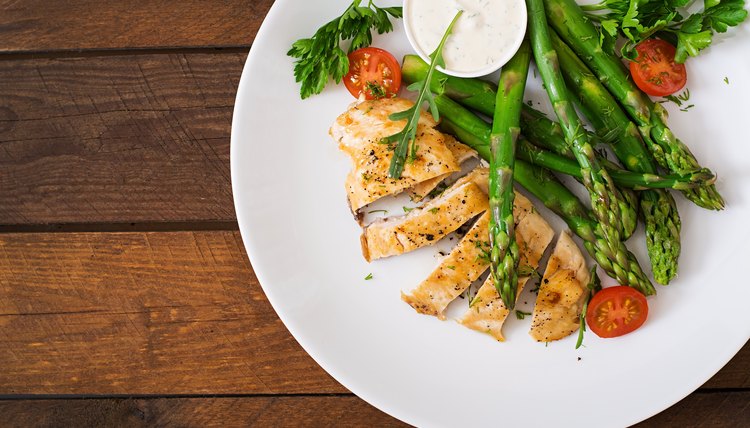 Eating healthy doesn't have to be flavorless.
3. Fish and Veggie Tacos
Tacos prepared in whole-grain tortillas and filled with grilled fish and veggies create a well-balanced, nutritious dish. Registered dietician Tina Marinaccio recommends filling a softly toasted whole-grain tortilla with grilled mahi-mahi, tomato, basil, avocado and red onion to serve with grilled corn on the cob brushed with olive oil and fresh basil. "This is a great way to get kids to eat fish, and finger foods always get my vote," she says. The Natural Resources Defense Council recommends limiting fish with moderate mercury-poisoning risks, including mahi-mahi, to six servings or less per month. Low-risk fish and seafood like tilapia, shrimp and salmon also make for tasty, healthy taco fillings. And salmon provides valuable amounts of heart-healthy omega-3 fats as well.
CALORIES PER SERVING: 375
Eating healthy doesn't have to be flavorless.
4. Egg Whites on Toast
Egg yolks contain valuable nutrients including choline, vitamin D and phosphorus, but opting for only the whites lowers the overall calorie content from 72 calories to 17, and it also lowers overall fat and cholesterol intake. For a light, sumptuous and energizing breakfast, Erik Bustillo, a registered dietitian in Miami, Florida, recommends serving egg whites sautéed in a small amount of coconut oil on whole-grain bread, topped with a slice of Swiss cheese for added calcium and flavor. Or you can also try using one whole egg and one to three egg whites instead. To make it even more satisfying and nutritious, add vitamin D-rich mushrooms or avocado, which is packed with healthy fats.
CALORIES PER SERVING: 294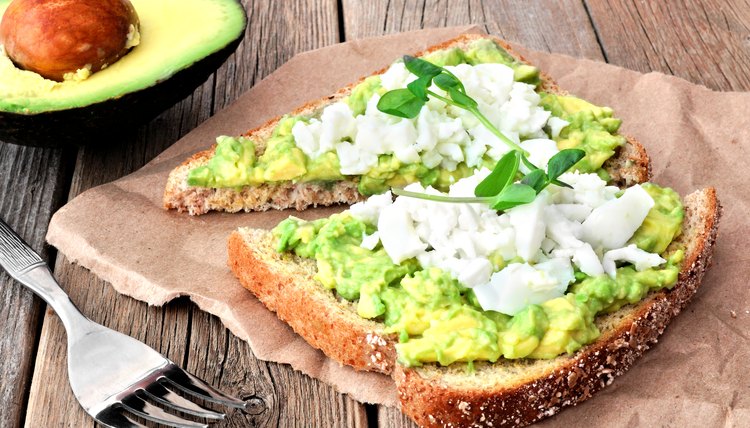 Eating healthy doesn't have to be flavorless.
5. Roasted Beef With Potatoes and Broccoli
When you do opt for red meat, choose a lean cut like beef eye of round for less saturated fat and fewer calories. "This type of beef can be seasoned with whatever you like," says registered dietician Dirk M. Noteboom. "From a rub with olive oil, a little sea salt and pepper to rosemary and garlic to your favorite barbecue rub, it will come out tasting very good!" Noteboom suggests cooking the roast slowly at a low temperature in the oven or in a slow cooker. Roasted potatoes provide a nutritious carbohydrate source, particularly if you leave the peels on. Add fresh or steamed broccoli for texture and nutrients.
CALORIES PER SERVING: 423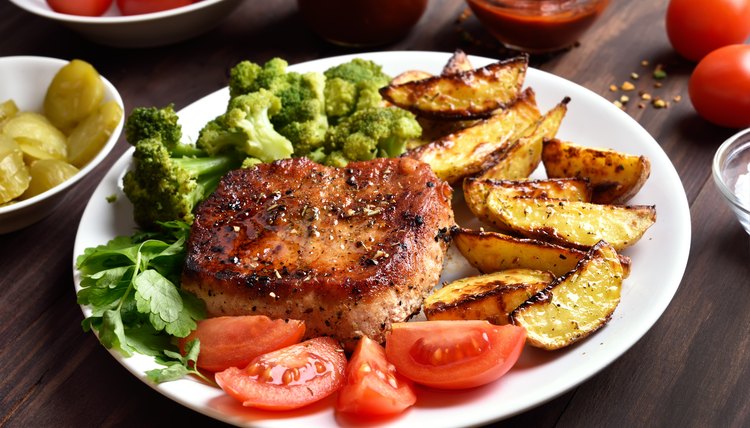 Eating healthy doesn't have to be flavorless.
6. Veggie-Loaded Pasta
Pasta can seem off limits when you're watching your weight, but a half a cup of cooked whole-grain pasta fulfills a third of your daily recommended minimum of whole grains, according to the University of Georgia Health Center. Like other whole-grain foods, pastas made of whole wheat, spelt, brown rice or other grains provide valuable amounts of fiber, protein and B vitamins. Registered dietician Dirk M. Noteboom recommends adding roasted veggies, including zucchini, eggplant and carrots. Vegetables increase the bulk of the dish without adding many calories, and the fiber makes it filling. To keep the overall calorie count low, you can top with a marinara sauce (sans added sugar) or lightly spritz with olive oil and season with salt and pepper.
CALORIES PER SERVING: 245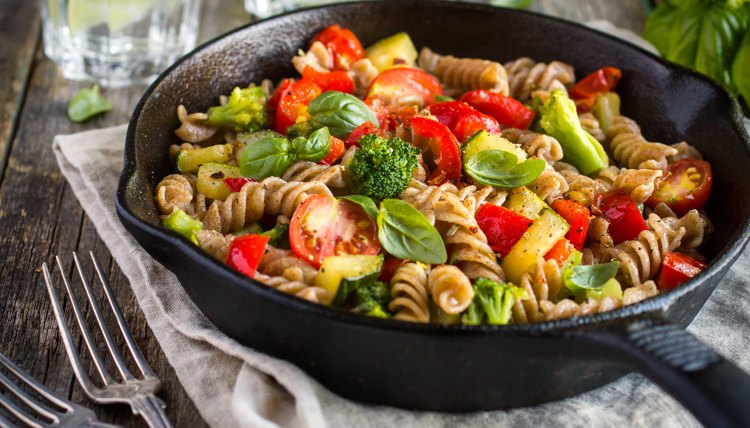 Eating healthy doesn't have to be flavorless.
7. Turkey Lettuce Wraps
A 10-inch diameter flour tortilla contains 217 calories. Instead, prepare a wrap in a romaine lettuce leaf to save 212 calories. Registered dietician Tina Marinaccio recommends filling lettuce leaves with lean ground turkey, onions and peppers, cooked and seasoned with ancho and chipotle chili powders and smoked paprika, and then served with a healthy coleslaw for crunch. "This meal is loaded with veggies, and leftovers hold over well," she says. "In fact, it tastes better the next day." To make your own coleslaw, Marinaccio recommends blending jicama and carrots in a food processor to toss with a light dressing.
CALORIES PER SERVING: 332
Eating healthy doesn't have to be flavorless.
8. Greek Yogurt Parfait
Some light meals require no cooking at all. Registered dietician Erik Bustillo recommends topping a cup of Greek yogurt with a handful of mixed berries and a small handful of mixed nuts for a filling breakfast. Greek yogurt differs from other yogurt in that most of the whey and lactose has been removed, resulting in a thicker, higher-protein variety. Though the process also lowers the calcium content, a six-ounce serving still meets about 20 percent of your daily needs. To add back a bit more, top with almonds, which contain 80 milligrams of calcium per ounce.
CALORIES PER SERVING: 195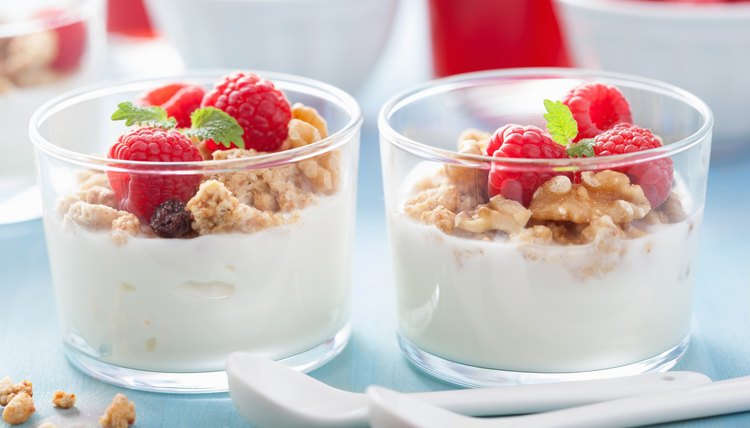 Eating healthy doesn't have to be flavorless.
9. Baked Fish With Brown Rice and Veggies
Swapping out cuts of meat that are higher in fat for fish can lighten your saturated-fat load and do wonders for your heart. The American Heart Association recommends eating at least two 3.5-ounce servings of fish per week for improved cardiovascular health. Fatty fish, such as mackerel, salmon and lake trout, provide omega-3 fatty acids — essential fats that guard against heart disease. Registered dietitian Dirk M. Noteboom recommends serving baked fish with brown rice, fresh green beans and tomatoes for a light, nutritious meal. Brush the fish with olive oil and sprinkle with salt and pepper.
CALORIES PER SERVING: 322
Eating healthy doesn't have to be flavorless.
10. Pork Tenderloin With Sweet Potatoes and Bok Choy
Pork is eaten the world over more than any other meat, according to a 2014 report published in the journal Nutrients. For a healthy, delicious pork dish, registered dietician Tina Marinaccio recommends grilling pork tenderloin — a cut of pork that is lower in fat — marinated in ginger, soy sauce and orange juice, and then serving it with grilled sweet potatoes and bok choy. "This provides a great balance of flavors, colors and textures," she says, "and clean up is a snap using the grill."
CALORIES PER SERVING: 194
Eating healthy doesn't have to be flavorless.
What Do YOU Think?
Which of these recipes are you most tempted to try? What other light, nutritious dishes do you frequently prepare? What's your favorite way to make bland dishes flavorful?
Eating healthy doesn't have to be flavorless.
References
Writer Bio
August McLaughlin is a health and sexuality writer, podcast host and author of "Girl Boner: The Good Girl's Guide to Sexual Empowerment" (Amberjack Publishing, 2018). Her articles appear in DAME Magazine, Cosmopolitan.com, the Huffington Post and more, and she loves connecting with readers through her blog and social media. augustmclaughlin.com