12 Ways to Make Popcorn More Exciting
Popcorn is made from a type of corn that puffs up as a result of being heated. And since it starts as whole kernels, it counts as a whole grain. Unfortunately, if you drown your popcorn in butter and salt, it can become a not-so-healthful snack. Luckily, you'll find a celebration of the healthier side of popcorn here. There are a dozen flavors from which to choose, ranging from savory to sweet and everything in between.
Basic Freshly Popped Popcorn
Popcorn is treated as globally inspired cuisine in these recipes, not simply a munchie. Nearly all are designed to be eaten right away, just like you would if you were fixing anything else on the stovetop. That shouldn't be a problem with these lovable bites! To get started, use our recipe for Basic Freshly Popped Popcorn as the base for them all. You'll love the array of interesting new flavor options here. Bet you can't pick a favorite! CALORIES: 190
Kelsey Tucker/DescribeTheFauna.com
1. Spicy Buffalo Popcorn
"Hot" Buffalo chicken wings was the inspiration for this eye-opening popcorn flavor. The traditional sauce coating for the wings is a rich marriage of butter and hot pepper sauce. So that's what you'll get here -- but just enough to provide the distinctive taste without the excess fat. Instead of being concerned about deep-fried greasiness, the only worry here is how spicy you want to go. There's actually a slight potential to boost metabolism due to capsaicin, the "hot" component of the pepper sauce. So aim for wild rather than mild -- if you can handle it. CALORIES: 223
Kelsey Tucker/DescribeTheFauna.com
2. Italian Cacio e Pepe Popcorn
Cacio e pepe is classic Roman pasta dish. Translated into English, that means "cheese and pepper." It's a dish that's so lovely because of its simplicity. That same culinary concept applies to this popcorn snack. You'll spritz freshly popped popcorn with olive oil, then toss with grated Romano cheese, freshly ground black pepper and sea salt. And it's not just a little pinch of pepper -- it's a key ingredient! That's a good thing because it has anti-inflammatory effects, including potential benefits for stomach disorders from piperine, a pungent compound in black pepper. CALORIES: 223
Kelsey Tucker/DescribeTheFauna.com
3. White Chocolate and Pistachio Popcorn
A snack can sometimes double as dessert. That's what this recipe does. It's dressed in white chocolate, which is definitely a sweet. It doesn't have the health benefits of dark chocolate since it's missing the cocoa. So keep that in mind when planning this popcorn into your eating repertoire. (Or, better yet, swap the white chocolate for dark chocolate!) It's a good pick after a workout, in part to help replace glycogen in your muscles. Luckily, this dessert-style popcorn still has other nutrient-rich components, including the pistachios and, of course, the popcorn itself! CALORIES: 342
Kelsey Tucker/DescribeTheFauna.com
4. Grecian Popcorn
Herbs aren't new when it comes to flavoring popcorn. However, dried herbs are what's often paired with it. Not here! Focusing on popcorn as cuisine, the freshest ingredients provide the Greek-style flair for this tasty snack, including fresh dill. Fresh lemon zest and minced garlic cloves are included too. You'll get the full benefits and most fragrant flavors from all of these plant-based ingredients this way. Just eat it while it's still warm, since use of fresh ingredients is not designed for pantry storage. CALORIES: 195
Kelsey Tucker/DescribeTheFauna.com
5. Sweet and Smoky Barbecue Popcorn
You don't need to light up the grill for outdoor barbecue goodness. Just whip up this scrumptious popcorn recipe and you can have it in minutes anytime. The taste combination of sweet, smoky and salty makes this snack especially memorable. You can feel good knowing that the smoked paprika in it is packed with carotenoids, which are the naturally occurring pigments responsible for the spice's deep-red color. Ingredients here also include barbecue sauce and honey. One of the keys to making crisp popcorn that has liquid-ingredient toppings like these is to just cook and stir it for about three minutes over medium heat after you've added the toppings. Voila! CALORIES: 224
Kelsey Tucker/DescribeTheFauna.com
6. Black and White Sesame Crunch Popcorn
If you can't decide whether you want a snack that's sweet or salty, you don't have to. This popcorn will satisfy both these tastes. Plus, it's got extra crunch from sesame seeds. The black and white seeds make this popcorn a bit elegant too. So if you need a party snack that's slightly chic, pick this. And if you want to find a clever way to boost your intake of seeds, pick this again. Sesame seeds are packed with minerals, including copper, manganese, calcium, magnesium and iron. Plus, they're full of phytosterols, which are plant compounds that may help better manage blood cholesterol. CALORIES: 324
Kelsey Tucker/DescribeTheFauna.com
7. Sea Salt and Vinegar Popcorn
For those times you're desiring something a bit salty (perhaps after a workout), this popcorn is a satisfying choice. The only flavor other than the popcorn itself comes from vinegar. You can experiment with your favorite vinegar or stick with a neutral one, like white wine vinegar, which the recipe suggests. Whichever vinegar you splash over this popcorn, it's a fermented product with health-promoting properties. In fact, it has possible antiobesity and antidiabetic benefits because of its bioactive components. So go ahead, splash as much as you wish. CALORIES: 190
Kelsey Tucker/DescribeTheFauna.com
8. Herb Lovers' Popcorn
Looking for a good excuse to use up herbs that have been hanging out in your fridge? Or do you have an overabundance of them growing in an herb garden? Or are you simply a fresh-herb fan? If you responded "yes" to any of these questions, this popcorn recipe is for you. It features fresh chives, parsley and rosemary. You don't need a lot of rosemary because it's a potent herb. And it's packed with health benefits, including compounds that may potentially help manage type 2 diabetes. If you like, mix and match other culinary herbs in the recipe. And enjoy the fragrant popcorn right after making it to take advantage of the fresh ingredients. CALORIES: 195
Kelsey Tucker/DescribeTheFauna.com
9. Mexican-Style Popcorn
Transform popcorn into Mexican cuisine with authentic flair. Here's how! Spritz freshly popped popcorn with cooking spray, drizzle with a little honey and then toss with lime zest, sea salt, ancho chili powder and ground cumin. Place the popcorn back on the heat for about three minutes to crisp it back up. Then finish with a sprinkling of feta or cotija cheese and fresh cilantro leaves. It definitely has a few more ingredients than a traditional popcorn recipe, but the worldly flavor experience is worth it. Savor it at snack time while it's still warm. Or, since it's a whole grain, you can even serve it as a fun side dish. CALORIES: 251
Kelsey Tucker/DescribeTheFauna.com
10. Tangy Thai Popcorn
In America, the way many people experience Thai food is at a Thai restaurant -- not freshly prepared in the kitchen at home. But you can get the goodness of homemade Thai cuisine in minutes by making it yourself. Just follow this popcorn recipe. It has a balance of tastes with intriguing toppings, including toasted sesame oil, unsweetened coconut flakes, lime zest, minced garlic and freshly grated ginger. Ginger is rich in antioxidants and has phenolic compounds that can help calm the stomach. But eat this globally inspired popcorn not just because it's potentially healthful; nibble on it because it's definitively delicious. CALORIES: 284
Kelsey Tucker/DescribeTheFauna.com
11. "Cheese" and Chive Popcorn
Sure, you can have a cheesy snack. One intriguing way to do so is to eat this! While you could sprinkle Parmesan cheese on this popcorn, the recipe uses nutritional yeast flakes. They're really cool. The deactivated yeast flakes have a slightly nutty, slightly cheesy taste with nothing artificial or "fake" about them. Notably, nutritional yeast flakes provide complete protein (eight grams per serving), dietary fiber (four grams per serving) and immune-boosting properties. It's also rich in vitamin B-12, which is great news for plant-based eaters. They can often be purchased in bulk bins in natural-foods markets -- so you can buy a quarter of a cup just for this recipe. It's a must-try! CALORIES: 232
Kelsey Tucker/DescribeTheFauna.com
12. Cajun Popcorn
Cajun: It's such a fun, full flavor. It pairs so well with popcorn, giving it a tasty kick. If you have a jar of Cajun seasoning already, that's the fastest way to get this snack recipe from pan to palate. But if you don't have it, you can mix up your own from dry herbs and spices you likely already have in your kitchen pantry or spice rack. Mix together desired amounts of garlic powder, onion powder, paprika, oregano, thyme, black pepper and cayenne pepper or red pepper flakes; then pour it into an empty jar and label it "Cajun seasoning." It adds so much flavor that you may find you enjoy this popcorn with less salt. CALORIES: 195
Kelsey Tucker/DescribeTheFauna.com
What Do YOU Think?
Do you think of popcorn as a healthy snack? Why or why not? Do you ever eat popcorn other than just as a snack? What's your favorite popcorn topping?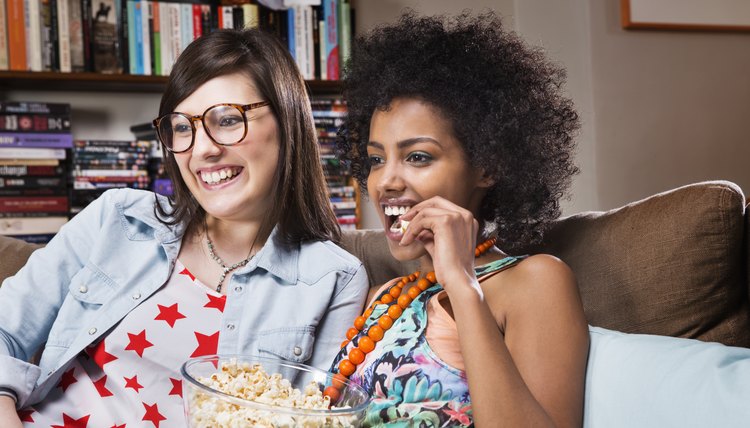 Kelsey Tucker/DescribeTheFauna.com
Writer Bio
Jackie Newgent, RDN, CDN is a classically-trained chef, registered dietitian nutritionist and author of several cookbooks, including the award-winning The All‐Natural Diabetes Cookbook and The With or Without Meat Cookbook. She's a culinary instructor at the Institute of Culinary Education, contributor to Livestrong.com, and freelance recipe developer for Rachael Ray Every Day. She's a past national media spokesperson for the Academy of Nutrition and Dietetics. jackienewgent.com