The Best Shoulder Exercises for Mass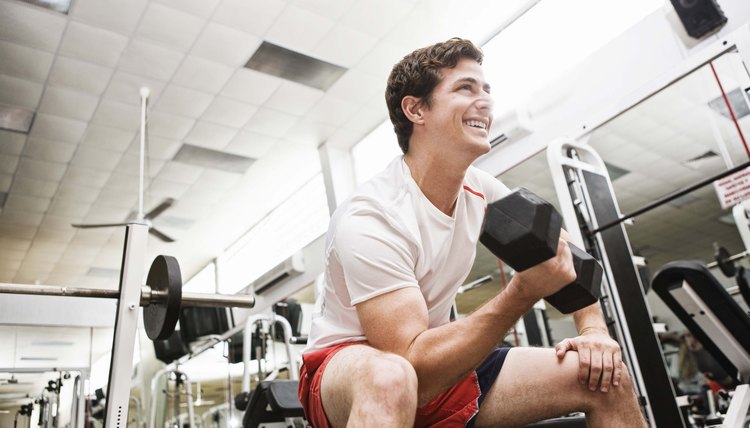 Your shoulders, correctly called your deltoids, are made up of three distinct heads. You have the anterior deltoid at the front of your shoulder, the medial deltoid to the side and the posterior deltoid to the rear. To increase your shoulder mass, you should make sure you develop all three deltoid heads equally. This will improve the aesthetics of your shoulders as well as their biomechanical function. The anterior deltoid is prone to becoming over developed, as it is involved in most chest exercises, so you should put extra emphasis on the medial and posterior deltoids to avoid this.
Medial Deltoid
Located on the side of your shoulder, your medial deltoid is responsible for raising your arm sideways away from your body and contributes to the width of your shoulders. To build mass in the medial deltoid, you should perform side lateral raises. Side lateral raises can be done using dumbbells, pulleys or specifically designed weight training machines. When you perform side lateral raises, always keep your elbows slightly bent but rigid. Your palms should face the floor. Raise your hands to shoulder height; avoid moving your upper body.
Posterior Deltoid
Responsible for extending your arm to the rear of your body, the posterior deltoid is, according to the National Strength and Conditioning Association, often overlooked by inexperienced trainers as it is out of site -- and out of mind. Your posterior deltoid is important for both posture and function and should be exercised as hard and as often as the other shoulder muscles. To build your posterior deltoid, you will need to perform flyes to the rear, using either cables or dumbbells. There are also rear deltoid flye machines in many gyms. Make sure you keep your elbows level with your shoulders when performing any variation of the rear flyes.
Anterior Deltoid
Located on the front of your shoulder and responsible for raising your arm forward and above your head, the anterior deltoid is worked in both overhead pressing and front raises. Overhead presses, sometimes called shoulder presses, can be performed using a barbell or dumbbells and in a seated or standing position. You can also use a shoulder press machine which is available in most gyms. You should avoid performing your shoulder presses in the "behind the neck" position as, although this is a common exercise, many fitness experts, including the National Strength and Conditioning Association, believe this to be detrimental to the health of your shoulder joint. As an alternative to overhead pressing, you can isolate the anterior deltoid by performing front raises with dumbbells, a barbell or using pulleys.
Total Shoulder Exercises
According to "Designing Resistance Training Programs," written by Steven Fleck and William Kraemer, a number of exercises can help you work all the shoulder muscles at the same time and build mass. The power clean, barbell high pull, the upright row and the Cuban press are all dynamic exercises that work your shoulders in a variety of ways within the same exercise. These exercises originate from Olympic lifting and are either simplified variants of or training exercises for the sport of Olympic lifting.
References
Strength Training Anatomy; Frederic Delavier
Essentials of Strength Training and Conditioning; National Strength and Conditioning Association
Designing Resistance Training Programs; Steven Fleck, et al.
Elzanie A, Varacallo M. Anatomy, shoulder and upper Limb, deltoid muscle. [Updated 2018 Dec 21]. In: StatPearls. Treasure Island (FL): StatPearls Publishing; 2019 Jan.
Bunker TD, Cosker TD, Dunkerley S, Kitson J, Smith CD. Anatomical variations of the deltoid artery: relevance to the deltopectoral approach to the shoulder. Bone Joint J. 2013;95-B(5):657-9. doi:10.1302/0301-620X.95B5.31408
Dyrna F, Kumar NS, Obopilwe E, et al. Relationship Between Deltoid and Rotator Cuff Muscles During Dynamic Shoulder Abduction: A Biomechanical Study of Rotator Cuff Tear Progression. Am J Sports Med. 2018;46(8):1919-1926. doi:10.1177/0363546518768276
American Academy of Orthopaedic Surgeons. Rotator Cuff Tears: Surgical Treatment Options. Updated March, 2017.
Barclay T. Deltoid Muscle. Published July 3, 2018.
Writer Bio
Patrick Dale is an experienced writer who has written for a plethora of international publications. A lecturer and trainer of trainers, he is a contributor to "Ultra-FIT" magazine and has been involved in fitness for more than 22 years. He authored the books "Military Fitness", "Live Long, Live Strong" and "No Gym? No Problem!" and served in the Royal Marines for five years.