What does fact checked mean?
At SportsRec, we strive to deliver objective content that is accurate and up-to-date. Our team periodically reviews articles in order to ensure content quality. The sources cited below consist of evidence from peer-reviewed journals, prominent medical organizations, academic associations, and government data.
The information contained on this site is for informational purposes only, and should not be used as a substitute for the advice of a professional health care provider. Please check with the appropriate physician regarding health questions and concerns. Although we strive to deliver accurate and up-to-date information, no guarantee to that effect is made.
Lower Back Exercises for Men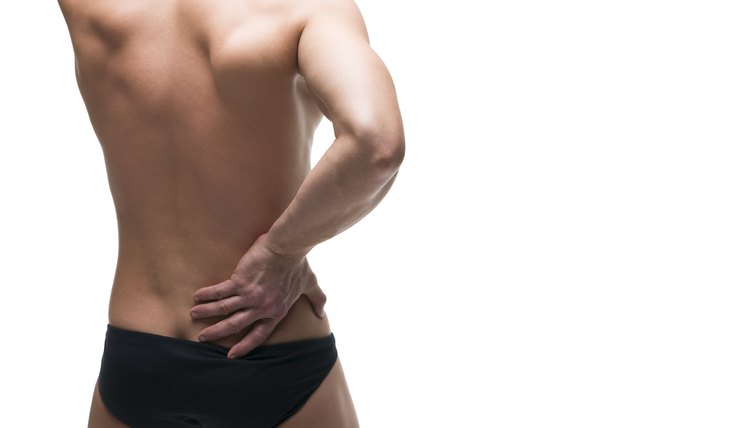 In the quest to build a muscular physique, men have a slight advantage over women. According to a 2006 paper published in Experimental Physiology, men experience greater increases in muscle from strength training than women do. In order to take advantage of this increased ability to gain muscle, men should focus on strength training.
Lower back muscles are an important part of a well-rounded physique, and strengthening them can help prevent lower back injuries. In order to properly strengthen them, you need to pick exercises that allow you to use relatively heavy weights.
Low Back Muscles
The multifidi and erector spinae are the main lower back muscles you'll use while lifting weights. These muscles run up the sides of your spine, working to extend it, which means that they also prevent it from rounding. These are the muscles that you want to strengthen to prevent lower back injury. They are also the most important muscles to work if you want an se aesthetically pleasing lower back, because they are the closest muscles to the surface.
The Best Exercises
If you're new to resistance training, start with the prone back extension. It's a safe exercise because it doesn't involve any weight but it still targets your lower back muscles. Then, use more advanced exercises such as the back hyperextension, straight-leg deadlift or the kettlebell swing, which allow you to keep adding weight and make continual progress. Keep in mind that as a man you recover from strength-training sessions slightly faster than a female, so you can do these exercises more frequently.
The lower back is an important area to work for men who want to avoid spine injuries.
Prone Back Extension
If you're just starting to work on lower back exercises, this is a good place to start because there isn't too much resistance.
How To: Lie flat on your stomach with your arms straight down by your sides. Raise your head, shoulders, and breast bone off of the mat using your lower back muscles. Then, return back down to the mat.
Hyperextension
Use a back hyperextension machine for this exercise. Start with your body weight and, if it's too easy, hold a dumbbell or weight plate during the exercise.
How To: Plant your feet in the hyperextension machine and lie down with the pads against the front of your thighs. Lean forwards and fold your arms across your chest. Then raise your torso up as high as you can using your lower back muscles and slowly lower back down.
Stiff-Legged Deadlift
This is a variation of the traditional deadlift, and it elicits more activity in the lower back muscles, according to a 2013 study in the Journal of Exercise Physiology Online.
How To: Hold dumbbells, a kettlebell, or barbell for this exercise. Standing tall with the weight in your hands and elbows locked out, stick your butt back and reach the weight down your legs. Keep your back as flat as possible. Go down as low as you can without rounding your back, then come back up.
Kettlebell Swing
According to a 2012 study in the Journal of Strength and Conditioning Research, this exercise works your lower back in a different way from most other lower back exercises because of the swinging motion. As a result, it can be a very useful lower back rehabilitation exercise.
How To: Start with a kettlebell a foot in front of you. Stick your butt back, lower yourself down, and grab the kettlebell with both hands. Hike it back between your legs, then stand up tall and swing the kettlebell up until your arms are parallel to the ground. Then, swing the bell back down between your legs and stick your butt back.
References
Writer Bio
Henry is a freelance writer and personal trainer living in New York City. You can find out more about him by visiting his website: henryhalse.com.