Bicycle Sizing for Women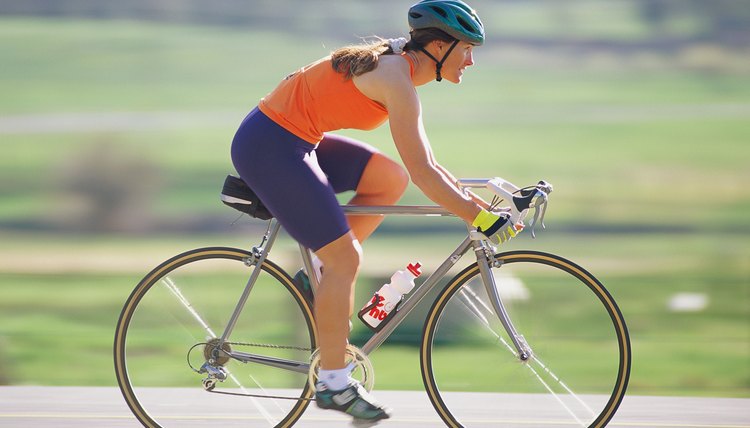 Figuring out which bicycle size is ideal for your proportions can make a substantial difference in your cycling comfort. Before you select a bike, take key measurements to determine which frame size is going to suit you best. Getting the right frame can prevent stress to your knees, neck and lower back while improving your pedaling efficiency in the saddle. The best bike for your proportions will also make it much easier to dial in the perfect fit using your seatpost and stem.
Designed for Women
A woman's proportions are different from a man's, so a bicycle frame designed for men inevitably falls short. Women's specific design or WSD bicycles use the average woman's proportions as a design base for the frame size. These bikes come in frame sizes smaller than the smallest men's sizes for more petite riders, and the top tubes are shorter to match the shorter torso length of most women. When you're choosing a bike at your local shop, asking for women's-specific frames can help you get a perfect fit in the top tube length and seat tube height.
Searching for a Size
When you're buying a new women's-specific bike, you'll need to know your inseam to get matched to a frame size. In cycling, the inseam measurement is known as your pubic bone height, which runs from the base of your pelvis to the base of your heel along the inside of your leg. The pubic bone is a hard, bony protrusion between your legs, just behind your genitals. Once you've got your pubic bone height, you can match it to a manufacturer's frame size chart to determine the ideal frame size. Road bikes use the metric system of measurement, and mountain bikes use standard measurement. Most women fall between 44 and 54 cm for road bikes and 13 and 18 inches for mountain bikes.
The Search Continues
Your pubic bone height can help you find an approximate frame size to match your proportions, but variations between different manufacturers means you'll have to physically try a bike before you can determine if the frame size is a good fit. The top tube length is the most important indicator for fit, since it determines your position when you're riding the bike. First, set the seat height by mounting the bike while it is adjacent to a wall, so you can support yourself without moving. Then, adjust the seat height until your knee is just slightly bent when the crank is in its lowest position in your cycling stroke. You can then check the top tube length of the frame to see if the frame is too large, too small or just right. If you're straining your back and neck to reach the handlebars, you'll need a smaller frame size.
Standing Tall
Buying a frame with the correct stand-over height is essential for making sure you can safely come to a stop. Dismount from the seat and plant both feet on the ground on either side of the bicycle. Check the distance between your pubic bone and the top tube. To prevent injury during an emergency stop or an accident, you'll want about 2 inches of clearance between your groin and the top tube. This will allow you to dismount the bike without risking an injury to the sensitive areas between your legs.
References
Resources
Writer Bio
Max Roman Dilthey is a science, health and culture writer currently pursuing a master's of sustainability science. Based in Massachusetts, he blogs about cycling at MaxTheCyclist.com.